Varennes, December 13, 2019 – Yesterday, pharmacists owners Élaine Lévesque, France Bernier, Yvon St-Pierre and their team celebrated the end of major renovations at the La Pocatière Brunet branch located at 1000, 6th Avenue Pilote. The new facilities now offer more choices, more space and more services. Customers are welcomed in a new decor that reflects the latest concept of the store. The La Pocatière Brunet location now covers 5,125 sq. ft. and offers a wide variety of products, in addition to a range of personalized services in a sleek decor that emphasizes comfort.
Everything has been thought of to offer the best in-store experience: lighting, waiting area and ceiling height. Thanks to an investment of $820,000, a rest area for employees and a nurse's office were added. A confidential area for consultation with a pharmacist was also added to the brand new laboratory.
Several complementary health services are also available to better meet the needs of the population: blood pressure as well as blood sugar measurement and monitoring, travel health consultations, home delivery for medications, rental and sale of orthopedic devices and more.
"We are very pleased to unveil our new pharmacy and contribute to the health and well-being of La Pocatière's population every day. An improved health experience at all levels is what our team offers to our customers," said Yvon St-Pierre, pharmacist owner affiliated to Brunet.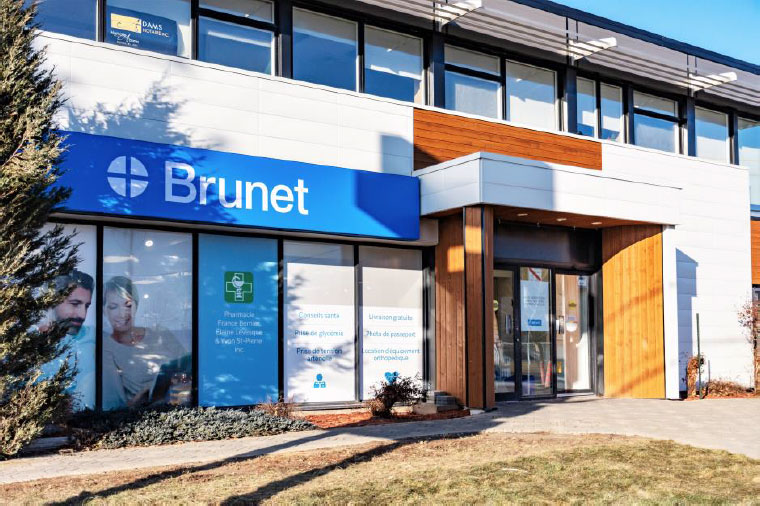 About Brunet
Established in 1855, Brunet's engagement is to provide Quebecers with personalized advice and services related to their health. Brunet, which network represents around 180 franchised stores in Quebec, continues its development by continuously improving its products and services. For more details, visit brunet.ca.
-30-
Source and further information:
BRUNET
Media Relations
514 643-1009 or 1 800 463-2190
[email protected]