We often talk about drug expiration dates, but what about all those expired cosmetics that are sitting in your makeup kit right now? They need to be thrown out, too! Your next spring cleaning session would be a great time to sort out and refresh all of your beauty products. Here's a practical guide to help you figure out what you can keep and what you should throw away.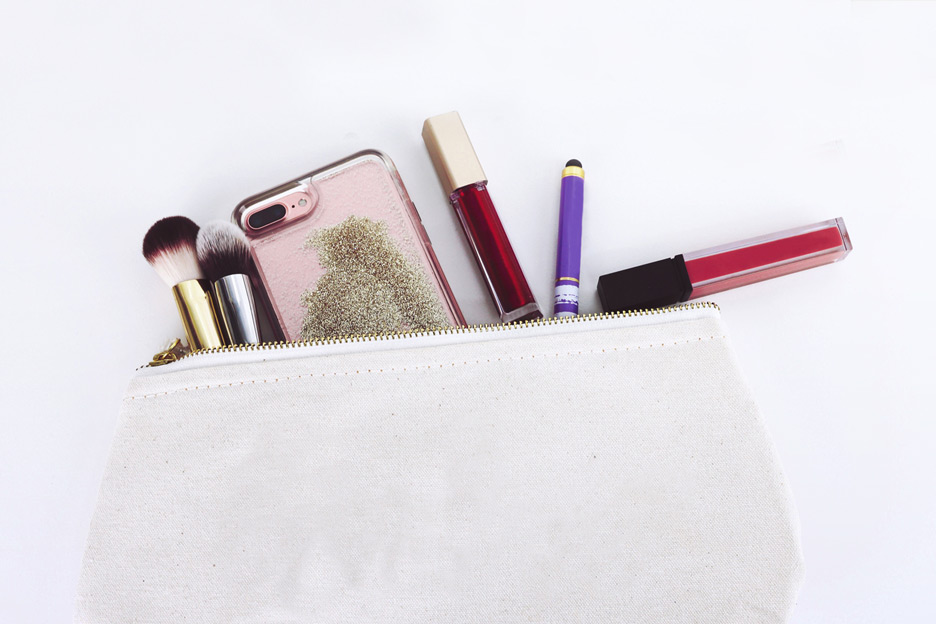 When do your makeup products expire?
Did you know? According to a U.S. study conducted in 2015, nearly 89% of women admitted to holding on to old beauty products "just in case" and fewer than one in five women discard their mascara after the recommended three months of use. And yet, more than 80% of women know that their makeup products have an expiration date. Apparently, many of us need to be more careful!
Hanging onto expired cosmetics can be harmful for your skin, exposing it to more germs and bacteria and increasing your risk of skin irritation and eye infections. In other words, using expired beauty products may give you exactly the opposite of what you're looking for! That's why it's important to throw away cosmetics that have outlived their shelf lives.
How to determine your makeup's expiration date
Knowing the average shelf life of each type of cosmetic will give you a better idea of the product's condition and help you determine if it's still good. Here's a summary of the average lifespan of the products in your makeup kit. Be sure to check these items regularly and don't hesitate to replace them if necessary.
Foundation
Liquid foundation has a maximum shelf life of approximately nine months. Powder foundations, on the other hand, can last two to three years, because their low water content makes it more difficult for bacteria to grow. That said, powder foundations should be replaced before they expire if they are cracked, dried out, or become more difficult to apply.
Can't remember how long you've been using the same foundation? That probably means it's time to replace it. Do you suffer from acne? If so, it's best to replace your foundation every six months.
Mascara
Replace mascara every three months. In fact, this is one of the products in your makeup bag that should be replaced most frequently. If used for too long, mascara can cause eye infections, so keep an eye on it (no pun intended)! In other words, you need to toss that tube of waterproof mascara you wore to the beach two summers ago!
Of course, if the smell or appearance of your mascara ever changes, it's best to replace it immediately, even if the three-month limit hasn't been reached yet.
Lipstick
Lipstick lifespans vary depending on their type, but they usually last about two years. After that, the water in lipstick becomes a veritable petri dish. In contrast, lip gloss tends to last about a year. The liquid format causes bacteria to grow more easily than lipstick, thus increasing the risk of contamination.
Do you enjoy creating new shades by layering multiple lipsticks? Be sure to spritz a little makeup sanitizer to keep germs at bay.
Eyeliners and pencils
Liquid liner should be replaced every three months for the same reasons as mascara. As for lip, eye, and brow pencils, they have a shelf life quite similar to that of lipstick—about two years. You can help them last as long as possible by sharpening them often and cleaning your sharpener regularly.
If you're still using last year's liquid liner to create cat eyes, treat yourself to a new one as soon as possible.
Blush
Again, the lifespan of your blush will depend on the type you use. Powder blush generally has the same shelf life as powder foundation, i.e., two to three years. However, cream blush should be replaced much more frequently—every six months or so.
Are you wearing a different shade of cream blush to achieve a more summery complexion? Don't forget to throw out the shade you used last winter! Do the same thing every six months.
Here's a checklist to help you keep track of your beauty product expiration dates.
| | |
| --- | --- |
| Product | Expiry date |
| Mascara | About 3 months |
| Liquid liners | About 3 months |
| Day and night creams | Between 6 and 9 months |
| Makeup removers | Between 6 and 9 months |
| Exfoliating products | Between 6 and 9 months |
| Face masks | Between 6 and 9 months |
| Foundation (liquid) | About 9 months |
| Body creams and lotions | About 12 months |
| Lipstick (stick format) | About 24 months |
| Blush (powder) | Between 24 and 36 months |
| Eyeshadow (powder) | Between 24 and 36 months |
| Pencils (lips, eyes, and eyebrows) | Between 24 and 36 months |
When it comes to makeup expiration dates, checking the package is not enough!
All products with a sun protection factor (SPF) have an expiration date, which is indicated on the packaging.
Other cosmetic products have a pictogram of an open jar and a number followed by the letter "M" ("month") on them. This symbol tells you how long you can keep your beauty products for. For example, "6M" indicates that the product can be stored for approximately six months after opening.
While these useful indicators can give you a good idea of how long your cosmetics should last, they're mainly just guidelines. In fact, storing products incorrectly may shorten their shelf lives, so checking the package is not enough. You should also pay attention to the following:
The product's colour
The product's smell
The product's texture
The product's performance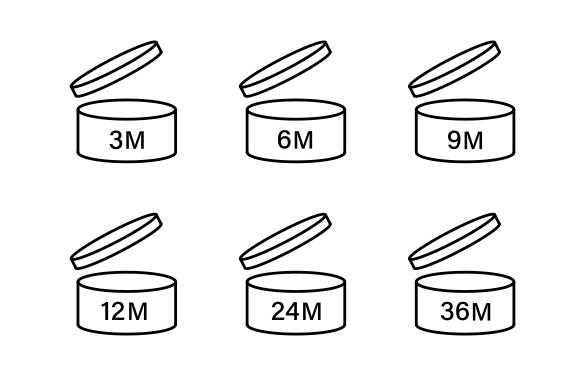 When it comes to makeup expiration dates, checking the package is not enough!
To help keep track of your makeup, consider writing the date you started using the product on the package. That way, you'll always know when you opened it and it will be easier to estimate its expiration date.
What about brushes, sponges, and other beauty tools?
In addition to cosmetics, your makeup bag probably contains used sponges, brushes, and other accessories. Obviously, worn-out accessories should be thrown away along with any expired beauty products. Other accessories may still be usable, but should be cleaned on a regular basis to ensure they remain effective and help prevent infection. Therefore, it's important to establish (and maintain) a cleaning routine for your beauty tools.
Remember that the more frequently you wash your makeup tools and accessories, the less time it takes to maintain them!
Brush maintenance
No matter what type of makeup brushes you use, be sure to clean them thoroughly with soap and water, and disinfect them with an alcohol-based spray after each use.
A weekly deep clean is also recommended. Check out this quick and easy procedure:
Wet the tip of the brush in warm water.
Lather a bit of mild shampoo in the palm of your hand.
Swirl the bristles around the cleanser (shampoo).
Rinse the brush in a bowl of clean, warm water.
Wipe the bristles with a cloth, then let the brush dry flat on a towel.
Sponge maintenance
Proper care of makeup sponges helps prevent the spread of bacteria, mould, mildew, and pimples.
For flawless results, try the following procedure:
Wet the sponge under water.
Hold it firmly and rub vigorously on a bar of soap to loosen any dirt and residue.
Rinse under water until no soap remains.
Repeat until the sponge is clean, then let it dry.
Tweezers also require frequent maintenance to stop the growth of bacteria. Remember to disinfect your tweezers before and after each use.
Now's the time to add tools to your makeup bag!
Have you thrown away all your expired beauty products? Excellent! The last step when it comes to reorganizing your makeup bag is taking inventory of your beauty products and determine which ones you're missing. Keep these essentials in mind!
Foundation
There are four main types of daily-use foundation. Choose the one that suits your needs.
Liquid foundation: This type of foundation has a lighter texture that promotes a brighter complexion and is suitable for all skin types.
Mousse foundation: This foundation's airy texture is best for combination or oily skin.
Compact foundation: This foundation is perfect for concealing facial imperfections, especially if you have dry skin.
Stick foundation: This foundation's practical format is ideal for on-the-go touch-ups. Note, however, that its rich texture is not suitable for oily skin.
Mascara
Before buying new mascara, ask yourself what effect you'd like to achieve. Doing so will help you identify the best product for your beauty arsenal.
Do you prefer a mascara that . . .
Gets noticed?
Lengthens lashes?
Boosts volume?
Curls lashes?
Strengthens/heals lashes?
Resists water?
Once you've identified your goal, it's time to choose a colour. Are you going for classic black or something more colourful? You can always ask one of our cosmetics specialists to help guide you.
Eyeshadow
Choose an eyeshadow based on your skin tone and eye colour as well as the texture you're after.
Compact powder eyeshadow is easier to apply.
Loose powder eyeshadow allows for more precision.
Cream eyeshadow offers greater pigmentation.
Eye pencils
Choose eyeliners carefully before adding them to your beauty supplies. Consider your options:
Kohl pencils are oilier and more pigmented.
Waterproof pencils are perfect if you want a look that will last all day.
Gel liners create a more opaque line and require a very precise brush.
Liquid eyeliners create a more intense, precise line, and require greater attention to detail.
Tweezers
When it comes to getting rid of hair between and around your eyebrows, this is a must-have tool. Again, there are several types:
Flat-edged tweezers are the most common.
Bevelled edge tweezers are more appropriate for sensitive areas and hard-to-remove hairs.
Curved-edge tweezers work best on finer hairs.
Sharp-edged tweezers are ideal for removing thorns and ingrown hairs.
Looking for natural beauty advice?
Ask our in-store cosmetics specialists for advice on the best products to include in your makeup kit.