What's the difference between dry and dehydrated skin? That's a good question. While the words dry and dehydrated may seem like synonyms, they're practically opposites when it comes to skin. Symptoms of dry and dehydrated skin are similar, however, which can lead to an inaccurate diagnosis and, ultimately, the wrong treatment for your skin. Let's break things down to help you choose the right product for your skin type.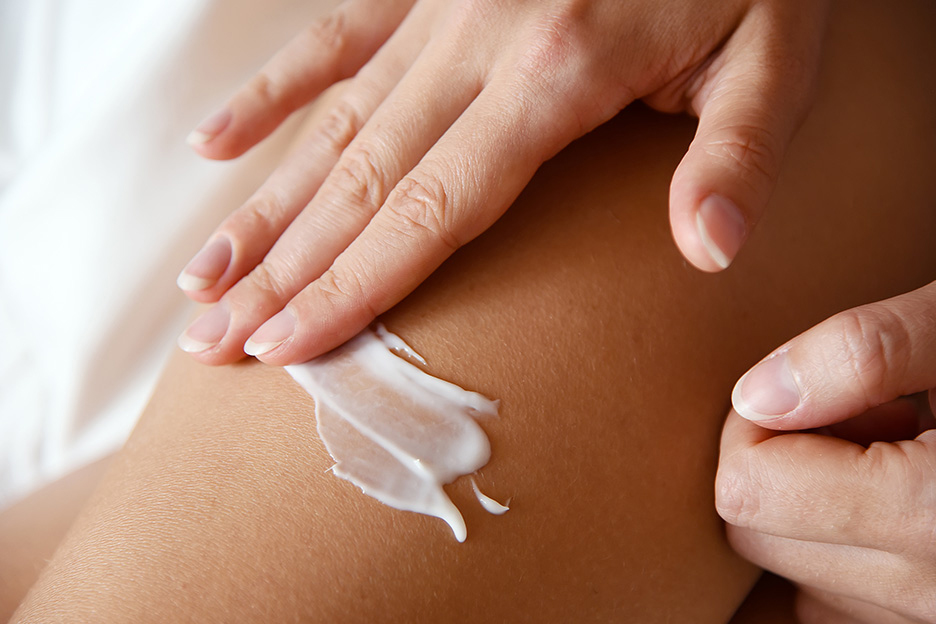 What is dry skin?
What is dry skin?
Dry skin lacks sebum, the oily substance that protects the epidermis and prevents it from drying out. Low levels of sebum and natural oil can dry out your skin and cause discomfort and peeling (the formation of small dead skin cells on the epidermis).
In other words, dry skin fails to produce enough oil to protect itself from bacteria and other potential problems.
You probably have dry skin if . . .
Your skin is rough, reddish, or cracked.
Your skin is sensitive and easily irritated.
Your skin has lost elasticity.
Your skin often itches.
Your skin wrinkles more easily.
Your complexion has dulled.
Did you know?
Dry skin problems are more common in the elderly because sebum secretion decreases as we age.
Primary causes of dry skin
Dry skin is a common problem during Canadian winters. Given the bitter winds, freezing temperatures, and dry air, it's easy to see why! Indeed, dry, cold winter air absorbs more moisture, which can affect the epidermis.
But intense cold isn't the only cause of dry skin. Consider these additional factors:
Poor eating habits. No surprises here! A diet that lacks adequate nutrients will leave your skin less hydrated. In contrast, eating plenty of fruits, vegetables, and foods rich in omega-3s will strengthen your skin's natural barriers.
Some synthetic fabrics. Nylon, polyester, spandex, and chlorofibre are just some of the synthetic fabrics that can irritate your skin. Opt for breathable, absorbent fabrics to prevent excessive sweating, especially during physical activity.
Eczema, psoriasis, and other skin problems. Some common skin problems can cause dry skin and other related symptoms, such as inflammation and itching.
Heat. That's right! Just like cold weather, heat can also dry out your skin. That's why it's recommended that you take warm showers or baths and use humidifiers to avoid overheating the rooms in your home.
"What should I do if I have dry skin?"
Think comfort and flexibility! Check out these three great tips from our team of cosmetic experts:
Choose fat-rich emollient creams that soften and nourish. Milk- or cream-based cleansers are perfect! Look for cleansing products that gently remove impurities without stripping away your skin's naturally occurring lipids.
Exfoliate your skin weekly. Exfoliation removes dead skin cells and stimulates sebum production, ideal for getting rid of dry skin and restoring a glowing complexion!
Apply a moisturizer. Choose a product that contains restorative ingredients, fatty acids, and antioxidants.
Products for relief of dry skin
Vichy – Aqualia Thermal Rich Cream (50 ml): This hypoallergenic cream is composed of 97 percent natural ingredients and enriched with mineralizing thermal water. Its rich texture can relieve both dry and dehydrated skin.
Cerave – Moisturizing Cream for face and body: Designed in collaboration with dermatologists, this rich, non-greasy, hypoallergenic, and fast-absorbing cream moisturizes your skin while helping to restore its natural barrier, thanks to a formula that includes ceramides and hyaluronic acid. What's more, it's suitable for all skin types, even the most sensitive.
What is dehydrated skin?
Whereas dry skin lacks sebum, dehydrated skin lacks water. In short, as the term implies, dehydrated skin is insufficiently moisturized. This means that, contrary to popular belief, all types of skin can become dehydrated, including the oiliest. It's also possible to suffer from both dry AND dehydrated skin!
Some of the symptoms of dehydrated skin are the same as those of dry skin, such as peeling, tightness, and discomfort. That said, there are also clear differences.
You probably have dehydrated skin if . . .
Your skin is oilier around the nose, forehead, and chin (the infamous T-zone)
You have problems with acne or blackheads.
Your pores are often dilated.
You have more wrinkles on your face.
Your skin is frequently red.
Your skin lacks radiance.
Primary causes of dehydrated skin
As with dry skin, cold winter conditions are often to blame, but there can also be other culprits! The following external factors may also be responsible:
Stress
UV rays
Lack of water
Lack of sleep
Alcohol, coffee, or tobacco
Air pollution
Heating or air conditioning
Excessively abrasive cosmetics (too high a pH)
Internal factors may include the following:
Genes
Certain diseases
Aging skin
Hormonal changes (especially during menopause)
"What should I do if my skin is dehydrated?"
To moisturize your skin, you have to start by quenching its thirst! Try these four hydration strategies:
Drink plenty of water. As mentioned above, dehydrated skin lacks water, so what could be a simpler solution than drinking water?
Choose non-abrasive products. Overly aggressive skin cleansers can increase dehydration. It's best to choose products with a neutral pH that contain thirst-quenching agents, such as glycerin, sorbitol, lactic acid, and hyaluronic acid.
Avoid greasy creams. The last thing dehydrated skin needs is more lipids! It's essential to stay away from greasy, oily creams.
Apply day- and nighttime moisturizers. Skin is always naturally losing water. Moisturizers create a protective layer that helps your skin retain some of the water that wants to escape.
Products for relief of dehydrated skin
Avène – Thermal Spring Water Spray (300 ml): This product was specifically designed to rehydrate sensitive, hypersensitive, allergy-stricken, or irritated skin.
Uriage – Eau Thermale Water Sleeping Mask (50 ml): Count on the moisturizing power of thermal water for your night masks. It has an incredible capacity to restore, moisturize, and refresh your skin!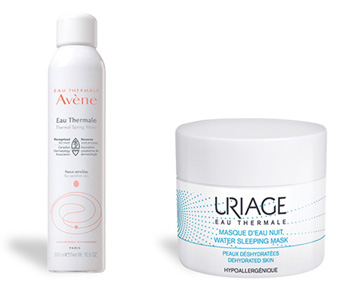 Do you have dry or dehydrated skin? We can help!
Consult our cosmetic specialists to find the best products for your skin. Head to your nearest Brunet location and take advantage of our team's expertise!
Other tips and tricks for dry or dehydrated skin