Treat yourself to a massage by rolling your foot over a tennis ball, from toe to heel and back.
When warm weather returns, we all like to show off pretty toes. But that requires some pampering throughout winter and spring when cold, dry air makes life tough for your tootsies.
Why do feet get dry and rough in winter? As the mercury dips, the skin on our hands, feet and entire body struggles to retain its moisture.
But since feet tend to be neglected more often than our hands and face, we end up with cracked heels and scaling skin that can sometimes even be painful.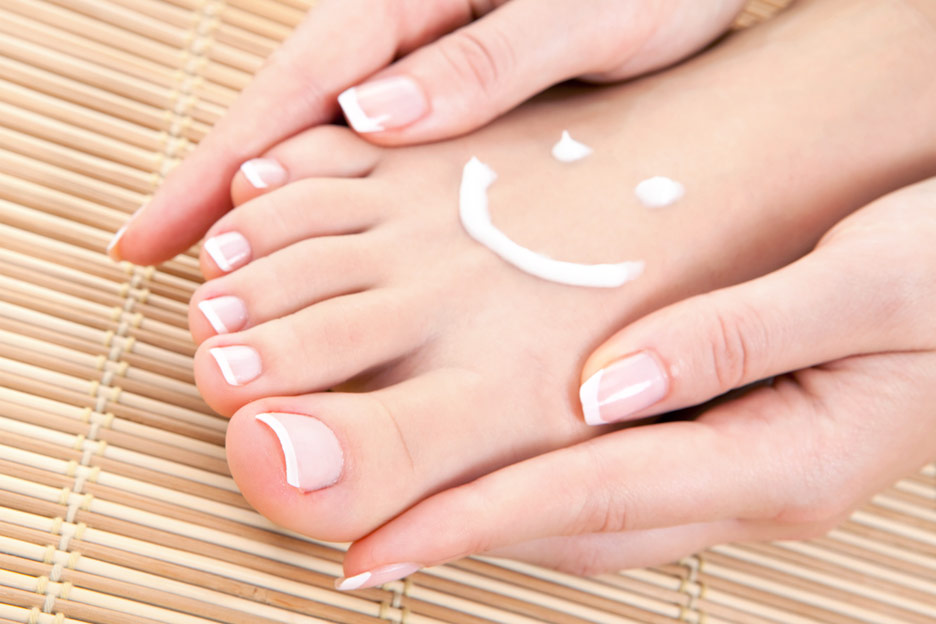 Five-step home pedicure
Ideally, we should treat our feet as well as our hands. Proper foot care only takes a few minutes per week—and it goes a long way in preventing chronic dryness.
Soak
Letting your feet soak in a lukewarm bath with a splash of bath oil will soften rough spots and leave you with perfectly clean skin. Keep your feet submerged for 10 minutes or more. Pat dry and proceed to the next step.
Scrub
Use a pumice stone or callous file to scrub any areas with corns or callouses. Strokes should be long and gentle, with a back-and-forth motion.
Exfoliate
Massage your feet with an exfoliating foot scrub. Rinse and dry carefully, especially between your toes. Clean under and around your nails, but make sure you don't dig too deep. You don't want to separate the nail from the fragile skin below.
Remove cuticles
Just like cuticle care for your hands, apply a cuticle softener on the base of each nail. Leave it on for 5 minutes, then gently push the cuticles back. Never cut your cuticles.
Trim and polish
Give your toenails a trim with pedicure pliers or a regular nail clipper. To prevent ingrown toenails, keep the edges square. Then, file your nails with a metal nail file.
Next comes nail polish, which should never be left on for weeks at a time, as this can cause staining and prevent your nails from breathing. You don't want to end up with fungus on your toes.
Say goodbye to extreme dryness
If your feet are extremely dry, coat them with thick layer of moisturizer before bed. Pull on some cotton socks before slipping your toes under the covers. After a few days of this special care, your feet will become incredibly soft!
Our favorite products:
Do you need additional advice on how to care for your feet? This article will get you started, but we'd also be happy to discuss your needs at any of our stores.