Different face masks serve a wide range of purposes, using various ingredients. In this article, we answer all your questions about face masks! Read on to find out which mask will benefit your skin type most.
What are the benefits of face masks?
Masks have several functions: cleansing, moisturizing, exfoliating, protecting, and softening. Whether you opt for cream, gel, sheet, or night masks, adding them to your beauty routine is a great way to enhance the beneficial effects of your lotions and serums. Your skin will thank you!
Face masks provide the following benefits:
Regulated sebum secretion
Reduced redness and spots
Diminished appearance of scars
Fewer dark circles, bags, and wrinkles
Cleaner, tighter pores
Nourished and toned skin
Soothed sensitive and irritated skin
Renewed complexion and softer skin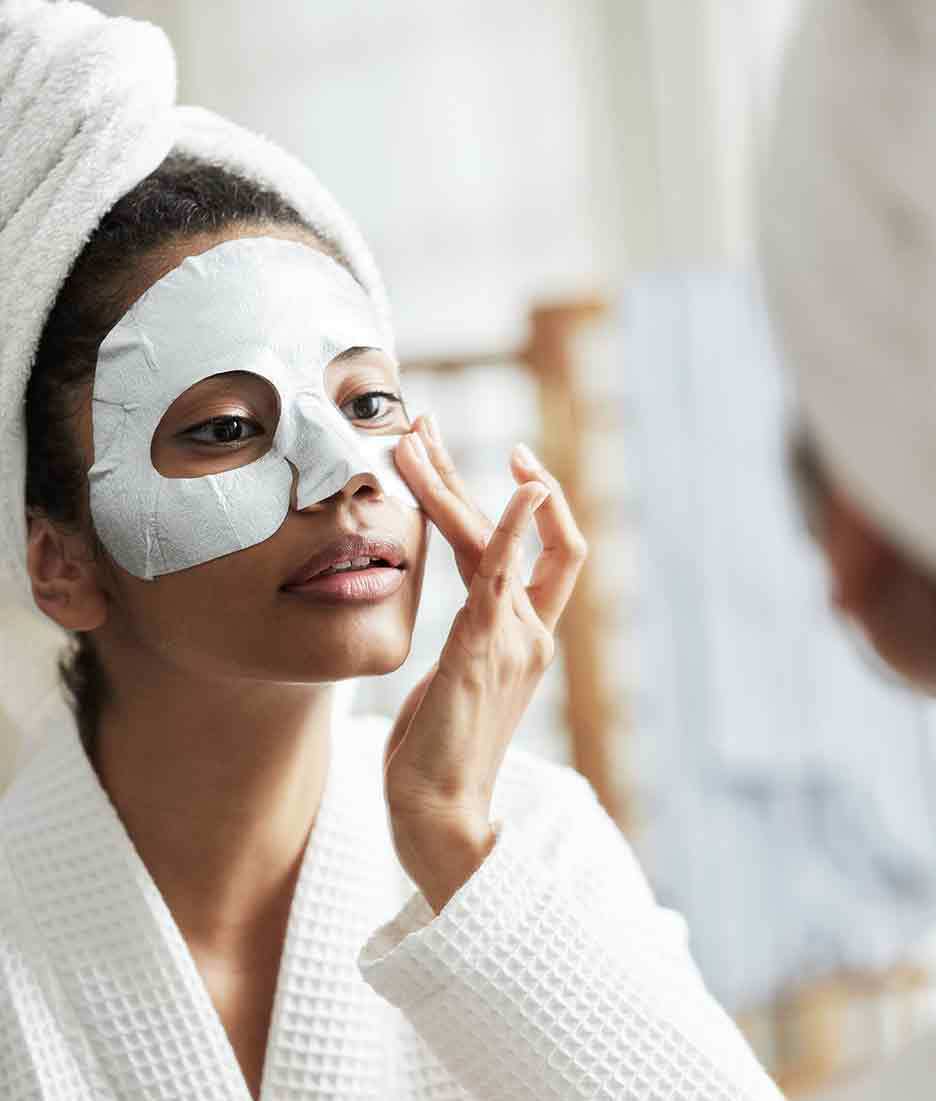 1 Moisturizing masks
These masks revitalize and nourish your skin to keep it moisturized and protected. Your skin will enjoy improved elasticity, tone, and brightness.
2 Masks for acne and blackheads
Purifying masks are great for people with oily or acne-prone skin. Designed to absorb excess oil and sebum, these masks help unclog and minimize pores.
3 Anti-aging masks
These masks, including those with smoothing and firming properties, encourage skin cells to regenerate, thus reducing fine lines and wrinkles. What a great way to decrease the signs of aging!
4 Soothing masks
If your skin is sensitive or reacts badly to wind, sun, cold, smog, or your emotional state, you'll love these gently hydrating and nourishing masks. We recommend applying them before bedtime so your skin can relax properly.
Where should you apply a mask to get the most benefits?
While face masks are very popular, keep in mind that you can also get masks for your eyes, lips, and hair.
Eye masks help reduce puffiness, dark circles, and fine lines under and around the eyes. Lip masks, on the other hand, help moisturize and plump everything up. Hair masks can be applied after a shower to help fight dryness, restore vigour, and reduce breakage.
When to incorporate a mask into your beauty routine
Ideally, you should apply a mask once or twice a week, after a shower or in the bath, after the heat has opened your pores. It's also important to adequately cleanse your skin or hair before you apply a mask. You can even use an exfoliant beforehand to remove dead skin and impurities.
Which ingredients are best for your skin type?
1 Clay
Clay improves oily skin by absorbing excess sebum, but this is just one of its many properties and benefits. It all depends on the colour!
Red clay: Particularly beneficial for sensitive skin, this clay relieves redness and irritation.
Purple clay: This clay's softening properties are perfect for dry skin.
Yellow clay: This clay is renowned for its toning, oxygenating, and exfoliating properties, and is especially beneficial for skin and hair.
White clay: This restorative clay gently moisturizes and purifies, while helping skin to heal.
Pink clay: Beneficial for both dry and sensitive skin, this mixture of white and red clay deep cleans while caring for damaged areas without irritation.
Blue clay: This invigorating clay is excellent for your skin and hair, especially if it's been colour treated, adding brightness and radiance.
Green clay: This absorbent clay helps fight acne, tighten pores, and reduce sebum.
2 Charcoal
Charcoal-based masks are very effective at removing embedded impurities and absorbing excess sebum, thus helping to eliminate pimples and blackheads.
3 Green tea
While green tea masks also absorb excess sebum and toxins from the skin, they have the added benefit of tightening pores, leaving skin cleaner and more radiant. Green tea also helps soothe and regenerate skin while maintaining elasticity.
4 Turmeric
Turmeric has several benefits for the body. In a face mask, it helps heal skin, clean pores, and minimize brown spots. Indeed, turmeric has purifying and antioxidant properties that will give your skin a healthy glow!
Last updated on June 1, 2022.