It's Fall. The leaves are changing colour, tempting you to change your hair colour. Discover new trends and learn how to enjoy a stylish new colour without emptying your wallet.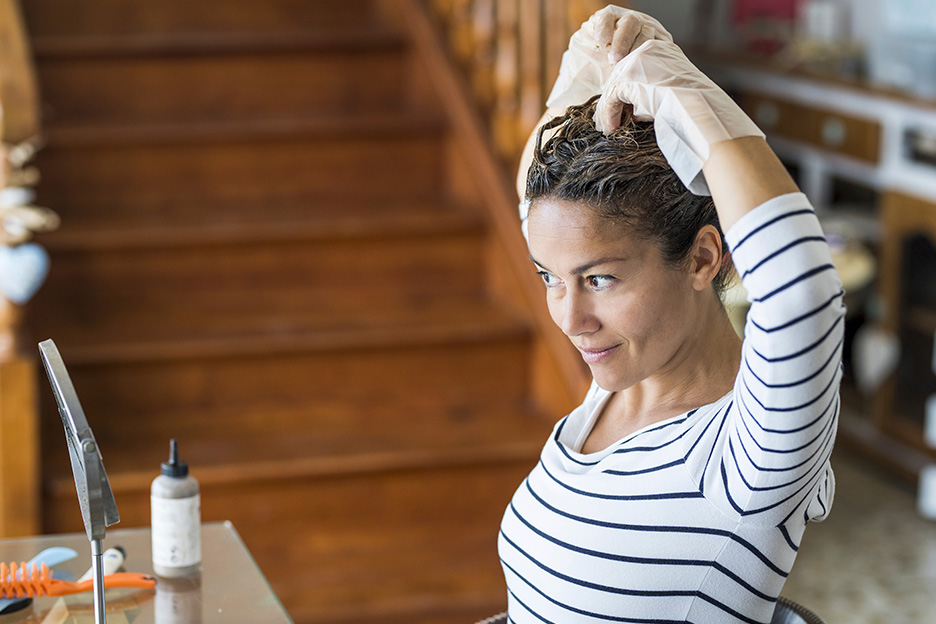 Starting the fall season with a new hair colour is easy and fun! The important thing is to pick the right dye and to follow professional tips.
A NEW COLOUR TO ENHANCE YOUR NATURAL BEAUTY!
Good news! The trends for this fall are as varied as the autumn foliage. But there is one thing that is consistent: fabulous hair colour that flatters your skin tone.
If you want to do it yourself (and why not with such amazing products available), the rule of thumb is to keep within 2-3 shades lighter :
So browns can go flaxen blonde, dirty blondes can go platinum.
Redheads look warm and sunkissed with a rose gold shade.
And brunettes are never more beautiful than when they spice it up with rich chocolate, caramel or auburn shades.
Our recommendation:
BioMagic Hair Color Cream
HIGHLIGHTS OR AN OMBRÉ FOR A SLIGHT TRANSFORMATION
Pick up the nuances in eye colour and skin tone with highlights.
Choose subtle changes like :
caramel or auburn on dark brunette hair,
or platinum to honey highlights for light brown or blonde hair;
of course, if you have a daring, youthful streak, try some of the pretty pastels, like lavender and pink.
If you want to get in on the newest trend, go ombré. While it looks complicated, it's actually easy, with none of the hassle of monthly touch-ups. Because colour is on the bottom or on inner layers of hair, re-growth is not an issue. Best of all, there are great at-home products that make it foolproof.
How to apply ombré highlights:
Hair should be dry and detangled. Brush hair smooth to allow for a flawless application. Mix the L'Oreal Superior Preference Ombré Touch product as per directions. Put the fingertip brush on and get ready to dip away!
Decide where you want your ombré to begin. You can start at the level of your mouth. You can also lift the top portion of you hair up as if you were going to do a half-up, half-down hair do, pull out a full strands around your face and apply the ombré highlight mostly to the inner layers of your hair and just add a few highlights around your face. You control the colour gradation from your natural hair colour, depending on how long you leave the product in (anywhere between 20-45 minutes.) Check every 5 minutes to see how you like the highlighted colour.
For a more delicate application, use the fingertip brush vertically and only coat small strands. For a more intense look, use the brush horizontally to cover more hair.
Wash and rinse hair as directed.
Tip: Contrast makes ombré look the best, so don't go overboard. Contrast will give your ombré strands depth and a professional look.
Keep your colour-treated hair soft, silky and radiant!
Once you've coloured or highlighted your hair, you must be diligent in keeping it nourished and protected to ensure your new colour looks salon-fresh for weeks to come. Rich conditioning is key.
Our recommendation:
Solfine Crema Color permanent colour
PERMANENT NATURAL HAIR DYE
There has been a rise in the popularity of organic trends, and hair is no exception! Are you wondering if an herbal hair dye is right for you? If it really is efficient?
Colour intensity, shine, how long it lasts… Are these questions holding you back?
Besides its clear benefits (plant-derived active ingredients, ammonia-free dye, etc.) herbal hair dye is as efficient as a chemical dye!
It's also as easy to apply as any other hair colouring kit and the results are as beautiful. Plus, it's gentle on your hair and scalp!
Our recommendation
PHYTO PHYTOCOLOR permanent hair colour dye enriched with botanical pigments
Want more information about a specific product or brand? Send us a message on Messenger or leave a comment below.
You can also ask our in-store cosmeticians for help. They'll be happy to help you select the right beauty products for your hair.
Head to your nearest Brunet pharmacy to take advantage of this service!
To read also :