Thanks to the growing popularity of the clean beauty movement, the cosmetics aisle is now filled with products formulated with ingredients sourced directly from nature. But what ingredients are we talking about? And what beauty benefits do they have? Let's take a closer look at five of them.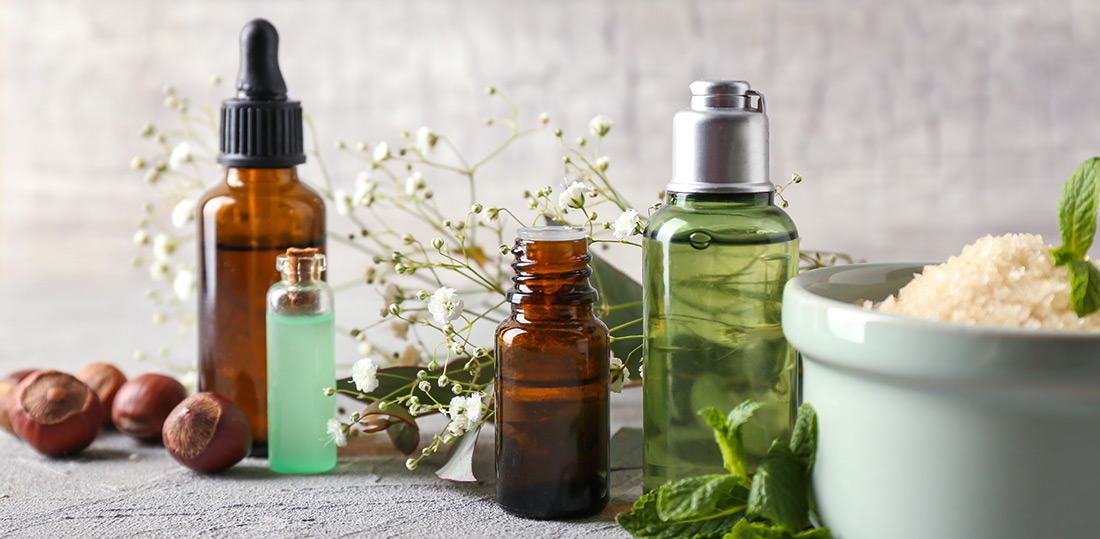 Nourishing vegetable oils
Vegetable oils are rich in essential fatty acids (EFAs), antioxidant vitamins, and minerals. Thanks to their moisturizing, lipid-replenishing, and regenerating properties, these oils are choice ingredients for anti-aging skin care products as well as products designed to treat very dry, chapped, or atopic skin.
Common examples of vegetable oils used in cosmetics
Argan oil helps keep the skin supple and firm and offers a layer of protection against external aggressors such as sunlight, wind, dust, and pollution. It also has a repairing and healing effect.
Hemp oil doesn't just nourish and firm the skin—it also helps regulate sebum production and retain moisture. As a bonus, its lipid profile is similar to that of human skin, which means it penetrates easily (and quickly!).
Shea butter, which is rich in ceramides, nourishes the skin, preserves elasticity, and relieves itching.
Essential oils
Essential oils are derived from aromatic plants through a process known as steam distillation. They're as beneficial for the skin as they are for the senses, and can help fight the signs of aging, reduce imperfections, prevent dehydration, and soothe irritation. Each oil has its own unique properties!
In addition to being found in many moisturizers for the face and body, these oils are great for relaxation. Simply add a few drops to a bubble bath, massage oil, or diffuser and you'll be on your way to creating an at-home spa experience.
Common examples of essential oils used in cosmetics
Lavender is known for its relaxing and anti-inflammatory properties. It can soothe irritations, relieve muscle pain, and promote sleep—the original beauty secret for a healthy complexion!
Rose helps the skin maintain a youthful and radiant glow. Offering additional soothing, hydrating, and antiseptic properties, it's easy to understand why this product is so ubiquitous in toners and beauty mists.
Cypress and juniper have toning and stimulating properties, which help fight water retention and relieve heavy leg syndrome.
Cornflower water
This calming and anti-inflammatory floral water (or hydrosol) has toning, decongesting, and astringent qualities.
It can tighten pores, remove excess sebum without damaging the skin, and give your complexion a boost by reducing signs of fatigue.
It's found in many eye-care products such as creams, gels, and patches formulated to reduce the appearance of dark circles and puffiness. It also has a brightening effect, which makes it ideal for toners and serums.
Honey
Don't be surprised to find this ingredient in your beauty drawer as well as in your pantry. Rich in vitamins B and C, amino acids, and trace elements, honey is known for its regenerative effects. In addition, this ingredient has considerable healing powers since it contains proteins and enzymes that produce oxygen peroxide.
It can strengthen the skin's protective and moisturizing barrier, relieve irritation, and help repair damaged skin. It also helps reduce oxidative damage, which is responsible for visible signs of aging.
It's found in a variety of cleansing and nourishing formulas for the face and body. Its nutrient-rich properties also make it ideal for lip balms and hand creams.
Tea
Tea is a potent anti-aging ingredient that combats the signs of aging skin. This is mainly due to its high concentration of polyphenols—powerful antioxidants that increase the body's resistance to free radicals, thus helping to prevent cell damage. Rich in vitamins and trace elements, tea also has anti-inflammatory, purifying, and toning properties.
It can delay skin sagging, slow down the appearance of wrinkles, strengthen and regenerate the skin's protective barrier, regulate natural oil production, and even out the skin's texture. It's the whole package!
Tea is often used in facial cleansers and purifying masks, as well as in anti-aging serums and moisturizers. It's also found in certain energizing and regenerating bath and body products.
Looking for natural beauty advice?
Don't hesitate to talk to our cosmetic specialists the next time you visit one of our stores, and take the opportunity to check out our Inspired by nature section.
Other tips for an eco-friendly beauty bag