Summertime! The perfect opportunity to let your toes shine… in bright and beautiful colours. Get ready to strap on your favorite sandals and wiggle your toes. With our help you can flaunt pedicure-perfect feet in no time.
As the warm weather approaches, a little prep makes for happy feet. Eliminate dead skin and calluses, but think twice before you reach for your forgotten pumice stone, as it could be harvesting bacteria. Opt for a brand-new stone or better yet, a foot file. After polishing feet smooth, slather rich cream on them in the evening. A foot massage will also relax you for a restful sleep.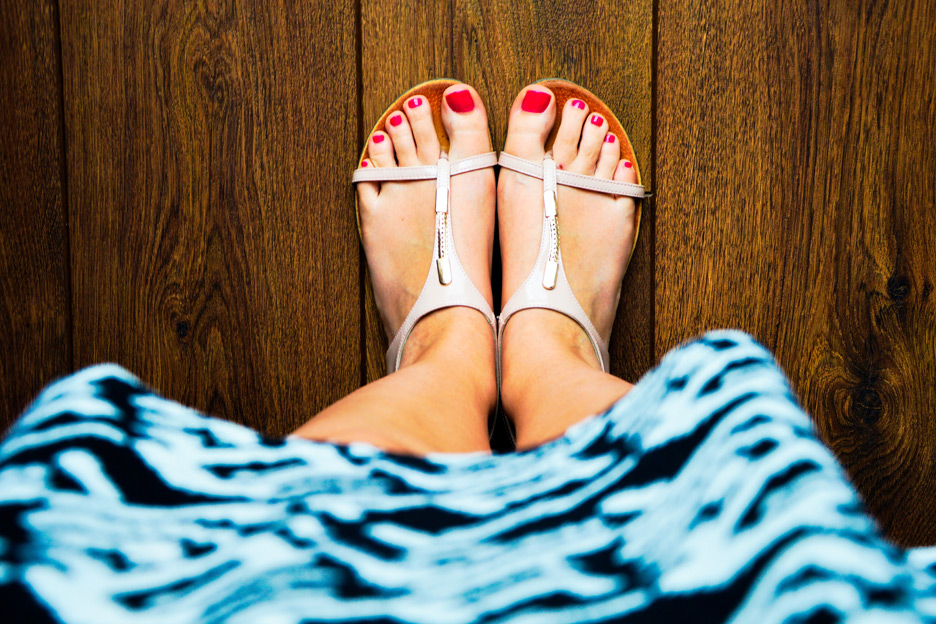 Salon pedicure… at home!
No need to book an appointment, you can give yourself a salon-quality pedicure with these easy steps:
Remove all polish. Trim and file your toenails.
Buff nails smooth with a nail buffer.
Massage cuticle softener around the nail contour.
Soak feet in warm water for 10-15 minutes (or take your shower or bath).
Push back cuticles with a cuticle stick and remove any debris or dead skin from beneath and around the nail.
Apply moisturizer to feet, followed by a swipe of nail polish remover to prepare the nail.
Apply your base coat, followed by nail color, followed by top coat.
Remove any errors with a nail polish remover pen and don't worry, any polish on skin will come off with your next shower.
Tip: The next day, apply cuticle oil all over your toenails, it will moisturize skin around the nail bed and help your polish last longer.

Summer's pedicure colours!
Cherry red – this classic looks good on all skin tones and adds a punch of colour to all-black, white, navy or neutrals.
Orange – the ultimate summer neon for a pop pedicure, it enhances your summer tan.
Coral – think of this shade as the ladylike alternative to neon orange. Trendy, just a bit daring, but oh so chic!
Snow white – it's so right for summer! Try an almost opaque shade for a graphic, modern look, super sexy with black sandals.
Aqua – think summer skies and tropical waters. Then, dive right in to this newest colour trend.
Purple – always rich and regal, try a lighter, brighter shade of amethyst for summer.
Gold – summer is the time to add some bling, right down to your tootsies! Leave winter's ho-hum beige behind and opt for light-reflecting, eye-catching gold.
Baby pink – bring on this girly shade! It makes nude sandals look super sexy and gives a feminine edge to black peep-toe shoes!