When it comes to lips, some people like a full, generous pout, while others prefer a thinner, delicate look. There's no wrong answer—after all, beauty is in the eye of the beholder! Fortunately, there are a few simple techniques that can help you create a plumper pout, make full lips look slimmer, or naturally enhance your lip colour. Follow this guide!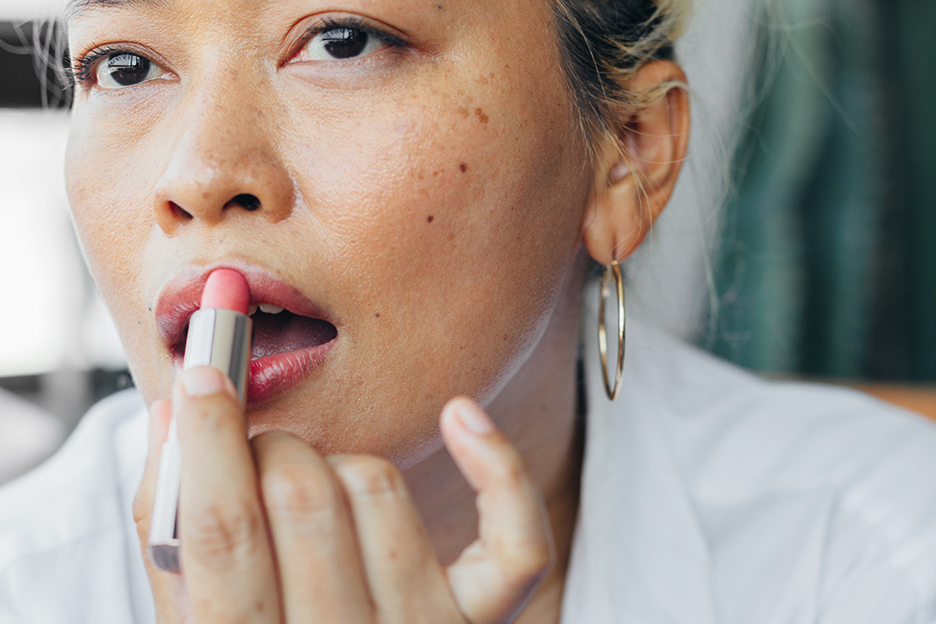 USING PRIMER IS THE KEY!
A lip primer will keep your lips moisturized and prepare them for your makeup routine. It will also prevent your liner, lipstick or gloss from bleeding. That's because a primer fills out the small lines and wrinkles and makes your lip texture even so they'll look smooth. Do you feel like you're always reapplying your lipstick or gloss? A lip primer can solve your problem! Primer pencils are incredibly practical because they offer better precision and longer hold.
HOW TO GET PLUMPER LIPS
Apply a bit of foundation on your lips, then blur with your fingers or a sponge.
Mattify with some sheer powder.
Trace the "new" contour of your lips with a pencil that's the same colour as your lips, by tracing slightly outside your natural lip line.
Fill out your lips with your pencil but leave the middle of your lower lip nude for a lovely 3D effect.
Then apply an iridescent lipstick and a little lip gloss for a lustrous finish and plumper lips.
Pro tip: Try a plumping lipstick to create fuller, irresistible lips. This type of gloss often contains natural ingredients such as cinnamon, menthol, cayenne pepper (also called capsaicin), caffeine, niacin (a type of vitamin B that stimulates blood flow and gives your lips volume). It can sometimes make your lips sting after application, but don't worry; that simply means it's working. These ingredients have all been put through tolerance tests, so you can use a plumping lip gloss without any danger. Don't hesitate to try it out!
HOW TO SLIM FULL LIPS
Use the same primer as you would to get fuller lips.
Lightly trace the contour of your mouth inside the natural line of your lips with a pencil of the same colour as your lipstick.
Fill out your lips with the pencil, then apply your lipstick.
A dark shade and matte texture will magically make your lips appear thinner!
HOW TO GET PINKER LIPS NATURALLY
Exfoliate your lips as part of your skincare routine to remove dead skin and say goodbye to dry lips. Use a gentle exfoliator that won't damage the delicate skin of your lips. Exfoliation also stimulates blood circulation and gives an instant boost to your lips' natural colour.
Keep your lips hydrated by drinking plenty of water and protecting them with a moisturizing balm with SPF.
TIPS FOR BEAUTIFUL LIPS
You won't be able to embellish lips that are dry or chapped. You need to moisturize your lips to make your lipstick last longer.
Incorporate a lip cream into your evening skincare routine. Choose a cream with collagen and hyaluronic acid. Your lips will look smoother and fuller.
Exfoliate! Use a product specifically designed for lips or a soft-bristled toothbrush. In addition to getting rid of dead cells, you'll stimulate blood flow and make it easier for your lips to absorb the moisturizing agents in your lipstick.
To keep your lipstick from bleeding, apply a bit of concealer around your mouth, then some sheer powder to set your makeup. Finally, apply your lipstick.
For a touch of glamour, apply some brightener or beige glitter eyeshadow right at the Cupid's bow on your upper lip.
If your lips are uneven, apply a shade of lipstick that is darker on your fuller lip to make it appear smaller.
Last updated June 23, 2022
WONDERING WHAT PRODUCTS WILL WORK THE BEST FOR YOUR LIPS?
Our cosmetic specialists will be happy to advise you. Ask them for assistance the next time you visit your local Brunet pharmacy!