Smoothies are, without a doubt, one of my favourite choices for breakfast, especially in summer. Enjoying a smoothie is one of the best ways to start the day and recharge after a good night's sleep.
« Since they're nourishing, chock-full of vitamins and minerals and colourful, smoothies will shine brightly on your morning routine. »
Whether you're a green, fruit, protein or chocolate smoothie type, you'll find the smoothie that matches your tastes with these four simple and delicious recipes.
Enjoy them without moderation this summer!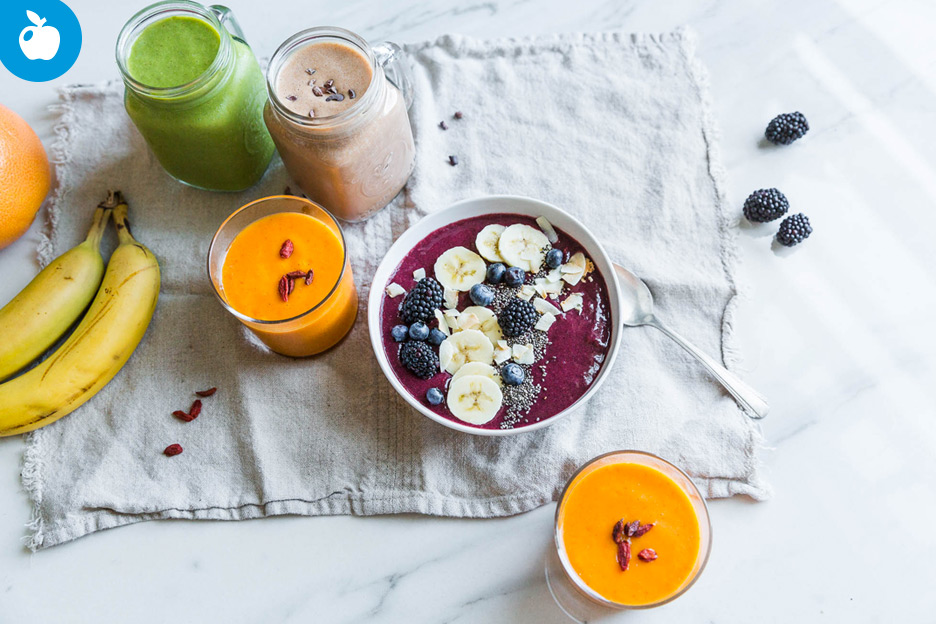 Green smoothie
If you're worried about making a green smoothie that tastes "too green", this recipe is a great way to get started. Together, the mango and banana act as the perfect counterpoint to the spinach and add just the right amount of sweetness.
Blend one ripe banana, one cup of frozen mango and two or three good-sized handfuls of spinach. I like to add one tablespoon of flax seeds or hemp for a small dose of fibre and omega-3. Next, blend in about one cup of almond milk (or the milk of your choice). And that's all there is to it!
Don't hesitate to replace the spinach with kale leaves (omit the stems), mangoes or pineapples, if so inclined. Select yellow fruits, so the smoothie retains its beautiful green colour.
This recipe serves as a simple base that can easily be transformed in a thousand ways according to your tastes and depending on the ingredients you have on hand. Try adding some lime juice, yogurt or even some fresh herbs such as basil or mint. The possibilities are endless!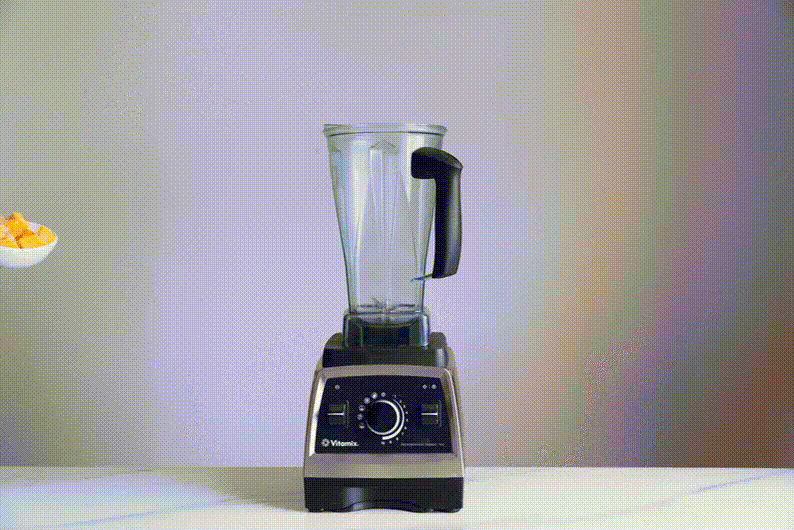 Berry and chia seed smoothie bowl
The berries are not only delicious, but they're rich in antioxidants and fibre as well as low in calories. They are particularly beneficial for brain health, concentration and memory.
Rather than using a banana, this smoothie is sweetened naturally with a few dates and a little coconut water. Simply add these two items to about one and a half cup of the berries of your choice (strawberries, blueberries, blackberries, raspberries, etc.). I like using frozen fruit for a thicker smoothie, but you can also use fresh seasonal fruit and add a few ice cubes.
Add one tablespoon of chia seeds or a little almond butter, then blend. Pour into a bowl, and add your favourite toppings (fresh fruit, chia seeds, coconut flakes, granola, etc.). To make a more liquid version you can drink in a glass, simply increase the amount of coconut water.
Tip: To keep things simple when it come breakfast time, measure your fruit in advance and freeze it in ziploc bags. In the morning, just take them out of the freezer and transfer them to the blender!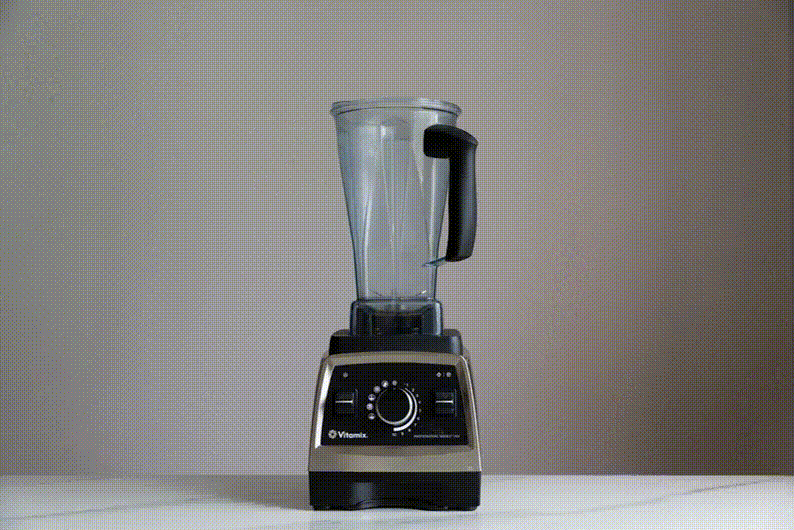 Chocolate smoothie with protein
This smoothie tastes heavenly! It makes an ideal afternoon snack after being physical active or working out. Since it has a healthy dose of protein, you'll feel full until your next meal.
Blend one frozen banana, one portion of your favourite chocolate protein powder, a spoonful of peanut or almond butter, about half a cup of plain Greek yogurt, a dash of vanilla extract and a touch of almond milk. Add a few ice cubes before blending.
For an even more chocolatey smoothie, add one or two tablespoons of cocoa powder (use raw cocoa powder instead of refined cocoa, as it contains all the cocoa plant's powerful antioxidants and phytonutrients). Sprinkle your smoothie with raw cocoa nibs or a hint of cinnamon, and enjoy!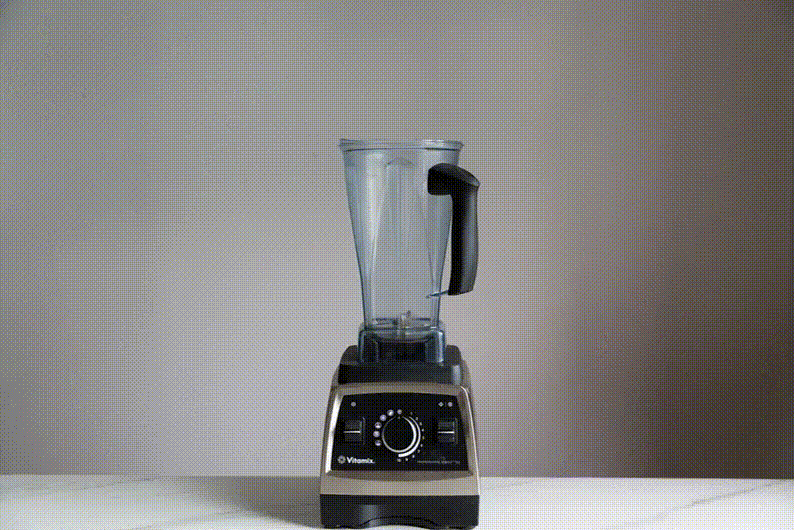 Vitamin-boosted smoothie
This smoothie is like a dose of liquid sunshine! Blend one cup of frozen mango or pineapple, two peeled oranges and one or two tablespoons of goji berries. High in fibre, vitamins, minerals, protein and antioxidants, goji berries are a true superfood!
Add a small pinch of powdered turmeric for its bright yellow colour and anti-inflammatory properties, a bit of fresh grated ginger and lemon juice as a flavour booster. Top things off with a little coconut water, and enjoy the taste of summer vacation in a glass!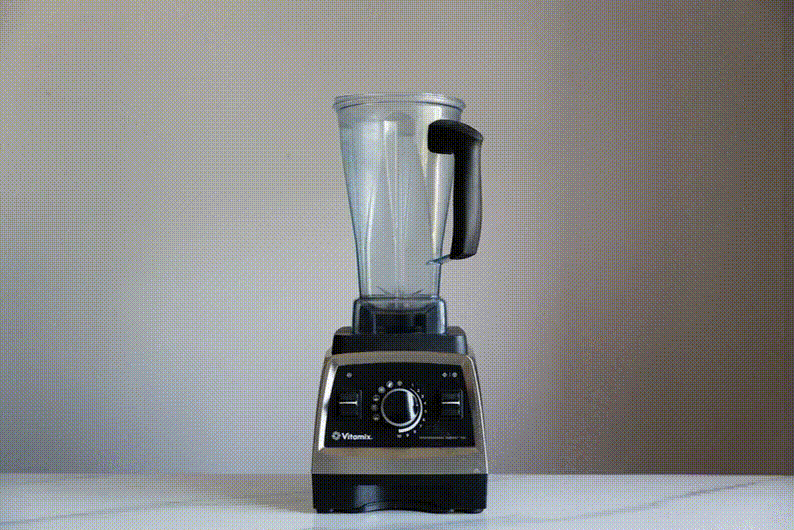 What's your favourite smoothie recipe? Share your top picks and ideas with us on Facebook! If you have questions about your health or need help reaching your goals, don't hesitate to speak with your pharmacist.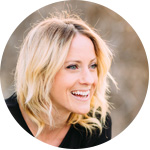 Sophie Bourdon | Follow me on The Green Life
Sophie Bourdon is a holistic nutritional consultant, writer, photographer, and food stylist. She is the founder of The Green Life, a blog featuring delicious plant-based recipes for a healthy, vibrant life. The Green Life inspires thousands of readers to make nutritious, organic choices so they can regain their physical and mental balance.