Who said you needed to get out of the house to have brunch on the weekend? Preparing a healthy brunch with your family is a nice activity for a Sunday morning.
Do you need inspiration? These 4 easy recipes – perfect for your young assistants – will make both your taste buds and your wallet happy. Ready? Follow the guide!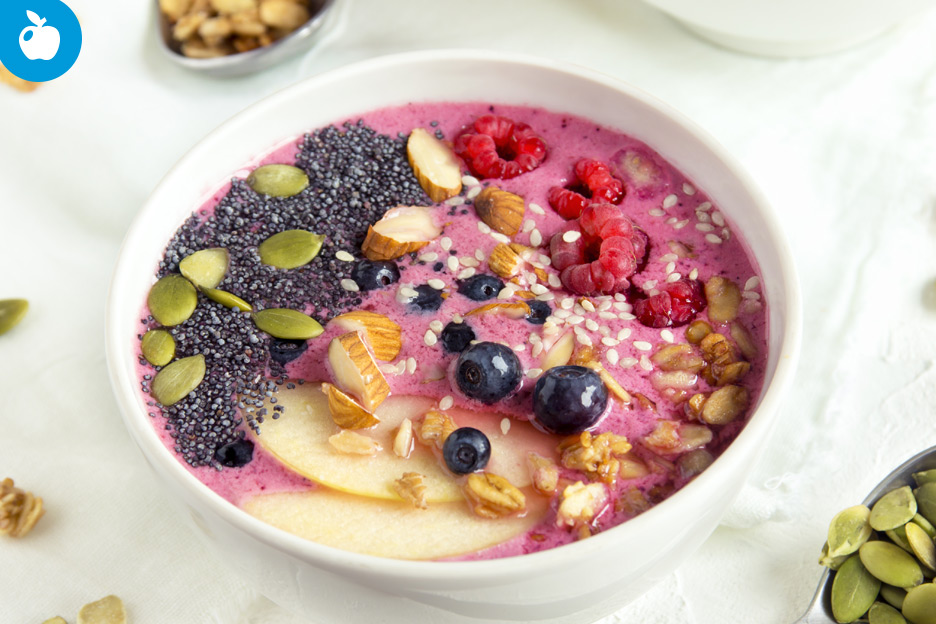 1. Make a bowl of happiness
Fresh and colourful food, 3 super simple steps… With this option, it's almost impossible to go wrong!
Fill bowls with a nourishing base, such as chia pudding, a smoothie, Greek yogurt or porridge made from whole grains such as oats or quinoa.
Top with a generous helping of mixed fruits and make sure to alternate colours to create an appealing contrast. (An infallible tip: add berries to the equation!)
Garnish it all with chopped nuts or superfoods such as goji berries, bee pollen, hemp seeds or cocoa nibs. Your guests will love it! You'll get magnificent results, and your dish will contain more vitamins than the classic egg, bacon and hash brown combo.

2. Create your own waffle bar
Want to give your healthy brunch an exciting twist? Set up a buffet of toppings that you can use on a stack of hot waffles! All you need is 2 or 3 different waffle batters: plain, chocolate, buckwheat, sweet potato, lemon-poppy, etc.
Nutrition tip: Use whole-grain flour, and don't be afraid to reduce the quantity of sugar and fat in your original recipe!
In the centre of your table or kitchen island, lay out some carefully chosen ingredients to create 3 to 5 garnish themes. Here are some crowd-pleasing examples:
Piña colada: Sliced pineapples, coconut kefir, coconut chips
Banana split: Strawberry jam, banana slices, peanuts, chocolate chips
Yogurt parfait: Vanilla Greek yogurt, mixed berries, granola
Apple pie: Maple caramelized apples, cinnamon, sharp cheddar
Ricotta: Ricotta cheese, a pinch of nutmeg, honey, fresh figs, chopped pistachios
Waffles aren't your favourite? No worries: this concept is perfect for crepes, pancakes and French toast!

3. Organize a toast fiesta
Peanut butter and bananas is good, but a little variety is better! For your healthy brunch, try something new with inventive spreads on whole-grain bread. There's something for everyone, promise!
For those who crave salt: fine herbs or dried tomato pesto, olive tapenade
For the sweet (but not too sweet) teeth: sugar-free fruit jam, homemade chia chocolate hazelnut spread
For the vegan side: creamy avocado, hummus, cashew butter
For cheese fans: cream cheese, ricotta cheese
For an added layer of tasty delight, slice a few bright fruits and veggies (cherry tomatoes, cucumber, radishes, strawberries, peaches, etc.) and lay out some herbs (basil, mint, fresh thyme, sage) or chopped nuts for decoration.

4. Add an exotic touch to your eggs
Are scrambled eggs and omelettes becoming a bit monotonous? You can (litteraly) spice up this traditional brunch dish by turning it into an exotic treat such as shakshuka, huevos rancheros, breakfast burritos or a hearty bowl combining avocado, sweet potatoes and tempeh "bacon". The whole family will be able to enjoy the protein in eggs while adding a few servings of vegetables to your morning meal.

Have our healthy brunch ideas made your mouth water? Here are some other yummy tips:
Don't hesitate to consult your pharmacist if you have questions about nutrition or want to get back in shape: they will offer you a personalized advice based on your health condition.