Is your mane gradually thinning? You're not alone! One in two men aged 50 and over grapples with hair loss. Yet still today, misconceptions on the subject abound. Here are the straight facts on five hair loss myths.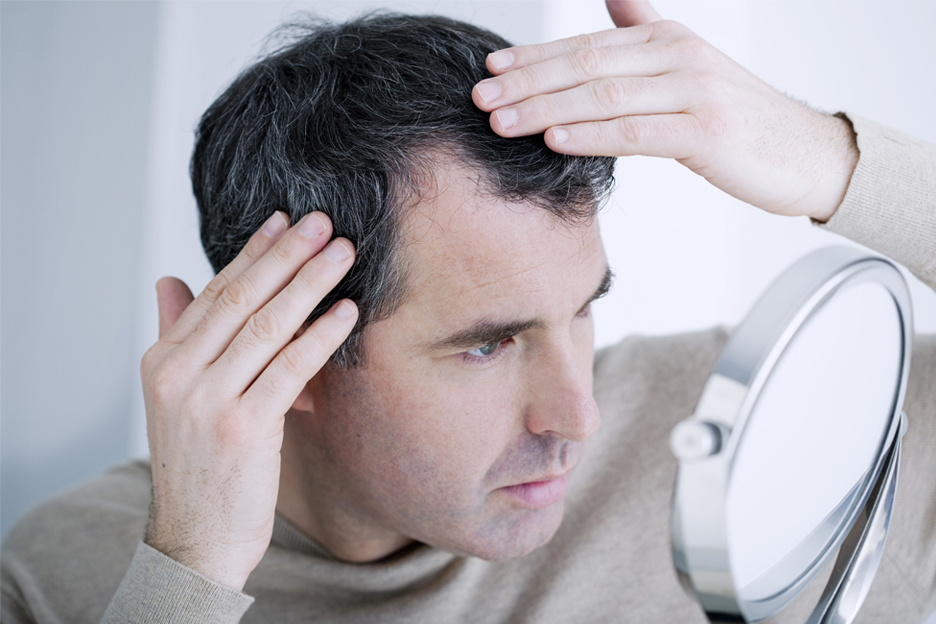 Myth no. 1: There are many causes for hair loss
False. In nearly 95% of cases, hair loss in men is caused by male pattern baldness, otherwise known in scientific circles as androgenetic alopecia. This type of baldness causes a gradual loss of hair. Research has shown that dihydrotestosterone, a hormone derived from testosterone, plays an important role in this disorder as it shortens the hair's growth cycle, which leads to a gradual decrease in hair follicle size and ultimately to hair loss.
Myth no. 2: Hair loss is a genetic condition passed down from the father
False. It's true that a predisposition to male pattern baldness is hereditary, but it can be inherited from both the paternal and maternal sides. Experts even believe that male pattern baldness may involve a number of genes. However, it's important to know that the transmission of this condition depends on dominant inheritance patterns. So the more men you have in your family who are partially or totally bald, the more likely it is that sooner or later you will lose your hair as well.
Myth no. 3: This disorder affects only older men
False. Although hair loss due to male pattern baldness can occur at any age after puberty, it most often starts in the mid-twenties. However, since the hair loss is gradual, it takes many years to reach the more advanced stages. But the earlier the hair loss starts, the more the final result is likely to be severe.
Myth no. 4: Hair is lost in a random manner
False. Not at all! Hair loss due to this condition follows a definite pattern. It starts at the forehead and temples and little by little progresses backward, forming a characteristic M shape. Thinning on the top of the head then starts, gradually spreading until only a U-shaped circle of hair around the sides and back of the head remains.
Myth no. 5: Hair loss treatments don't work
False. Some treatments are quite effective, especially hair grafts and medications available in pharmacies, as these medical approaches have undergone rigorous scientific and clinical studies. For example, the effectiveness of pharmaceuticals (topical over-the-counter products applied directly to the scalp as well as prescription pills) has been scientifically demonstrated. These medications can help slow hair loss and, in some cases, even stimulate regrowth. However, there are many products and treatments on the market whose true effectiveness has not been proven because they haven't been tested in serious studies. When in doubt, talk to a health professional such as your pharmacist.