By changing some classic toppings on the traditional burger, you can easily make it into a healthy meal. For example, to cut down on fat, try swapping mayo for a Greek yogurt and balsamic vinegar spread!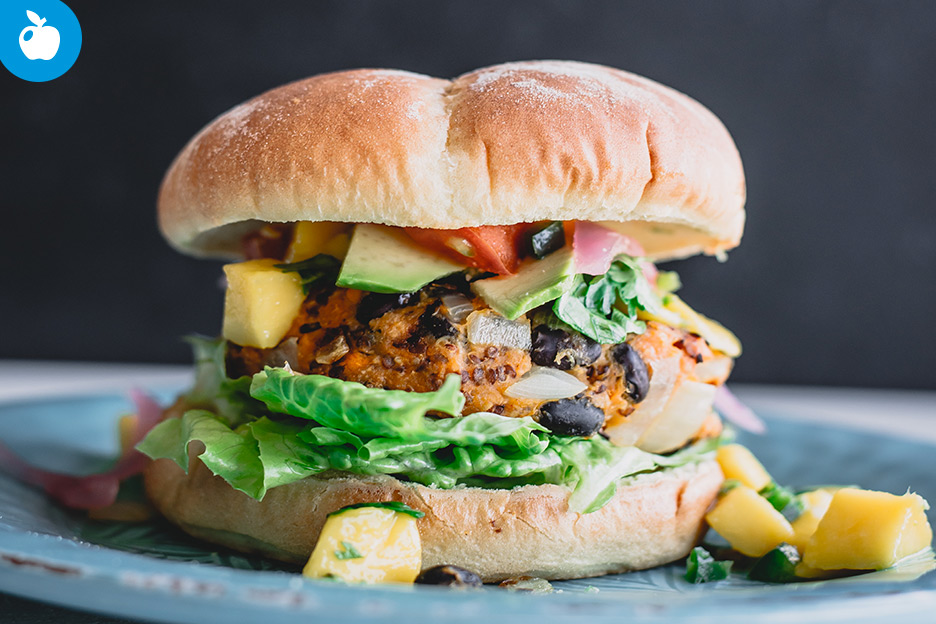 Summer's finally here and so is our much-needed, well-deserved vacation time! Nothing tops off a lazy day lounging around the pool better than a meal cooked on the BBQ. Here are 5 creative ideas to give your burgers a deliciously refreshing and healthy touch.
Add fruits
Their sweetness pairs beautifully with the classic salty flavour of burgers. Plus, fruits are a good source of vitamins, minerals, fibre and antioxidants.
Some winning combinations include:
Mango slices cut lengthwise
Thin slices of pear and Brie cheese
Strawberry slices and balsamic vinegar
Cherry compote
A handful of blueberries incorporated into your burger mixture—you'll be surprised at how tender it makes them
Mexican-style burgers, olé!
Mexican ingredients aren't just for tacos—they're a quick and delicious way to spice up your burgers! Legumes such as black beans are an excellent source of fibre, especially soluble fibre. They help to control blood glucose levels and reduce blood cholesterol levels.
For a 100% vegetarian burger, opt for a black bean patty, topping it with thin slices of avocado and red onion.
Prepare a kidney bean purée to replace the traditional condiments. Simply sauté a finely chopped garlic clove in vegetable oil. Add beans and a bit of cumin and chili powder. Cook until beans are done, then mash. Drizzle with lemon juice and you're done!
Sweet and salty salsa composed of corn niblets, mango and avocado cubes, and fresh cilantro.
Think green!
This summer, look beyond the traditional iceberg lettuce and experiment with new leafy greens. They have a very high nutrient density, meaning they provide a great deal of nutrients in relation to their calories. Try Boston lettuce, microgreens, mâche, arugula, alfalfa sprouts or even dandelion and beet leaves. And the more adventurous can add kale chips.
Greek-style burgers
Send your taste buds on a Mediterranean journey!
Prepare a tzatziki sauce with Greek yogurt, chopped cucumber and crushed garlic.
Mix a bit of balsamic vinegar with some Greek yogurt (or mayonnaise).
Hide small cubes of feta cheese and sun-dried tomatoes in your burger mixture.
Use whole wheat pita bread to change up the traditional bun.
Burger with pesto and grilled veggies
Prepare pesto, swapping the usual nuts for roasted soy seeds. In addition to being more economical, roasted soy seeds have twice as much protein as fat compared to nuts.
Top your burgers with grilled veggies such as bell peppers, zucchini, onion and eggplant.
Have fun experimenting with new flavours and showing friends and family who's the star of the grill!