Do you suffer from acne? If so, it is important to treat your skin with utmost care. Because your skin is subjected to all sorts of external aggressions, you must know how to protect it and keep it healthy.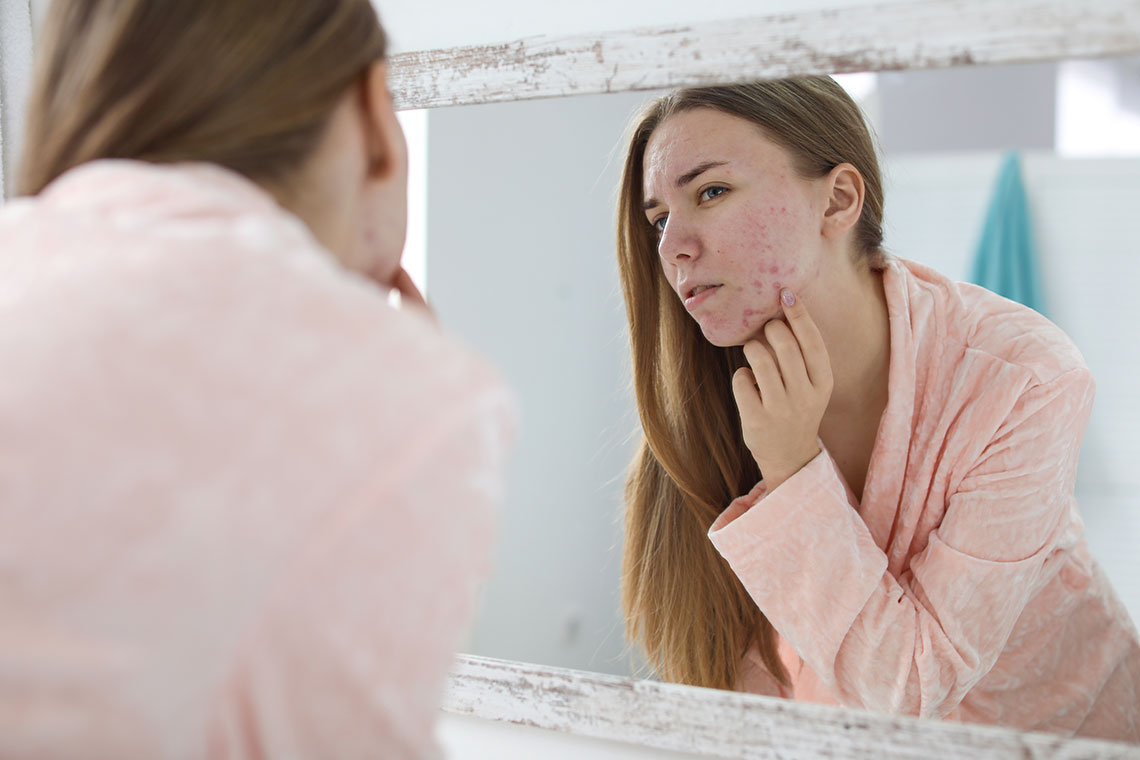 Where does acne come from?
Skin plays an essential role in the body's protection against external aggressions. It is crucial to take good care of it and keep it healthy, especially in cases of skin problems like acne, when appropriate care can contribute to treatment.
The body produces on the skin's surface an oily substance known as sebum, which is essential to keep skin hydrated. Sebum is produced by the sebaceous glands, which are located at the non-visible tip of hair follicles. Sometimes, sebaceous glands produce too much sebum and cells obstruct the duct through which it is secreted on the skin's surface. Clogged pores promote the development of bacteria, which cause inflammation and produce acne pimples. There are many types of acne spots, from small, red pimples to very painful cysts, but whether the acne is severe or not, it is imperative to give your skin adequate care.
Daily skincare
It is recommended to wash your skin twice a day (morning and night) with a mild, fragrance-free cleanser. Make sure the skin is well rinsed to avoid soap residue. Daily cleansing will dislodge excess sebum and limit bacteria growth. It is not necessary to wash skin more than twice a day; this can be irritating and can actually make pimples worse. It is also important to wash after playing sports. Sweat and sebum promote the accumulation of bacteria on the skin and lead to the appearance of new acne lesions. It is also suggested to wear loose clothing to avoid rubbing and sweat accumulation.
Keeping your skin hydrated is essential, especially if you suffer from acne. Dry, dehydrated skin defends itself by increasing the production of sebum, which makes acne worse. Opt for a product that is adapted to your skin type, that is free of fragrance and non comedogenic (does not cause pimples).
In addition to proper skin cleansing and hydration, the following tips will help you better manage acne:
Don't touch your pimples.
Avoid rubbing your skin.
Apply sunscreen when your skin is exposed to the sun.
Use oil-free makeup and choose non-comedogenic cosmetic products.
Wash your pillowcase and bed sheets regularly.
Shave infrequently and use a razor that does not irritate the skin.
Avoid after-shave products that contain alcohol.
Wash your hair often if it tends to be oily.
Makeup and sun protection
It is possible to use makeup even if you suffer from acne. You must, however, pay close attention when choosing products and follow these recommendations:
Choose water-based products that are not oily or greasy.
Look for products that are "non comedogenic".
Throw away all expired products.
Regularly wash all makeup brushes.
Do not use makeup excessively.
Remove makeup every night before going to bed.
The sun's rays can worsen acne. It is therefore vital to protect your skin when it is exposed to the sun. Furthermore, some acne-fighting products can make your skin more sensitive to the sun, so play it safe and use sunscreen with an SPF of at least 30.
Acne treatments are not limited to medication; on the contrary, treatment begins with simple daily skincare. For more information on skincare and acne-treatment options, consult your pharmacist, who will gladly provide you with advice for healthy skin.