When you are the parent of one or several fearless little tykes, you have to be ready for anything. For all of life's booboos, it is essential to always have a first-aid kit on hand. What are the basic items it should contain?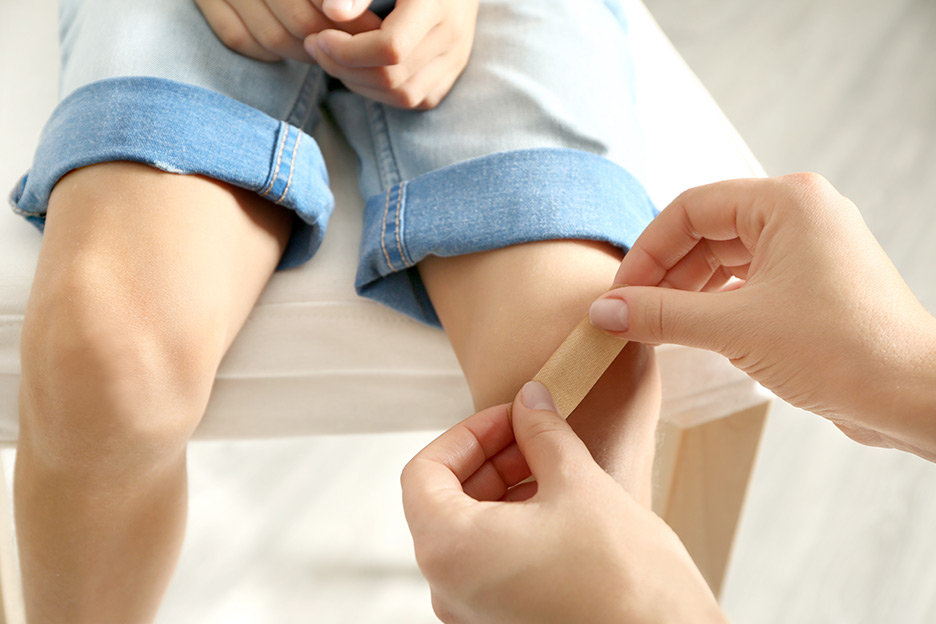 First-aid kit: the basics
Despite all the precautions you've taken to protect Junior, you find him in tears after a careless accident results in a scraped knee. The next day, your little princess wakes up in the middle of the night, feverish and vomiting. Do you have everything you need at home to take care of your kids?
A good way to avoid getting caught by surprise when dealing with life's little emergencies is to keep a first-aid kit at home. You should also keep one in other strategic places, such as the cottage.
Here is an overview of what your first-aid kit should contain:
adhesive bandages of varying sizes;
sterile saline solution (to clean a wound);
antiseptic towelettes or pads;
antibiotic cream or ointment;
sterile compresses;
gauze roll;
adhesive medical tape;
elastic bandage;
scissors;
tweezers;
alcohol pads;
sterile gloves;
thermometer;
rehydration solution (sold as salt packets to prepare);
hot-cold compress;
graduated syringe or cup to administer medication;
medication to relieve pain or fever (ex: acetaminophen or ibuprofen);
antihistamine in case of an allergic reaction (ex: diphenhydramine);
medication for nausea and vomiting (ex: dimenhydrinate);
sunburn product (ex: aloe gel, anaesthetic lotion, etc.).
Minor injuries (scrape, burn, cut, etc.) require proper treatment. For more information on first aid for children, read the health file entitled First aid for children.
For a fuller kit
In addition to these basic items, consider adding to your first–aid kit items that are adapted to your children's specific health issues. For example:
an epinephrine auto-injector if your child suffers from a severe allergy;
an emergency inhaler if your child has asthma;
fast-acting glucose tablets if your child is diabetic and requires insulin injections.
Make a list of important phone numbers and put it in your first-aid kit. That way, you will gain precious time in an emergency situation. For instance, it may be useful to have phone numbers for:
poison control;
a medical clinic;
your pharmacy;
Info-Santé.
Important tips
It is important to verify, on a regular basis, that your first-aid kit is complete and in good condition. Here are a few tips that will help you ensure it will come in handy if and when the time comes:
Regularly check the expiration dates of the products contained in your first-aid kit. Replace expired or damaged products. Get in the habit of doing so at the beginning of each season.
Make sure you store your first-aid kit properly: at room temperature, away from frost, heat and moisture.
Don't put your first-aid kit in the car or in the bathroom.
Here are some tips to help you use your first-aid kit correctly and safely:
Ask your pharmacist to help you complete your first-aid kit and to explain clearly when and how to use its various products.
For medication dosage, follow the manufacturer's or your pharmacist's instructions. Don't forget that for several medications, you have to calculate the dose according to your child's age and weight.
Tell anyone who may need to use the first-aid kit (grandparents, babysitter, etc.) where it is kept and what it contains. Show them its contents and provide them with the appropriate explanations.
Having kids is a great adventure that can turn you into an expert in all of life's little aches and pains. For a parent, even minor incidents can be a major source of stress when they involve their child. Having a complete first-aid kit nearby will take some weight off your shoulders and allow you to react quickly and effectively in case of a minor incident. Now that you have everything you need to make booboos better, would you know what to do in case of a more serious accident? Consider taking a first-aid course; you would then be better equipped to deal with an unexpected situation and take the appropriate steps in case of a serious emergency. Whatever the case may be, here's hoping that all of the above measures will only serve to reassure you and that your family will forever stay healthy!