Outdoor spring activities are a great way to get moving, improve your fitness, and celebrate the end of winter. And so, in between spring cleaning sessions, take advantage of the nice weather to get outside and do an outdoor activity or two among family and friends. To inspire you, here are a few ideas for outdoor activities you can try (or try again) this spring. On your marks, get set, move!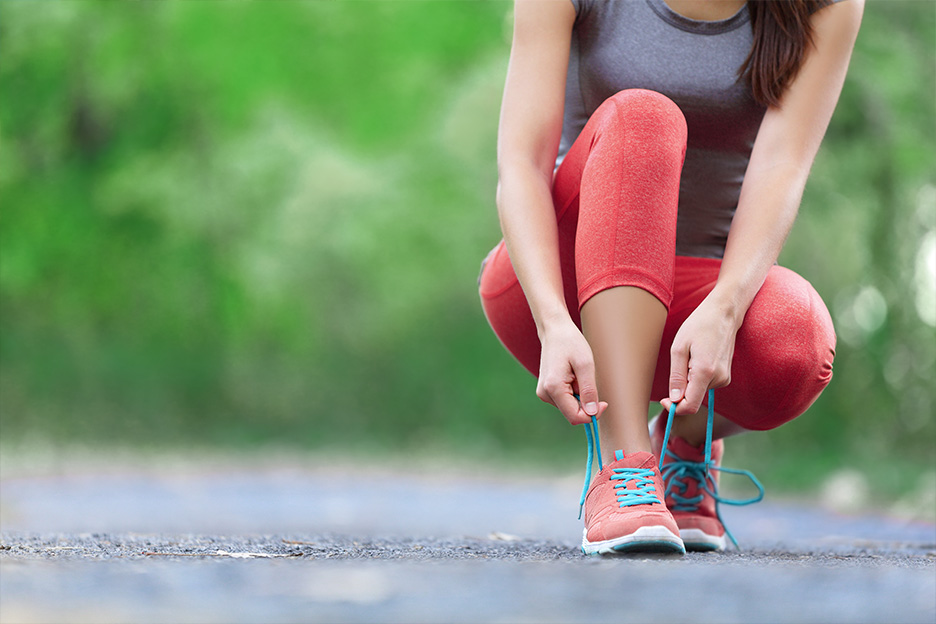 Cycling
Whether you prefer mountain biking or road biking, this quintessential outdoor spring activity is a great way to clear your head and get your blood pumping.
Now that the weather is warmer, it's a perfect time to choose a trail you like and go for a family bike ride. Quebec has an abundance of bicycle paths and trails for you to explore. What's more, cycling is a full-body sport that works your heart, muscles, and lungs. It's also a fantastic way to get out in nature. So pick a trail, pack some snacks, and get ready to spend a wonderful afternoon enjoying spring in all its glory!
Is there still snow on the ground? Try a fat bike!
Since we're often still dealing with snow in March, road conditions aren't always ideal for cycling in early spring. But with the introduction of fat bikes, cycling enthusiasts can now keep riding 365 days a year.
Invented in the 1980s, these all-season bikes have been gaining in popularity since the mid-2000s, and their use is now widespread. It goes without saying that fat bikes are primarily for winter, since their extra-wide tires are well suited for riding on snow. However, their sturdy build and excellent stability make them very practical in the spring, especially for cyclists who enjoy riding on Quebec's muddy trails.
Don't have a fat bike? All is not lost! You can always look into renting one at a bike rental facility. And while you won't find dedicated fat bike trails, you can easily ride on mountain bike paths and hiking trails that are open to cyclists.
Outdoor climbing
In the forest or near the shore, climbing is a fantastic outdoor activity you can enjoy in the spring. It's the ideal opportunity to scale some of the most beautiful cliffs in Quebec. Just think of Kamouraska, Val-David, Saint-Alban, Mont Orford, or Montagne d'Argent! In addition, climbing is a full-body sport that'll boost your overall fitness. But before you set your sights on a particular spot, make sure the level of difficulty is suitable for the whole family. Grab your carabiners and start climbing!
If you're thinking of introducing your family to climbing, consider starting at an indoor climbing gym, where you'll get to learn from certified instructors.
Hiking
Accessible to all ages, as a family or with friends, hiking is an ideal way to explore Quebec's beautiful natural spaces at your own pace. In spring, scenic views can be seen wherever you go. From trails intended for the whole family to more adventurous ones, the network of Quebec national parks offers over 200 hiking trails of all lengths. Short hiking trails are available in most wildlife preserves and tourist centres. Some of these places also offer long hikes. Make the most of spring by exploring breathtaking scenery amid the budding trees and flowers!
Paddle sports
Quebec is teeming with waterways that you can explore by kayak or canoe. In addition to being a wonderful outdoor spring activity, paddle sports are a great way to reduce your stress levels and enjoy a bit of peacefulness.
Do you have a few days off? Why not go on a canoe-camping trip, and experience the magic of sleeping under the stars! If you've got a day trip planned, make sure to pack a lunch so that you can stop and have a picnic along the way. There are so many ways to turn a paddling excursion into a fun time the whole family will enjoy. Just make sure to bring life jackets!
Stand-up paddle boarding: A different way to paddle
Tired of simple canoeing or kayaking? Looking to change things up this spring? It might be time to give stand-up paddle boarding (also known as SUP) a try! This sport involves standing on an oversized surfboard and propelling yourself across the water using a long paddle.
SUP can be practised on calm or rough waters and is suitable for almost everyone. Just make sure to choose an environment that's adapted to your needs. Athletic individuals will want to tackle white water and high tides, whereas families and children will have more fun on a quiet lake. Whichever you prefer, this meditative sport works the entire body. It's particularly good for strengthening your stabilizing muscles, and it provides a cardio workout when you paddle for a long time or in windy conditions. So grab your paddle, and get going!
Hit the national parks with your family this spring
Quebec is filled with green spaces that are perfect for all your outdoor spring activities. Find the national park closest to you so that you can make the most of nature and have fun staying active with your family.
Looking for tips to help you plan your outdoor activities?
Visit your nearest Brunet pharmacy for advice tailored to your situation.