The summer harvest season may be over, but you can keep eating nutrient-packed food and seasonal vegetables into the fall and winter. It's important to adapt your diet to the new season so you can get enough vitamins and minerals to help you cope with the changing temperature. When the cold weather arrives in Quebec, make sure you eat a sufficient amount of carbohydrates, protein, and fibre to keep your body fuelled.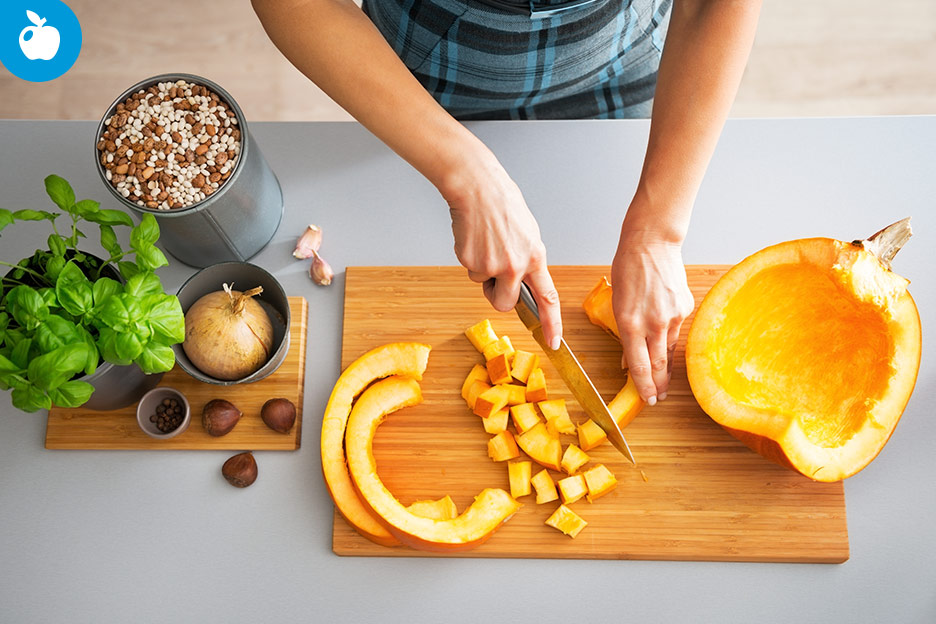 Nourishing foods to keep you fuelled this fall and winter
Do you like to make hearty cream soups when it's chilly out? Did you know that you can make a thick, velvety vegetable soup without the cream? Add a can of white beans or lentils to your soup before you run it through the blender. You'll achieve a similar creamy texture with an extra punch of protein. You can also use silken tofu! You'll be pleasantly surprised by the results.
Tip: Serve a small bowl of soup as a starter. That way, you can have a smaller portion of the main course and feel full a little faster.
When the temperature drops, it's especially important to get enough magnesium, which is found in green vegetables, nuts, seeds, fish, and legumes, and vitamin C. Luckily, many Quebec vegetables are packed with vitamin C, including beets, broccoli, carrots, and parsnips.
Eating well in the fall
Just like summer, fall is a great time to buy local produce and eat fresh vegetables. Peppers, for example, are rich in vitamins A and C, as well as antioxidants.
And of course, fall is squash season! We particularly like spaghetti squash. The flesh shreds into spaghetti-like strands after cooking, making it a great substitute for pasta in your favourite Italian recipes. It can also be swapped in for rice vermicelli in Thai soups. How cool! Plus, because it has a low glycemic index, it's very popular with people watching their weight or who have diabetes.
Other types of squash are ideal for purées and soups. For example, it's easy to add butternut squash to a homemade hummus recipe: just cook the squash and blend it in the food processor along with the chickpeas and tahini. The squash will give your hummus an extra dimension of flavour.
Pumpkin is probably one of the best value foods you can buy in the fall. After Halloween, pumpkins are often sold at a discount. Take advantage of the low prices to grab a pumpkin or two to use in pumpkin pies, muffins, baked pumpkin "croutons," soup, and even marmalade. Don't forget to save the seeds and roast them for a tasty snack or smoothie bowl topping!
Eating well in the winter
Winter is root vegetable season. A variety of local vegetables are available year-round in Quebec, including potatoes and sweet potatoes, carrots, turnips, parsnips, celeriac, rutabagas, Jerusalem artichokes, beets, cabbage, and leeks.
Green cabbage is known to be high in fibre, vitamins (A, C, and K), minerals (potassium and calcium), and beta-carotene. These nutrients help keep your immune system strong. Kale is also full of vitamins, fibre, folate, omega-3 fatty acids, and antioxidants to help fuel you through the day—and the rest of winter!
As for root vegetables, beets are very rich in iron and minerals. They can be pickled, boiled, or baked.
Parsnips are an excellent source of vitamins C and E, potassium, and magnesium. They also contain folate, which is essential for pregnant women.
Remember, the important thing is to eat a good amount of vegetables at every meal, regardless of the season. Vegetables can be served raw, in soups, or as a side dish (steamed, grilled, or sautéed). According to Canada's Food Guide, vegetables should take up half of your plate.
If you frequently have to skip meals or rely on meal replacements to get your nutrients, or if you regularly take vitamin supplements, talk to your pharmacist. They will be happy to advise you!
Last updated on September 7, 2022