The summer season may be easy on our spirit, but it can be hard on our skin. In fact, long days spent enjoying the sun, sand, wind, and salt water can do a number on your skin and hair. The following beauty tips will help you look your best this fall.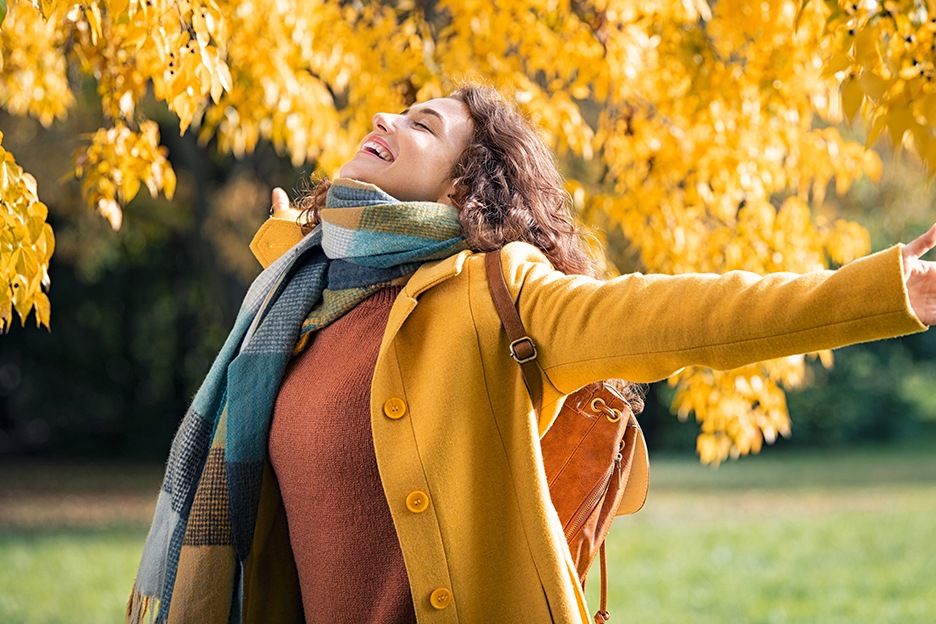 Focus on exfoliation and hydration
When the sun and wind hit our skin, we often experience dryness, irritation, sensitivity, and desquamation (peeling skin). Should this happen to you, exfoliation and hydration are key.
Exfoliation: Don't skip this fall beauty step!
When it comes to preparing your skin for fall, the first step is to get rid of the dead cells that have accumulated on the surface of your skin. Whether you decide to use a glove, gel, or scrubbing cream, exfoliation has a ton of benefits for your skin.
It oxygenates the skin, stimulates blood flow, and promotes cell renewal.
It firms the skin (tonic effect) and brightens and evens your complexion.
It promotes the absorption of active ingredients to heal the skin.
We recommend using small circular motions to exfoliate your skin, starting with your feet and working your way up. Pay special attention to your skin's driest areas.
Consider making exfoliation part of your beauty routine in the shower. Dead skin cells are easier to remove after your skin has been softened by water and heat.
Don't forget to moisturize
No fall beauty routine would be complete without regularly moisturizing your face, body, hands, feet, and hair. A good hydrating toning lotion will help relieve dry or dehydrated skin. But hydration has many other benefits, too!
It makes skin more radiant.
It slows the appearance of signs of aging.
It makes skin more supple and improves its elasticity.
It protects your skin from temperature changes.
To moisturize your skin naturally, it's important to drink a lot of water, use products with a neutral pH (i.e., that are non-abrasive), and apply a hydrating lotion in the morning and at night.
Choose products with hydrating and toning properties made from natural, anti-aging ingredients such as hyaluronic acid or argan oil. Visit our Inspired by nature section for product suggestions that are as gentle on you as they are on the planet.
Add a touch of warmth and radiance to your complexion
As the summer draws to a close, the effects of tanning often turn up on the face, by way of an uneven complexion. The number one beauty tip to freshen up your complexion this fall? Apply an invigorating, hydrating, oxygenating face mask—ideally formulated with natural ingredients such as vitamin C or camellia oil. Other beauty products such as BB creams and tinted skincare lotions are formulated to brighten your complexion, smooth your skin, and tighten enlarged pores.
Keep your summer glow all year round
You don't need the summer sun to get a peachy complexion. In fact, you can achieve a fresh, natural complexion year-round by giving your skin a natural, glowing, slightly velvety look. Just make sure to choose your foundation carefully. For example, if you have dry or sensitive skin, stay away from powder foundations, which tend to cake and form cracks that look like wrinkles. In this case, it's better to opt for a cream foundation.
Your blush, another important step, should coordinate with your skin tone. You can use it to contour your face, define your shadow zones, or give your cheekbones a rosy glow. In other words, if you want to look your best all year long, you can't go wrong with a nice peachy foundation.
Don't forget your feet
If there's one body part that's abused all day, it's your feet—especially if you wear sandals during the summer months. And yet, when it comes to our beauty routines, we often neglect our feet. Fortunately, there are many at-home footcare solutions you can use to keep your feet looking beautiful throughout the year.
Remove dead skin and calluses with a pumice stone.
Pamper your feet with a nice homemade pedicure, with or without nail polish.
Apply a urea-based cream to keep your feet hydrated before you go to bed.
Apply a repair balm containing AHAs (alpha-hydroxy acids), which are exfoliating ingredients derived from fruit sugar.
Give your hair some love
Tied up in a messy ponytail, stuffed under a hat, exposed to sand, wind, and sun… we aren't always kind to our hair during the summer months. Now's the time to give your locks the attention they deserve. Hair masks formulated with jojoba oil can help restore softness, shine, and bounce. On the other hand, products that contain biotin (vitamin B8) can help slow down hair loss.
Do you use heat on your hair? Don't forget to use keratin-based products to reduce drying time and provide your hair with extra protection.
You can't go wrong with red
Whether you're choosing a nail colour or a lipstick, red is a timeless classic that never goes out of style. What will be your favourite shade of red this fall?
For your nails
Bright red isn't the only shade out there. In fact, an array of new red nail polish shades have recently hit the market. Among others, cherry red and burgundy come to mind. If you're in the mood to experiment, you can choose a light red hue during the day and switch to a darker red in the evening.
For your lips
For beautiful lips this fall, you can't go wrong with a classic shade of red. If your complexion is on the fairer side, cooler shades of red with blue undertones will liven up your look and make your teeth appear whiter. If you have a darker complexion, we recommend burgundy and raspberry shades.
Thinking of applying lipstick to dry, cracked lips? It's best to heal them first! To do this, you can make your own homemade lip scrub with sugar with coconut oil.
Reinvent your look this fall
Fall is the perfect time for a fresh start! Get your beauty routine back on track and make choices that will allow you to look your best.
Have questions or concerns? Stop by one of our stores to get all the answers you're looking for!