Did you know that you no longer have to spend a fortune for effective facial treatments? With so many beauty tools now available on the market, it's possible to enjoy a spa-like facial without leaving home. Need help sorting through your options? Here are four must-have tools to get you started.

Exfoliating glove
Exfoliating gloves are often made of plant fibres such as eucalyptus or spruce that are designed to exfoliate skin. This is what gives them their rough texture. When used to massage the skin, they remove dead skin cells and accumulated toxins.
There are different types of exfoliating gloves with varying grain sizes. Be sure to use a fine grain glove on your face and any other sensitive areas on your body. You don't want to irritate your skin! A Kessa glove, for example, would do the job nicely.
Using an exfoliating glove once a week improves microcirculation in the skin and leaves it firm, oxygenated, and of course, soft!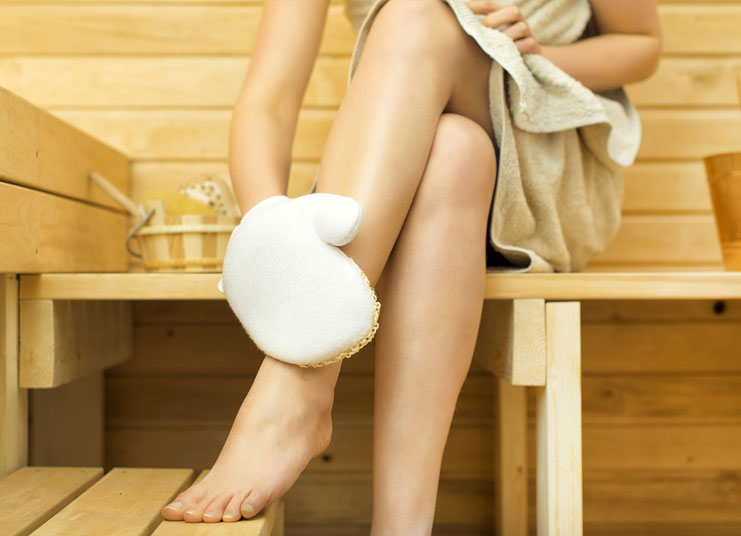 How to use it
Take a steam bath in the shower or bath to open your pores. You can also put a warm damp cloth on your face for five minutes.
Wet your glove. Soak it in water, then wring it out well.
Massage your skin in circular motions for two minutes. Watch as the dead skin peels right off!
Rinse your face and glove with warm water.
Hang up your glove to let it dry.
Moisturize your face with a cream that suits your skin type.
Gua sha
A gua sha is a smooth, flat tool often cut from a stone like jade or quartz. In traditional Chinese medicine, gua shas are scraped across the body in order to release the negative energy believed to be the cause of diseases. Today, a multitude of benefits are ascribed to gentle gua sha massage. As a result, these small polished stones have become a sensation on social media!
Gua shas mainly promote lymphatic drainage, which eliminates toxins stored under the skin. They also help to resculpt the face (for lifted eyebrows and a firmer facial contour, for example) and stimulate collagen production (which minimizes wrinkles and dark circles. Lastly, gua shas reduce tissue inflammation, which can help relieve tension and pain. For best results, do your gua sha massage two to three times a week.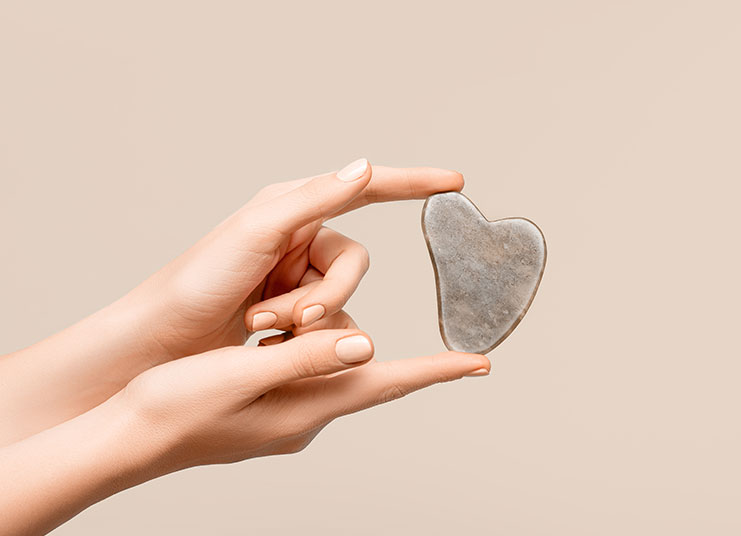 How to use it
Clean your gua sha with mild soap.
Apply a little oil or moisturizer to your face to help the stone glide over your skin.
Hold your gua sha at a 45-degree angle and use your other hand to hold the skin taut.
Glide the tool from the centre of your face outward to mimic the direction of lymphatic flow. Apply light pressure.
Slowly repeat each movement five times per area.
Wash your gua sha with mild soap and leave it to dry on a clean towel.
Jade roller
A jade roller is a complementary tool to the gua sha, so you will often see both items sold together. But what exactly is a jade roller?
A jade roller is a massage roller with an oval stone (often made of jade or rose quartz) on either end of the handle. Each end has a specific purpose: the larger end is used to massage large areas like the forehead and cheeks, while the smaller end is used around the eyes, nose, and mouth. When used in the morning and evening, jade rollers have similar benefits to gua shas, but they're more convenient when you're short on time.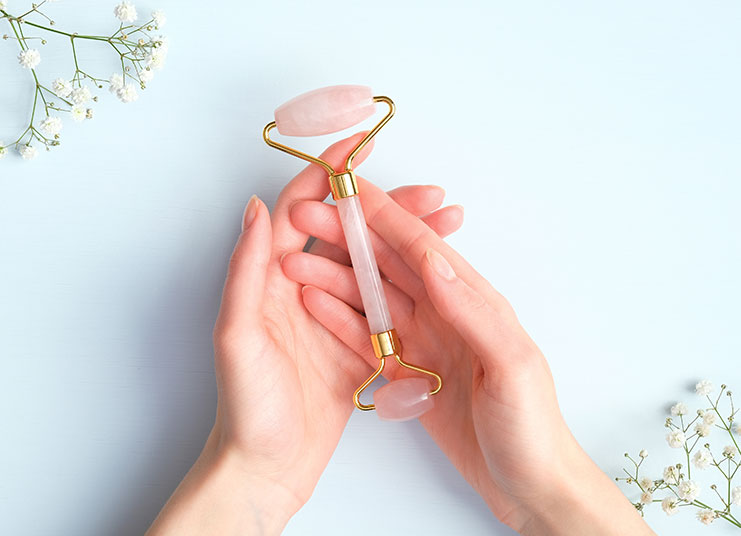 How to use it
Clean your jade roller with mild soap.
Apply a little oil or moisturizer to your face to help the roller glide over your skin.
Use the smaller end of the tool to massage around your eyes, nose, and mouth, rolling outward from the centre of the face.
Use the larger end to massage the rest of the face, rolling outward from the centre or from bottom to top. For the neck, massage the sides of your neck in a downward motion toward your collarbones.
Repeat these movements for two to five minutes.
Wash your jade roller with mild soap and leave it to dry on a clean towel.
Pro tip
Experiment with temperature to get the results you want. Put your gua sha or jade roller in the fridge for a few minutes before using it to get a glowing complexion. To relax your muscles and smooth your wrinkles, run your tool under warm water or let it come to room temperature before use.
Dermaplaner
Dermaplaners are scalpel-like tools with a stainless-steel blade used to gently exfoliate the skin. Scraping the blade across the skin gets rid of peach fuzz and dead skin cells to make room for baby soft skin. Dermaplaning also promotes cell renewal, which can help reduce the appearance of wrinkles and scars. As an added bonus, dermaplaned skin absorbs skincare products more easily. You only need to do this treatment once every two weeks to get the skin of your dreams!
Bear in mind that dermaplaning is not recommended if you have acne-prone skin, very irritated skin, or other skin problems. Consult a dermocosmetic specialist before you start dermaplaning.
How to use it
Cleanse and dry your face.
Disinfect your blade with a disinfectant solution.
Apply facial oil, serum, or shaving cream to help the blade glide over the skin. The goal is to keep irritation to a minimum.
Start dermaplaning! Work in sections. Hold the blade parallel to your face and move it over the skin in gentle downward strokes. Do not go over the same area more than once.
Moisturize your face with a cream that suits your skin type.