---
Marie-Michelle Hallée, St-Hubert Brunet cosmetician
---
To each her own… perfume
Spicy or sweet, citrus or chocolatey notes, feminine or resolutely masculine – choosing a perfume that is right for you and your personality is no easy task.
And since your perfume expresses the essence of your personality, you have to choose carefully.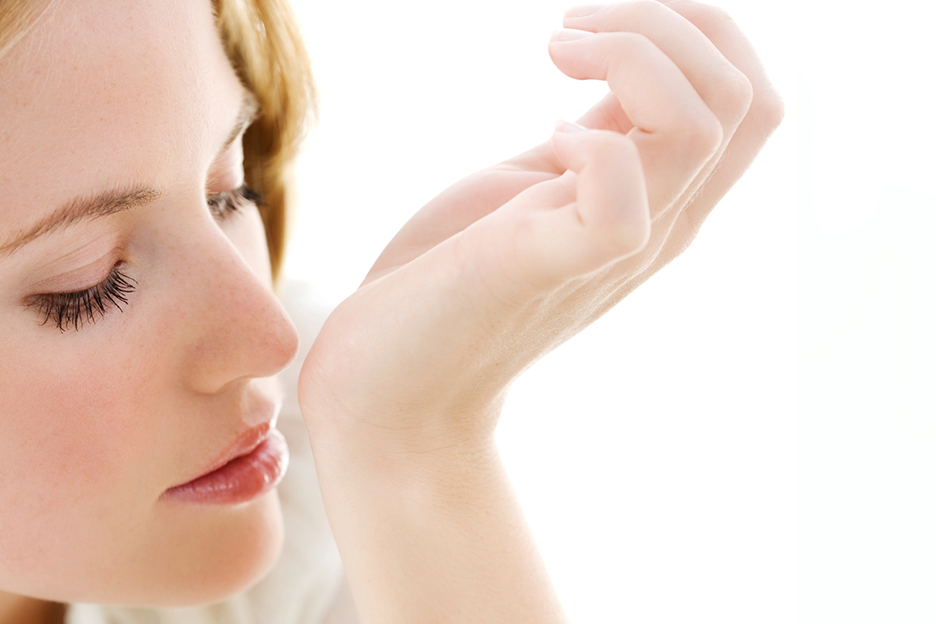 Did you say perfume?
First, let's be clear about what we mean when we say, "perfume." There's no confusion in our everyday use of the word. But did you know that most people wear eau de toilette on a daily basis? Let's take a closer look.
Any single fragrance may be offered in a variety of products. The type of product is determined by the concentration of the aromatic essence it contains.
In a perfume (or perfume extract), the aromatic essence accounts for more than 15% of the contents; in fact, it can be as high as 30%. In an eau de parfum, the concentration is about 15%. For eau de toilette, it's about 10%. As for eau de Cologne, it's 5%.
If you choose a small vial that costs three times what you're used to paying, it probably contains eau de parfumor a genuine perfume. To keep it simple, we'll use the word "perfume" to refer to all fragrances.
How to make the right choice
Morning is the best time of day to choose a new perfume. Apparently, our sense are more "awake" at the beginning of the day than at the end; we're also more patient and open to trying new things.
There's no point in sniffing a gazillion fragrances in a row – you'll just confuse your sense of smell. While coffee beans are said to be a great way to "reset" your nose, your olfactory system will simply be overwhelmed by so many scents.
Place a drop of perfume on your wrists (a quick spray works just as well). No need to hurry! Take your time. Give the fragrance a few minutes to work its seductive magic and blend in with your natural scent.
If you're not sure how you feel about a certain fragrance, speak with a cosmetician. Let her know what you like, what perfume you usually wear, and what you want your new fragrance to say about you.
Seasonal perfumes
While some people use the same perfume all year long, others change fragrance to suit the situation, the occasion or their mood.
Many perfume-lovers will also choose their scents to fit the season. Traditionally, summer is a time when we turn to light and fresh fragrances, including scents with citrus notes. In autumn and winter, stronger, headier perfumes are more popular.
How to use perfume
Naturally, now that you've found your perfect perfume, you want to make the most of it!
But be sure not to put on too much! In this case, too, moderation is in good taste. If you're using a genuine perfume or an eau de parfum, a single drop or two will do – on your wrists or behind the ears, but also on the back of the knee or the inside of the elbow.
If you go with eau de toilette, you can spray a cloud before you and walk through it, allowing tiny droplets to settle on your hair and shoulders.
Your perfume says a lot about you, so be sure to make the right choice. Why not discuss it with one of our cosmeticians? Who knows, with her help you may discover a delightful new fragrance.