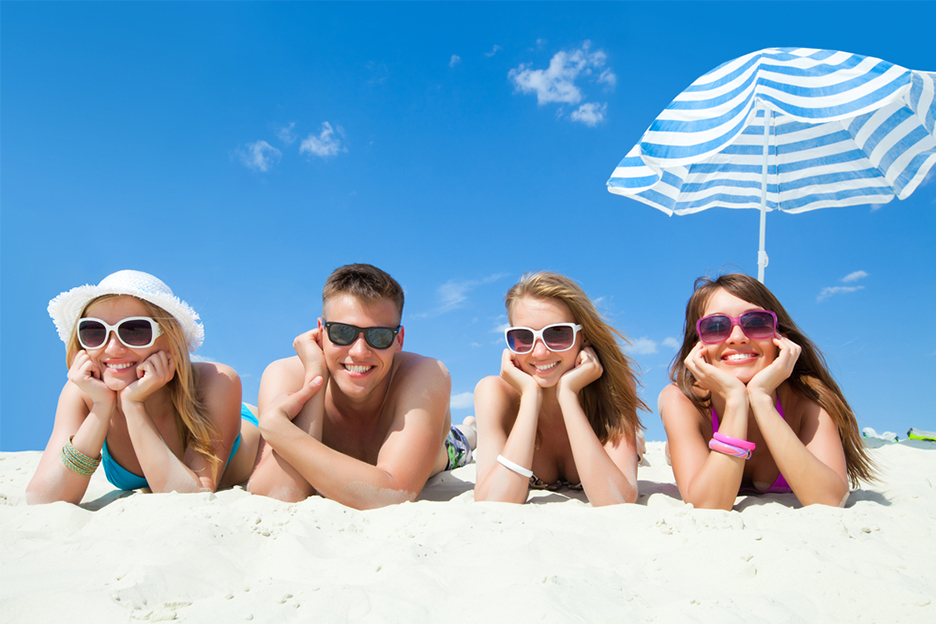 Teens and sun protection
Pay attention. Be careful. Don't take any chances. Better safe than sorry.
These are fine-sounding words all parents would like their teenaged kids to heed. But, as you know, most teens enjoy bending safety rules, especially if they're issued by their parents. Boldness – not wisdom – is what drives them.
So, raising your teens' awareness of sun-related hazards is never easy. If you're a parent, you better prepare for a long and difficult battle. But it's worth it.
Adolescence is an age when skin is vulnerable
As you know, babies' skin is extremely sensitive to the sun's rays
Similarly, damage caused by unprotected sun exposure in adolescence can result in cancer in adulthood.
Dermatologists are very definite on this subject: sunstroke and repeated sun exposure in the years leading up to puberty are a major cause of skin cancer in later life. That's why it's so important to take no chances.
Teens and pre-teens are particularly at risk. Their skin and eyes are more delicate. Since they usually spend more time outdoors and dress more lightly (t-shirts and shorts), they are much more vulnerable to sun-related hazards.
That's why you need to sensitize kids to the dangers of sun exposure when they're very young and persuade them to follow safe habits.
Sun protection everywhere and at all times
We need to bust the myth that the beach is the only place where you have to be careful with the sun. Nothing could be further from the truth. As soon as you step outdoors and even when you're inside by a window (in your car or office), you are exposed to sunlight. So you have to be careful.
How to protect yourself from UV rays
Teens can protect themselves from the sun by knowing and putting into practice the following tips:
The sun is at its most dangerous from noon to 4 PM. If you go out then, be sure to protect yourself.
Even in grey weather, UV rays can pass through clouds and cause as much harm as on bright, sunny days.
The best protection is to cover up. Wear long and light clothing, broad-brimmed hats, and sunglasses with UVA and UVB protection.
Stay away from tanning salons.
Use sunscreen.
Making sunscreen use second nature
DTeenagers should carry sunscreen – like their phones and water bottles – wherever they go. Carrying this item around should become ingrained, just like seeking shade and using sunscreen when they're exposed to the sun.
Drop by for a look at our range of sunscreens. You're sure to find a brand, format, and fragrance your teen will like. You may even be rewarded with a "Cool!" – which is always nice to hear.
I recommend you
ANTHELIOS SPF 50+ FLUID ULTRA-LIGHT La Roche-Posay
Idéal Soleil Ultra-light lotion SPF 50 Vichy