To make your nail polish last longer, dip your fingertips in white vinegar before applying it.
Your nails say a lot about your personality—are you elegant or sporty, classic or playful? With the return of hockey season, why not show your support for the Habs with a 3-colour nail art design that perfectly matches your personality!
Get ideas on Pinterest and follow our tips on how to have healthy nails for a guaranteed great manicure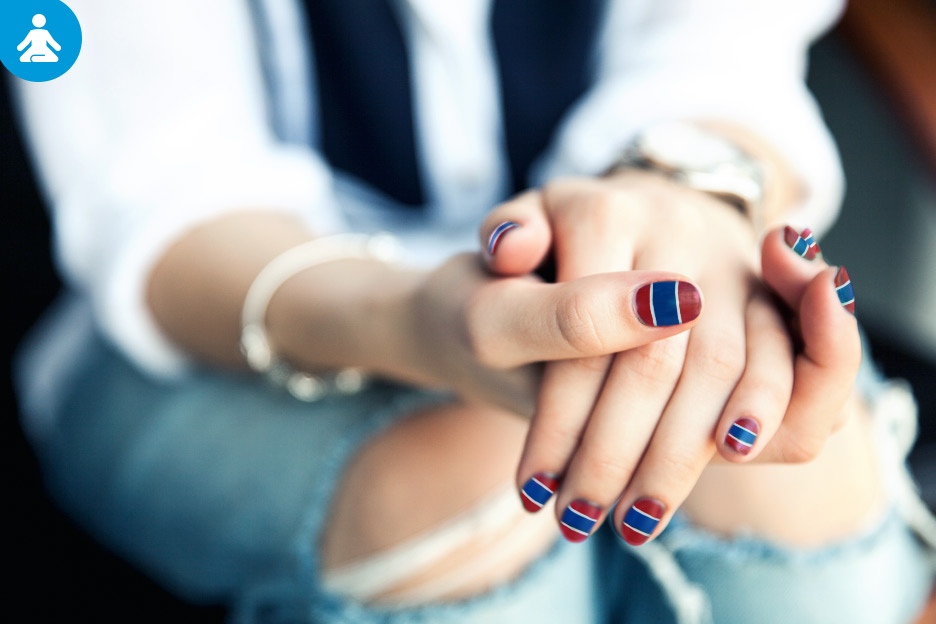 1. Toning your nails
Have soft or brittle nails? Give them a bath! Soak them in warm, slightly soapy water. To nourish them, use olive oil instead of soap. And to make them whiter, the juice of half a lemon does wonders. Repeat this process once a week until your nails have hardened.
2. Eating well for healthy nails
Yellow, brittle, soft or ridged nails are often a sign of poor nutrition.
Nails are composed of keratin, a fibrous protein that's rich in cysteine, which is also the main constituent of hair. Nails therefore need protein, so be sure to include fish, meat, eggs, cereals, legumes and dairy products in your diet.
Several minerals contribute to nail health, including zinc, copper, iron and magnesium. The same is true of vitamins: make sure your meals and snacks include the letters (and numbers) A, B5, B8, C and E in the list of ingredients.
Where can you find these nutrients? Your nutritionist can tell you all about it and the Internet can help fill in any gaps. But common sense should suffice: a healthy, well-balanced diet with lots of fruits and vegetables will give your nails all they need to stay in perfect health.
Quick tips
Don't have a lot of time to spend on your nails? Then keep them short. Neglected long nails look just like that... neglected.
Take care of your cuticles—they protect your nails from germs, so don't cut them! If they're bothering you, apply a bit of cream to soften them and let them grow back gently.
This may seem obvious but... don't bite your nails! First of all, it's not a very attractive habit, and secondly, your nails won't look very nice. Want to shake the habit? Try chewing on a carrot or celery stick instead!
Use an acetone-free nail polish remover—it's easy to find and much gentler on your skin and nails.
Don't use your nails as a tool! There are marvellous instruments out there called scrapers, screwdrivers and pliers—use them instead of destroying your nails.
5 easy steps to apply nail polish
Applying nail polish isn't difficult. For perfect results every time, follow these steps:
Clean your nails properly by removing any old lacquer with nail polish remover.
File your nails to obtain the length and shape you want. Tip: always file your nails in the same direction (not back and forth), or it may damage them.
Before applying colour, put on a base coat, letting it dry for a few seconds. Without a base, the varnish could penetrate the nail and give it a yellowish hue.
Apply a first coat of colour, slowly working your brush from the cuticle to the tip.
Once this first coat is dry, apply a second one. That's it!
Trending now: 3-colour nail art
Love your Canadiens? Show your support for the Habs this hockey season by painting your nails red, white and blue! To get it just right, we recommend the following colours: