Cold weather and dry skin often go hand in hand. Fortunately, there's plenty you can do to combat dry winter skin. But even if winter's bite has weakened your skin, fear not! Here are six practical tips to keep your skin hydrated even when the mercury drops below zero.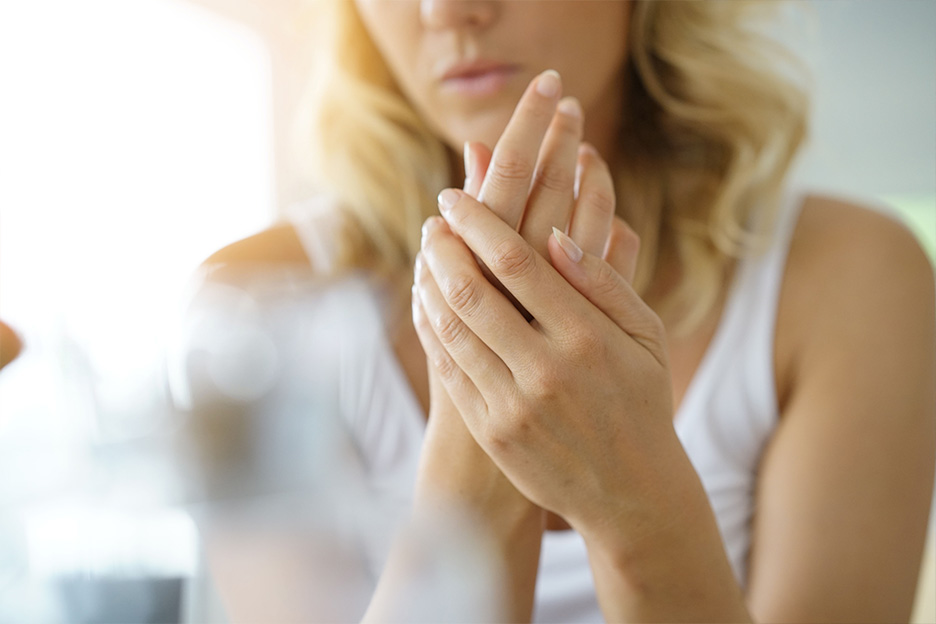 First of all, why does our skin dry out in winter?
Winter often brings whipping winds, freezing temperatures, and low humidity. These factors affect your epidermis, making your skin look and feel dry or dehydrated, which can lead to redness, itching, cracking, or flaking. So here are our best tips for combatting dry winter skin. On your marks, get set, hydrate!
Choose your cleanser carefully
Keeping your skin well hydrated requires a gentle, emollient, fragrance-free cleanser enriched with natural ingredients, such as glycerin or shea butter. The key is to avoid alcohol-based lotions, since they tend to dry out and weaken the skin. Don't hesitate to ask our team of cosmetic specialists for advice on which cleanser is best suited to your skin type and which essential beauty products to use this winter.
Say goodbye to long, hot baths
Who doesn't like to soak in a hot bath to take the chill off after a cold winter's day? For your skin's sake, however, it's best to skip it! A hot bath or shower contributes to removing some of the protective layer of fat that's on the surface of your skin and keeps it well hydrated. If you're looking to avoid dry skin this winter, opt for lukewarm water, quick showers, and baths that last no longer than 10 minutes.
Pro tips
Once you've finished your bath or shower, apply an emollient moisturizing cream or lotion while your skin is still slightly damp. This will facilitate the product's hydrating effect.
When you dry your skin, get in the habit of lightly patting (not rubbing) your skin with a clean towel.
Protect your lips from the cold
The skin covering the lips is very thin, making it prone to drying out or cracking in winter. Did you know that you lose more moisture through your lips than anywhere else on your body? Fortunately, there are many effective ways to maintain beautiful lips despite the cold weather.
Never peel or bite flaky skin. Instead, use lip balm to repair and protect your lips.
Layer your lip balm. Apply a dab of lip balm to moisturize, then add lipstick, then finish with another layer of lip balm. This gives your lips a bit of shine and creates a good physical barrier to protect them.
Our favorite products to moisturize lips in winter
Cold Cream Lip Balm by Avène. With its blend of waxes, oils, thermal spring water, and shea butter, this lip balm quickly soothes and calms tightness caused by dry or damaged lips. Soothing, nourishing, repairing, and protecting, this solution delivers intense comfort for your lips.
Bariéderm Cica-Lips Repairing Balm by Uriage. Repairing, resistant, and restructuring, this balm soothes and nourishes lips while protecting them from daily stressors. Plus, it's guaranteed not to break or melt!
Atoderm Lip Balm by Bioderma. Designed for dry, chapped lips, this ultra-moisturizing raspberry-flavoured balm contains Vaseline and shea butter to instantly leave lips soft and supple.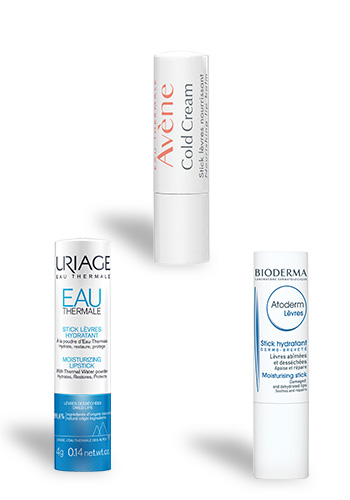 Moisturize your hands a lot
Handwashing is key to fighting germs and preventing infection, but this healthy habit can also leave hands dry! To prevent handwashing from contributing to dry winter skin, consider buying a bottle of hand cream and placing it next to your liquid hand soap.
Then make it a habit to apply cream after you wash and dry your hands. Your hands and cuticles will thank you! Lastly, when you go out, be sure to wear gloves or mittens to protect your hands from the cold.
Speak with our team of beauty specialists to choose the right type of cream or gel for your skin type.
Pro tips
To keep your hands hydrated even when you're on the go, select a travel-size product that you can easily slip into your bag or glove compartment.
Use facial masks
To moisturize dry skin in cold weather, masks are an essential element of any good facial care routine, as they hydrate, brighten, and plump skin, replenishing its natural moisture reserves. Be sure to use a facial mask at least once a week this winter!
Most instructions recommend waiting 5 to 10 minutes after applying the mask, then using a tissue to remove any excess. But for dry winter skin, we suggest leaving it on for about half an hour. This way, your dry skin will absorb more of the product, producing better results.
Pro tips
Before applying the mask, make sure to remove all traces of makeup from your skin to clear your pores.
Other products to moisturize your face in winter
Tolérance Extrême Cream by Eau Thermale Avène. This calming, softening, and anti-irritating lotion is particularly effective at soothing and enhancing even the most sensitive skin.
5-in-1 Purifying Cleanser & Makeup Remover PURE GEL by IDC. This gel cleanser and makeup remover revitalizes all skin types by eliminating excess oil, deep-cleansing pores, and removing dead skin cells.
Toleriane Ultra 8 by La Roche-Posay. This product harnesses the power of eight essential ingredients, including glycerin, allantoin, and propanediol, to instantly soothe and moisturize any type of ultra-sensitive skin.
48-Hour Moisturizing Rich Cream by Nuxe. Made with natural-origin ingredients, such as plant milks and algae extract, this cream provides nearly 48 hours of hydration and is perfect for very dry, sensitive skin.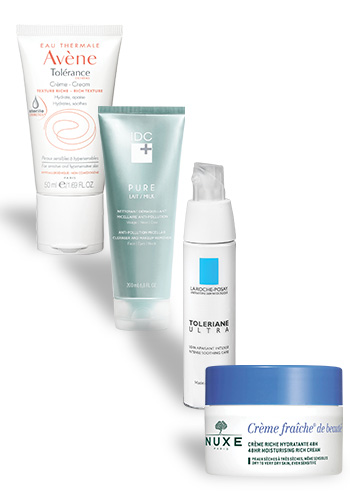 Adopt a healthy lifestyle
Your lifestyle habits play a key role in keeping your skin healthy and well hydrated in winter. Say goodbye to dry skin by adopting the following best practices.
Butt out: The products found in cigarettes affect the blood circulation in the small vessels that irrigate your skin.
Drink plenty of water: Dry or cracked lips are often caused by dehydration. Drinking plenty of water every day helps keep your lips soft and plump. But, above all, try to limit your consumption of dehydrating drinks such as coffee, tea, and alcohol.
Eat plenty of fruits and vegetables: Due to their high water content, eating fruits and vegetables is an excellent way to stay hydrated!
Consume foods rich in omega-3s: Foods rich in omega-3s, such as walnuts and salmon, limit water loss, strengthen the skin's natural barrier, and combat dehydration.
Protect your skin from the sun: Even if you can't see it, the sun is always there, whether it's summer or winter! The sun's rays are harmful to your skin, so remember to protect it by applying sunscreen.
In short, to ensure your skin is well hydrated, you need to take action both inside and out.
Find more ideas and products here!
Check out our flyer and stock up on skin care products to suit your situation.
A team that cares about the beauty of your skin
Say goodbye to dry skin this winter with sound advice from our cosmetic specialists. Head to your nearest Brunet location and take advantage of our team's expertise!
Other tips and tricks to take care of your skin this winter