To welcome the cold season and take the sting out of the tough winter months, it's a good idea to adapt your beauty routine. Bid farewell to dry and sensitive skin with these tips, which will keep you glowing despite the wind, snow and bitter cold.
Cleanse gently
In winter, use a mild face cleanser that doesn't contain soap or perfumes. Avoid aggressive cleansers that deplete the skin's natural hydration and dry it out. Instead, seal in hydration with a gentle cleanser that doesn't remove moisture from the skin, like the Nita cleansing foam by Zorah biocosmetics. With its key ingredients of lemon balm and burdock, Nita foam gently removes makeup from the eyes and face while washing away impurities and excess oil.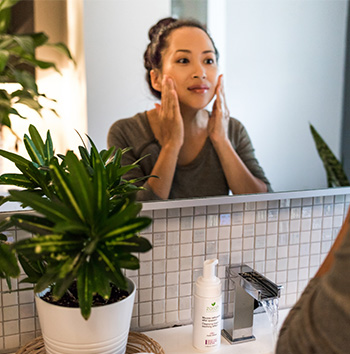 If you prefer the feeling of a cleansing milk, Ipsa is a highly effective face cleanser. This cleansing milk gently cleans, purifies and hydrates the skin, leaving it fresh, clean and radiant. Ipsa, by Zorah biocosmetics, can also be used to gently remove eye makeup, even mascara. Its silky texture makes the skin feel invigorated and supple. Zorah biocosmetics wake up your skin and make it feel clean and bright!
Try: Nita cleansing foam, Ipsa cleansing milk and makeup remover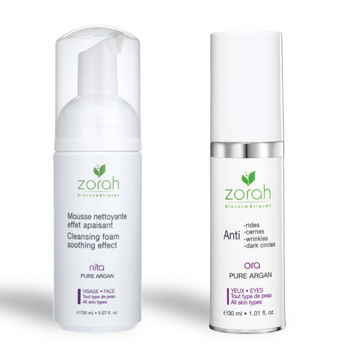 2. A precious oil for relaxation
On the cold days of winter, nothing is more soothing than a hot bath or shower, but there's nothing worse for your skin! Hot water removes the skin's natural oils. So why not try a relaxing routine with pure argan oil by Zorah biocosmetics?
Start by adding a few drops of argan oil to your bath to nourish your skin and make it feel silky. While unwinding in your warm bath, apply an argan oil mask to your hair by gently massaging it into the hair and scalp. This stimulates regrowth and the production of keratin, an essential ingredient for shiny, healthy hair. Argan oil's comprehensive action can't be beat!
Try: Zorah biocosmetics' pure argan oil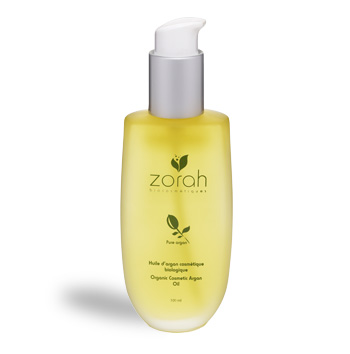 Exfoliate deeply
Exfoliation is a major ally in combatting flaking or peeling dry skin. Don't forget it! For the face, use Xfoliambre by Zorah biocosmetics, an exfoliator made with argan oil and amber microcrystals that cleans deeply to unclog pores. Your face will feel softer and look radiant. Rozo is the best choice for the rest of the body. Sugar microcrystals scrub away impurities and dead cells, leaving the skin feeling extraordinarily fresh and pure. It's a feeling you'll relish and want to repeat again and again! Right after exfoliating the face, apply the Nyxe hydrating cream mask. Your skin will be nourished and hydrated and will again feel soft, smooth and toned.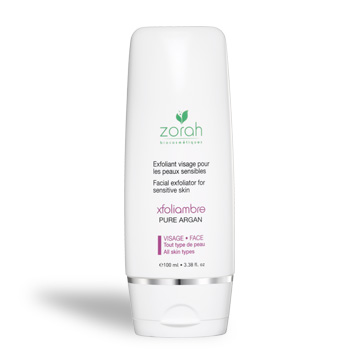 Try: Xfoliambre-Facial scrub
Rozo-Body scrub
Nyxe-High-efficiency cream mask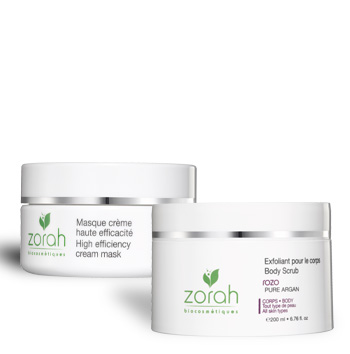 Hydrate your skin
Right after a shower or bath, the skin is like a sponge. So this is the perfect moment to apply a skin hydrator to get the most of its benefits. For the face, go with Xia cream, which contains an ingenious mixture of argan, chia and kendi oils that revitalize dry skin through deep hydration. Its unmatched formula and molecular ingredients are rich in antioxidants, flavonoids and omegas 3, 6 and 9, making your skin soft and supple after the first use.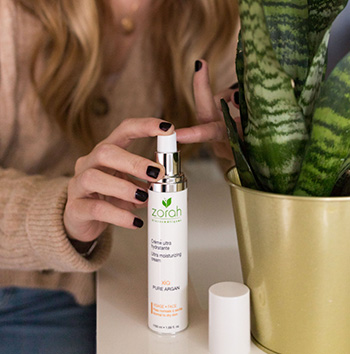 Excellent for dry to very dry skin. For the body, there's nothing better than Zorah biocosmétiques' rich and buttery Maeva cream. With its outstanding combination of argan, chia and kendi oils, Maeva firms the skin while leaving it supple and silky. A pleasure to indulge in every single day!
Try: Xia ultra-moisturizing cream, Maeva body cream
"Right after a shower or bath, the skin is like a sponge. So this is the perfect moment to apply a skin hydrator to get the most of its benefits."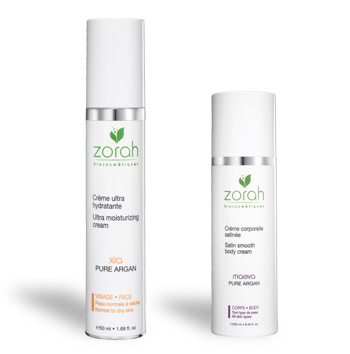 Befriend serums
In winter, we should all be using a serum under our daily moisturizer. Typically in a gel or gel-cream form, serums contain a higher amount of active ingredients. They are designed to be applied before a hydrating cream or mask to maximize the benefits. They are also extremely effective for giving the skin a major hydration boost. The intense action of Ino hydrating serum infuses the skin with water and vitamins and protects the skin's hydration barrier. The light, liquid serum quickly penetrates the skin to make it feel supple and plumper, without any sticky residue.
To try: Ino intensive hydrating serum
Don't forget your eyes
The skin around your eyes is the most fragile area of the face. It's very thin and doesn't have many sebaceous glands, which means it's subject to drying, irritation and the formation of wrinkles and fine lines. To keep your eyes looking rested, clear and bright, opt for Ora by Zorah biocosmetics, winner of the 2021 Clean Beauty Awards. Ora is an exceptional anti-aging treatment that quickly erases signs of fatigue and considerably reduces the appearance of under-eye bags and dark circles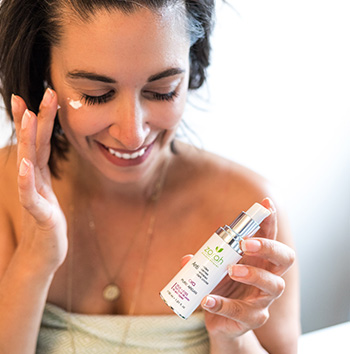 Pat on gently around the eyes and mouth every morning. One try and you'll be hooked! For a night treatment, we recommend Luna to plump and add density around the eyes while you sleep.
To try: Ora day eye cream, Luna night eye serum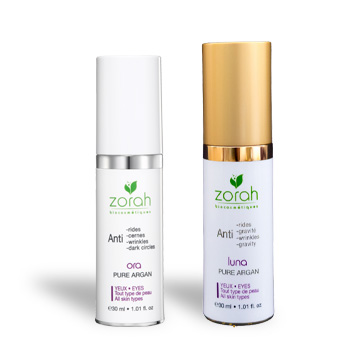 Protect your skin
In Quebec, we get all we can out of winter, as exemplified by the number of activities we enjoy. Make the most of these outdoor pleasures by trying new activities! Just make sure your skin is protected from winter's harm with Yepa, a thermal protection cream for this harsh season. It offers complete protection and prevents dehydration, chapped skin and burns cause by the cold. It's perfect for the whole family!
Try: Yepa-thermal protection winter cream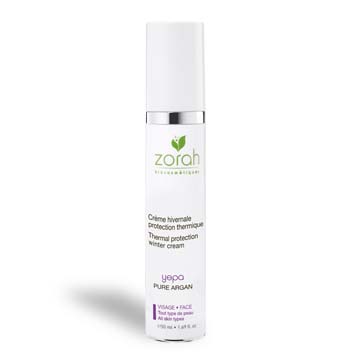 Soothe your sensitive skin
Sensitive skin requires special attention to make sure it's treated gently, especially since it reacts easily to external aggressors. So it's important to choose gentle, soothing products. This skin type calls for Zorah biocometics' RÊVolution products, including its ultimate hydrating cream and an anti-aging densifying mask. These preservative-free products are based on silver powder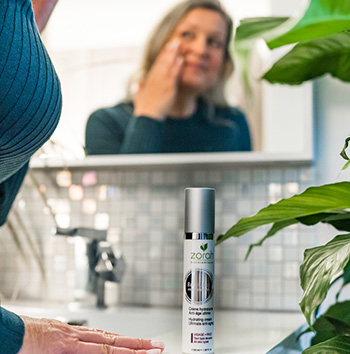 Used for millennia, silver powder's revolutionary virtues visibly reduce the appearance of signs of aging and of redness caused by dry skin. Whether you fall for its creamy texture, heavenly yet subtle scent, deep hydration or surprising lifting effect, the RÊVolution line with pure, 100% natural silver powder is sure to win you over.
Try: Rêvolution ultimate anti-aging hydrating cream / Rêvolution ultimate anti-aging firming densifying mask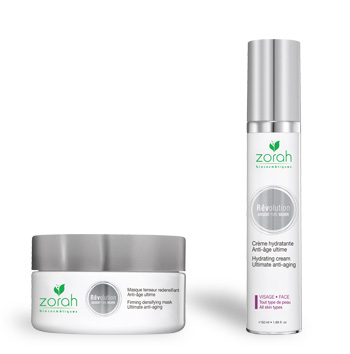 Repair summer's impact on your skin
Our skin is particularly exposed to and damaged by the sun in the summertime. Now is a good time to take some important measures to repair any damage caused by the sun and salt water on your skin. In fact, dark spots on your skin are caused by overexposure to the sun's ultraviolet rays. You can solve the problem by using the Bioretinol anti-aging night complex. This anti-aging complex is a treasure based on 1% pure phyto-retinol. Completely natural, phyto-retinol has all the advantages of traditional retinol without the uncomfortable side effects. It's an exceptional ingredient for sensitive skin and pregnant women. This ultra-effective serum penetrates the skin quickly and deeply to fade dark spots, reduce the appearance of wrinkles and fine lines and make your complexion glow.
Try: Bioretinol anti-aging night complex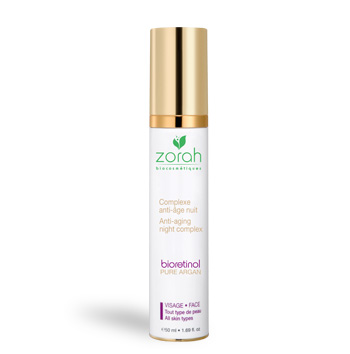 Get instant results!
For a lightning-quick blast of anti-aging benefits, try a fast-acting skincare product like the double-action Lifting serum by Zorah biocosmetics. This unbelievably effective serum works deep in the skin to create an instantaneous smoothing effect!
Lifting revitalizes and brightens your skin while quickly reducing the appearance of wrinkles and fine lines on the brow and around the eyes and mouth. Every morning, apply several drops on wrinkles and lines and let the magic begin!
Try: Lifting bioserum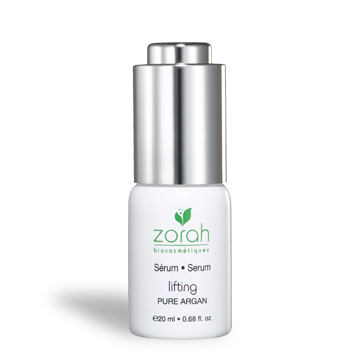 Last tip
Feel free to ask any questions in the comment section or to speak with a Brunet beauty consultant. They'll help you find the best skin care product for you, to keep your skin healthy and radiant all winter long!