You already know that fruits are good for your health. But do you eat enough? Here are a few tips to integrate them into your daily diet.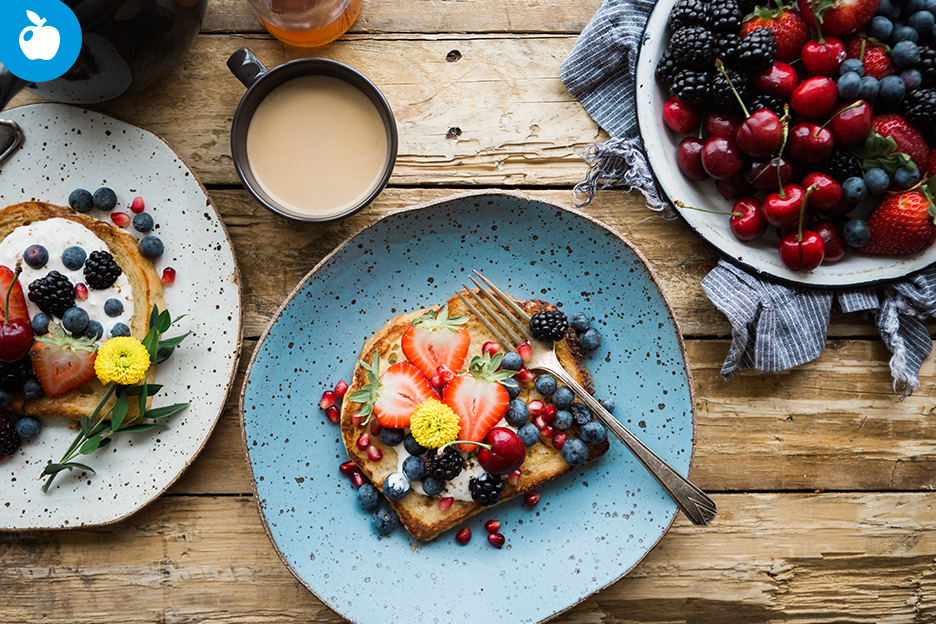 Fruits are packed with nutrients and are essential to maintaining your health. As a snack or dessert, they're a great way to satisfy your sweet tooth without adding to your waistline! Whether exotic or traditional, there are as many fruits as there are tastes. It's time to put them on the menu!
According to Canada's Food Guide, we should be eating five to ten servings of fruits and vegetables every day. To understand what that represents, here are examples of one serving:
1 apple
1 pear
1 peach
1 nectarine
1 orange
1 mango
1 grapefruit
2 pineapple slices
2 plums
2 apricots
2 small kiwis
2 tangerines
1 cup of berries: blueberries, raspberries, strawberries, blackberries, grapes
125 ml of pure fruit juice
1/4 cup of dried fruit
1/2 cup of fruit compote with no sugar added
1 cup of fruit salad with no sugar added
Ten tips for eating more fruit
1) Always keep some on hand
Want to eat more fruit? By having an apple or pear in your bag, on your desk or on the kitchen counter, you're more likely to eat more fruit.
2) Opt for variety
Don't rely on one kind of fruit only. Look for variety! Small- or medium-sized fruit (strawberries, apples, plums, etc.) will help satisfy your cravings, whereas bigger fruit (pineapple, mango, melon…) can be diced into cubes and eaten for a snack or dessert. During the day, instead of reaching for a bag of chips or a chocolate bar, reach for ready-to-eat fruit!
3) Fruit in the morning and for a snack
To start the day off right, add some fruit to your breakfast. This will add a touch of freshness to your dish and can be a great pairing for yogurt or eggs. Or turn your fruits into a delicious smoothie. You can also prepare fruit plates as a snack for your kids. They'll love to eat them when they get home after school!
4) Add fruits to your cereal and pancakes
Nothing brightens up oatmeal like a cup of blueberries or raspberries. As for pancakes, they go well with any fruit, from bananas to strawberries to apples!
5) Eat more dried fruit
Dried fruit is delicious, nutritious and an excellent substitute for fresh fruit. Mangos, raisins, dates or apricots: the choice is endless! You can also prepare small servings of dried fruit that you can slip into your kids' lunchboxes… or make your own for a tasty treat!
6) Bring some everywhere you go!
No matter where you are heading, think of bringing a fruit or two with you. Fruit will fit in your bag, and you'll always have a healthy snack on hand for those afternoon cravings. Goodbye chips and other fatty or sweet temptations!
7) Congelez des fruits
7) Freeze your fruits
To ensure you have access to fresh fruits throughout the year, freeze your blueberries, strawberries and raspberries. You can take them out of the freezer whenever you want. Stock up on bananas, pineapples and mangos to freeze. You can use them to bake mouth-watering cakes.
8) Cook them!
Fruits are used in myriad recipes. And not only desserts! Here are a few
Watermelon cubes with black pepper and cantaloupe slices wrapped in prosciutto
9) Serve fruit to your guests
Instead of offering chips to your friends, give them some fresh fruit instead! Cut into pieces or skewered with a toothpick, they make a sure-fire snack! Your guests will also appreciate how fresh this healthy appetizer is.
10) Order fruit when you're at a restaurant
Most restaurants have salad or a plate of fruit on their menu. Finish your meal on a healthy note!
Discover the wide variety of fresh fruit available at your Metro grocery store!
Expert tip: New combinations to try
Mix some sliced bananas with yogurt and peanut butter or almond butter, and garnish with slivered almonds.
Mix strawberries, kiwi and yogurt with a bit of fruit juice, then sprinkle with shredded coconut.