Planning a trip? Travelers' diarrhea (turista), motion sickness, bug bites … Travelers face all kinds of potential illnesses. The solution is to leave prepared. Here are some health essentials we recommend you take with you.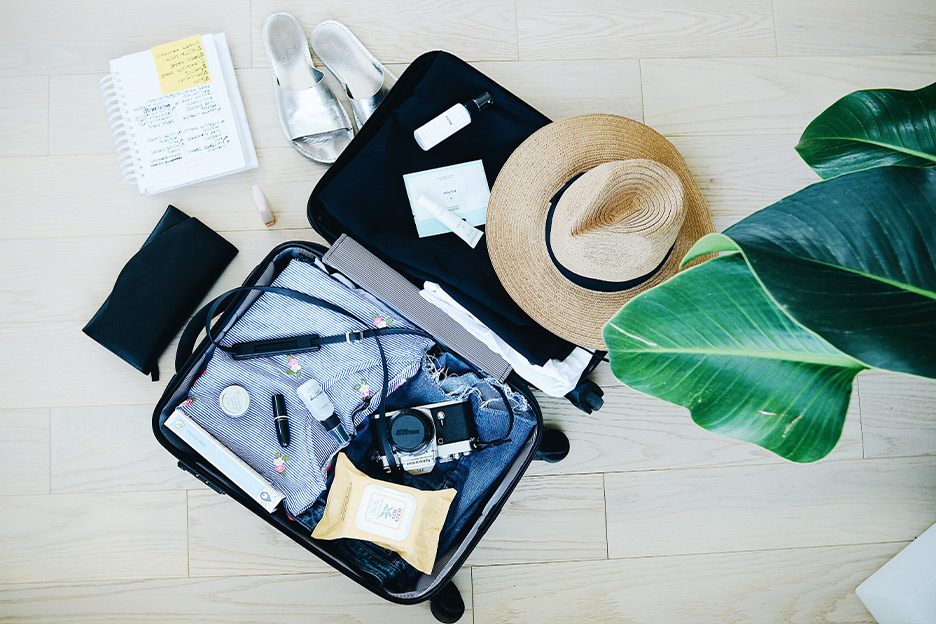 Prescription medications
Be sure to bring sufficient quantities of all your regular medications. Carry them in your hand luggage, in their original packaging, clearly identified in your name. And, as the saying goes, more is more, so it's a good idea to bring a little extra just in case.
First-aid medications
Whether you're heading for the brush or an all-inclusive vacation, you should always carry medications for minor ills that could ruin your well-deserved vacation. Consider bringing analgesics (headaches, toothaches, muscle or premenstrual pain, etc.), antidiarrheal medications, oral rehydration solutions, antihistamines (useful in cases of allergic reactions, but also for insect bites, light sunburns and other minor skin irritations), and antinausea medication for motion sickness. While these medications are available without a prescription, it's always better to talk to your pharmacist, who can help you make the right choices and avoid those that may be unsuitable for you.
A first-aid kit
This time, you won't have to worry about nasty blisters reminding you that it's been too long since you last wore your beach sandals, because you'll have your handy first-aid kit to save the day. At the very least, your kit should contain various sizes of adhesive bandages, blister bandages, gauze and tape, an antiseptic agent—towelettes or other—, an antibiotic ointment, tweezers (useful for removing splinters or ticks), an alcohol-based disinfectant for your hands, a thermometer and small scissors.
Your important documents
In addition to your passport, be sure to pack other important documents such as an updated list of all your prescriptions, your immunization record (see box about travel clinics), a list of your emergency contacts and proof of your insurance coverage.
Stop by a travel health clinic!
Visit a travel health clinic six weeks before your departure to make sure that you have all the required vaccines for the places you'll be travelling to. It's also a great opportunity to discuss any health concerns you may have about your trip and evaluate your needs based on your destination, the length of your stay and the activities you have planned. For example, they can tell you if you will need to protect yourself from malaria. For more health and travel advice, talk to your pharmacist and visit brunet.ca.
NOTE: All medications and natural health products can cause serious side effects or interactions with other medications. Carefully read the instructions, warnings and patient information sheets provided by the manufacturer and consult your pharmacist when purchasing any medications or natural health products.
Where to find a travel health's clinic?