Summer is festival season! We're lucky to have a lot of them in our beautiful province. Eating well during such events isn't always easy. Although we can afford to cheat from time to time, it's always smart to bring healthy snacks in order to avoid cravings and fast food. Here are 5 healthy snack ideas to fit pack when festival rules permit.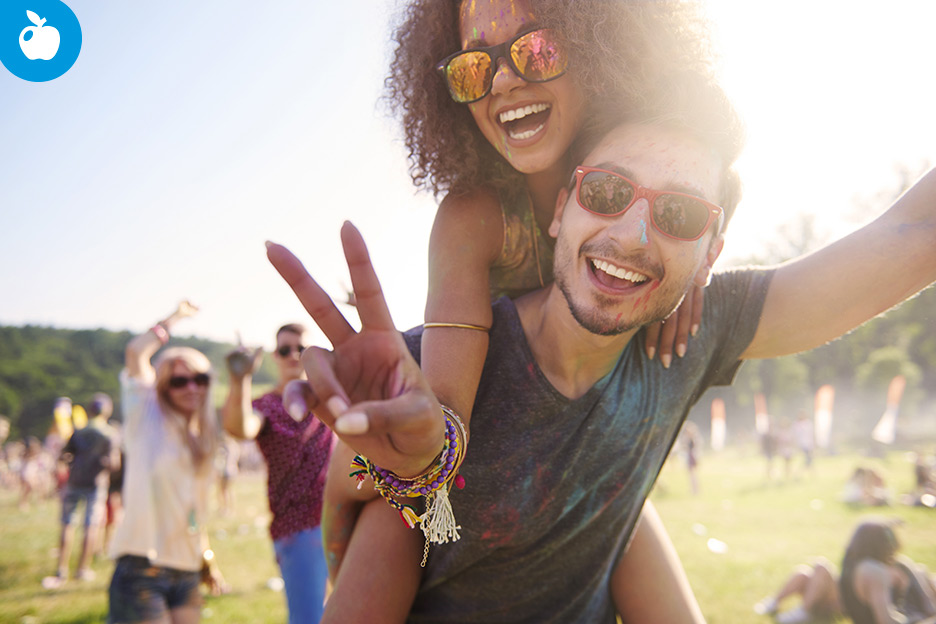 Crudités and hummus
Raw veggies are always a wise choice, regardless of the event you're attending. So why not take a small bag of vegetables (carrots, peppers, zucchini, cherry tomatoes, etc.) you could dip in homemade mashed chickpeas (hummus) instead of a creamy dip? You can also replace hummus with guacamole or a garlic yogurt dip (tzatziki) that you prepared yourself.
Fruits and cheese
A healthy snack should ideally be a mix of two of the four food groups. Pair fresh fruit (apple, pear, grapes, etc.) with a piece of cheese (cheddar, gouda, gruyere, etc.) and you've got a winning combination! Opt for firm cheese that can be easily packed – these also act as a protective barrier for teeth.
Nuts and dry fruit
A mixture of nuts and dried fruits is another great healthy snack to take to festivals with you. Nuts (almonds, hazelnuts, Brazil nuts, etc.) and dried fruit (raisins, dried cranberries, etc.) are a nutritional gold mine. Plus, this snack is easy to prepare and to pack. Make your own mix with nuts, seeds and dried fruit. Don't hesitate to change it up!
Pita and Peanut Butter
Among the best snacks to eat on-the-go, you can always rely on the classic peanut butter sandwich: whether crunchy or creamy, it's tasty and good for your health. To break away from tradition, opt for any whole grain bread (pita, bagels, tortillas, English muffins, etc.) If you choose this type of snacks, go for peanut butter that contains only peanuts, which is easily recognizable by the oil at the surface of jar.
Fruit smoothie
Refreshing and velvety, a fruit smoothie is definitely one of the most delicious and most nutritious snacks! Use the basic milkshakes ingredients, and then adjust the recipe according to your preferences. A little milk or fortified soymilk, a little low-fat Greek yogurt, a banana or even a handful of your favourite berries, and you've a yummy and nutritious snack.
Don't forget water
It is very important to stay hydrated at festivals. Remember to bring a bottle of water. You find it boring? Add some slices of lemon, lime or cucumber!
Certain products, foods or changes in lifestyle may not be appropriate for you. Always consult your pharmacist or a healthcare professional to make sure.