So you've made the important and wise decision to get back to exercising. What a great idea! But did you know that the real challenge lies in persevering, and not in starting a physical activity? Here are a few useful tips to help you keep the spark alive.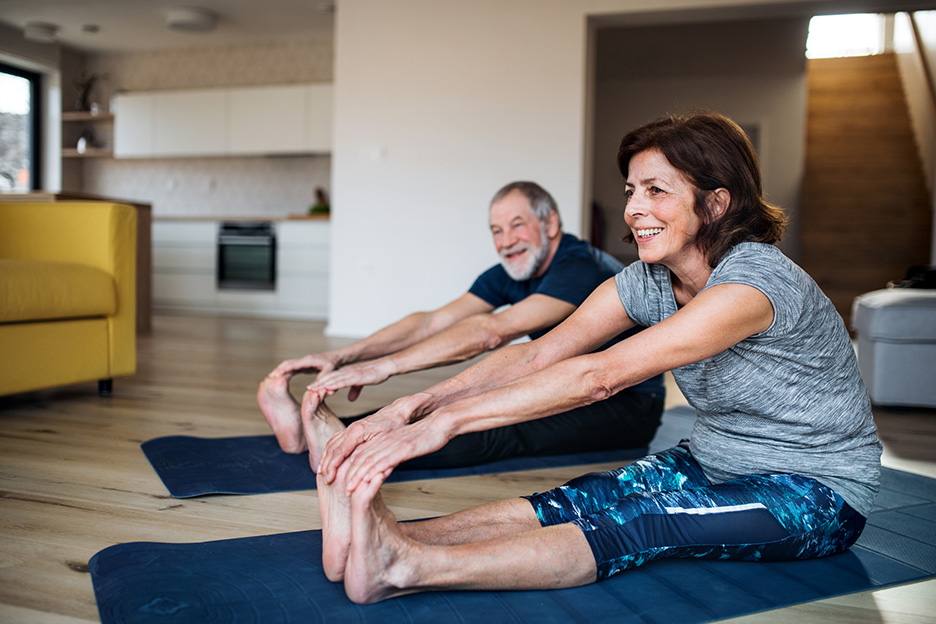 Physical activity: at the heart of good health
It is a well-known fact that to maintain one's health, adopting a healthy lifestyle is vital. Eating a balanced diet, exercising regularly, not smoking, avoiding stress and sleeping well are at the top of the list of ways to stay in shape. The benefits of physical activity on health have been proven over and over again, but to fully enjoy them, it is essential to exercise regularly (at least three time a week, ideally every day) over a long period of time.
So many of us have signed up at a gym and quickly lost our motivation. In fact, it is said that more than half of all individuals who take up a fitness program give it up within six months. Here are a few tips to ensure that you don't become part of that group.
Set realistic goals
Knowing exactly where you're going usually helps you get there, so setting specific goals will motivate you to take the means to reach them. It can be helpful to post them in strategic places: on the refrigerator door, on your bedside table or even on your smartphone, for example. Ideally, select goals with measurable results, such as a number of kilos to lose within a specific time frame. Another good idea is to set a final objective as well as intermediate objectives, which will be an additional source of motivation.
Enjoy what you do
First, find an activity that you enjoy. There's no use trying to start swimming if you hate water or signing up at a gym if you can't stand the thought of being stuck inside. Do you love to dance? Sign up for an aerobics or Zumba class! For the elderly, a ballroom-dancing class can be an excellent way to maintain your flexibility and coordination.
Discuss your process with friends and family
United we stand, as they say, so try to take advantage of the encouragement and support of the people in your life. Talk about your process with your family, friends and colleagues, and tell them about your goals. Also, determine the type of fitness enthusiast you are. Do you prefer doing physical activities alone or in a group? Who knows… perhaps some of your loved ones will want to accompany you to your workout sessions!
Focus on consistency instead of intensity
When you start a new workout regime, it is wise to follow the old adage "slowly, but surely". Start gently, then add levels of difficulty (more kilometres, more laps in the pool, etc.) as your body gets used to your new lifestyle. If you push yourself too much at the beginning, you may be tempted to give up when an obstacle arises or if you get injured. Don't forget to rest enough between workouts.
Go for variety and creativity
The best way to avoid getting bored is to vary your activities. So walk, run, swim and dance if you feel like it! Fill up your weeks with an array of different activities that delight and inspire you. Are you more inclined towards regularity and routine? Or, on the contrary, do you enjoy diversity? Simply changing routes, for example, can allow a runner to get his or her motivation back. Boredom is the enemy of perseverance.
Adapt your daily routine to your needs
To get in shape, don't limit yourself to physical activities that are scheduled and organized. Try to change up your daily routine by taking advantage of opportunities to move: climb stairs instead if taking the elevator or run errands by taking a walk instead of driving. Simply integrating a few physical activities to your day can really help you feel better. An extra minute of exercise is never a waste.
Reward yourself and take the time to rest
Taking care of yourself also implies taking occasional breaks. After a particularly active week, why not relax by watching a film with a special someone, or by enjoying a well-deserved gourmet meal? It is important to reward your efforts; it's up to you to choose how. Use your imagination and surprise yourself! Choose your rewards in advance; they will undoubtedly be a powerful source of motivation.
Plan for and accept the highs and lows
Moments of dwindling motivation are likely inevitable; after a while, you may start feeling like giving up on your newly adopted healthy habits. First, be tolerant with yourself; don't judge your feelings. Instead, if you are feeling less motivated, question the reasons that are making you feel like slowing down. Then try to find concrete ways to fix the situation: go to bed earlier, find a new activity, seek out a personal trainer, etc. Ideally, try to plan strategies ahead so that you have tools to use when you start feeling a drop in motivation.
The moment has now come for you to transform your thoughts into action. If you start feeling like giving up, think of the countless benefits that exercise provides in terms of your well-being, quality of life and health. It is undoubtedly one of the best investments you can make. It's up to you to reap the fruit of your labour!