It can be difficult to organize your medications. The number of drugs and the complexity of the treatment can prove to be a real challenge. But there are many tools to simplify this sometimes difficult task.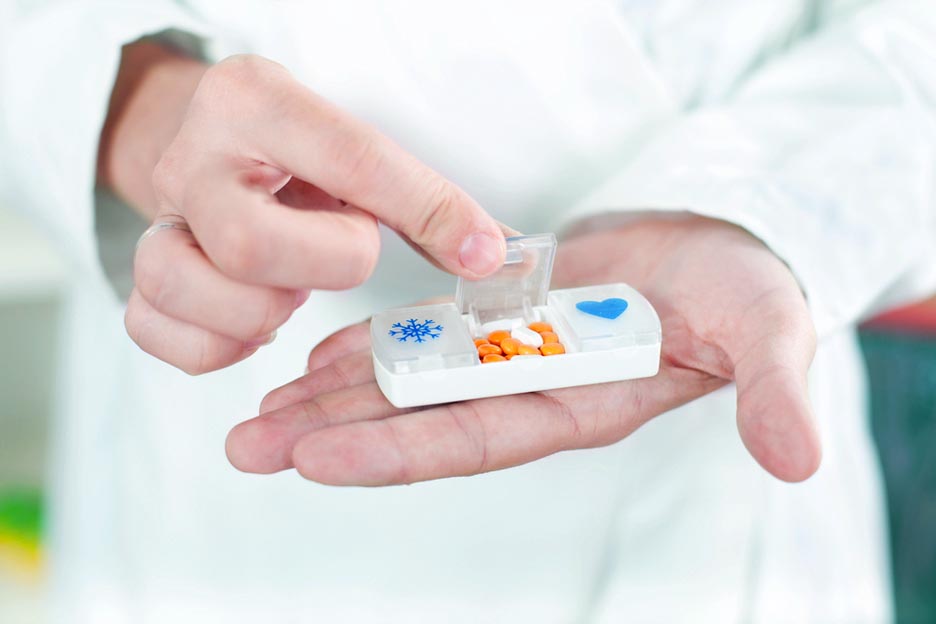 For your peace of mind
Several concerns could weigh on your mind when it comes to taking your medications properly. What will happen if I make a mistake? Will my treatment be compromised if I forget several tablets or if I'm incapable of taking my medications as prescribed? These fears generally increase with the number of pills that need to be taken. Fortunately, several tools are available to free your mind to think about more than just your treatment.
The indispensable pill organizer
When we talk about tools for organizing medications, it is impossible not to mention the best-known and most popular: the pill organizer. There are several types of pill organizers on the market. They are made of different materials and come in different sizes and shapes. What is commonly known as a "dosette" is often made of plastic and can be reused week after week. Another type, which is very popular now, is known better under the trade name "dispill." This pill dispenser is made of plastic and paper and disposable after use.
The pill organizer is made up of several compartments that are sometimes called cells. Each of these cells is meant for the pills that must be taken at a particular time of day, for example, all those that must be taken in the morning. Some pill organizers are divided into days and have only one compartment for each day, so they are suitable when medications need to be taken only once a day. Others have two rows of compartments for taking medications twice daily. We also find those with four compartments: one for the morning, midday, dinnertime, and bedtime. Most pill organizers have enough compartments to hold medications for a period of seven days. In general, the compartments are removable, so you can detach them to take them with you.
Using pill organizers has several advantages, such as:
you avoid having to handle medicine bottles;
you remember that you have to take your medications;
you can verify at any given moment that you have taken your medications ;
you can be sure that you take the right medications for the right time of day;
you don't forget or mistakenly take a double dose.
In brief, the pill organizer facilitates the optimal and safe intake of your medications.
Are you bored or frightened of making a mistake when you have to fill your pill organizer? No problem, your pharmacist can do it for you every week. Then, you can arrange to pick it up at the pharmacy or to have it delivered to your home.
Please take note that verification procedures are in place at the pharmacy to prevent errors when filling the organizer. So, you can rest easy.
Tools to serve as reminders
In general, we estimate that one in two people forget to take their medications at the right time when they don't have any memory aids. This can have unfortunate consequences such as the loss of control over the disease or even treatment failure. The pill organizer can help you remember. There are even pill organizers with integrated alarms to remind you to take your medications.
Other tools or strategies are also to be considered. For instance:
using a watch or smartphone alarm;
using stickers or visual reminders placed strategically, for example, on the refrigerator door (ask your pharmacist);
keeping your medications next to an object that you use every day, such as your toothbrush;
receiving an e-mail alert telling you that it's time to renew your prescription or even that it's time to take your medication. The online tool Ma Santé, available at www.brunet.ca allows you to get access to your pharmacological file and to sign up for automated reminders to take your medication. Ask your pharmacist for more information!
Tools to facilitate the administration of medications
Some medications can be more difficult to administer. Here are a few examples of possible problems and their respective solutions:
You have difficulty swallowing your tablets:
Get a tool called a pill cutter or a pill crusher from your pharmacy. It is important that you ask your pharmacist if you can cut or crush your tablets because that's not always the case. Moreover, the laboratory team can split the tablets for you upon request. They can also tell you if the medication is available as a liquid.
The medication that you take has a very bad taste:
It is sometimes possible to add flavours to certain medications. Ask your pharmacist if this can be done with yours, or even if the medication can be mixed with food or drink, such as jam, yogurt, compote or chocolate syrup.
You don't seem to be able to apply your eye drops properly:
Your pharmacist can give you a container that you can place on the eye. The eye drop bottle is fixed to the end of this container, which greatly facilitates the application of eye drops. Otherwise, your pharmacist can give you information about administering products for the eye and give you tips to succeed.
Whether you're taking a short-term medication, such as a course of antibiotics for a few days, or several medications for a chronic disease, it is important to always follow the instructions given by your doctor and your pharmacist. As a drug specialist, your pharmacist can give you lots of advice and tips to help you manage your medications and take them as prescribed.
Many tools are available for the safe and optimal use of medications. Since the toolbox is so well stocked, it's up to you to dip into it!