Travelling abroad is both exciting and a bit stressful, especially given all of the health problems that can plague travellers (traveller's diarrhea, tuberculosis, motion sickness, etc.). Fortunately, with the right preparation, you'll be on your way with peace of mind. Here are six health essentials you should pack for your next trip.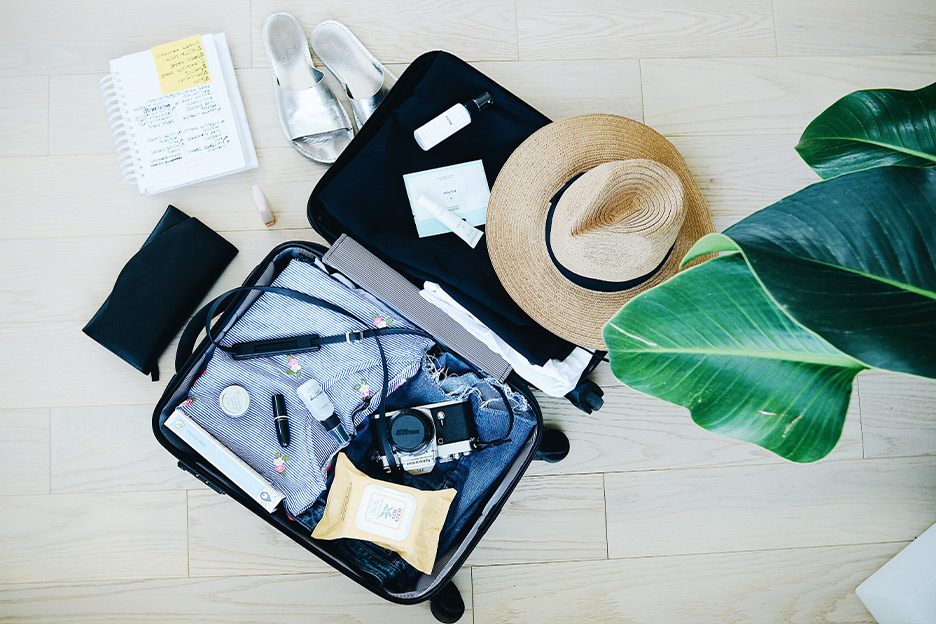 First-aid kit
Has it been a while since you last wore beach sandals? Don't let blisters catch you off guard! Make sure to include a fully stocked first-aid kit among your health essentials. It's a great way to make sure minor injuries and infections won't spoil your experience!
If you're travelling abroad, your first-aid kit should contain the following items:
Gauze
Thermometer
Adhesive tape
Small scissors
Disposable latex gloves
Antiseptic wipes
Tube of antibiotic ointment
Blister bandages
Compression bandages for sprains
Alcohol-based hand sanitizer
Adhesive bandages in various sizes
Tweezers to remove splinters or ticks
Before you leave, consider taking a first-aid course to learn how to properly use the contents of your kit. Don't forget to consult your pharmacist, too. They can assess your needs and even prescribe certain medications.
Prescription medications
Don't forget to pack your prescription medications along with your other travel health essentials. Keep these medications in your carry-on bag, in their original containers along with your full name, the pharmacy label, and the exact name of the medication. It's also a good idea to bring a little more than you need so you're prepared in case something unexpected occurs. It's better to bring too much than not enough!
Keep in mind, however, that regulations governing the transportation of medications vary from country to country. Before you leave, it can be a good idea to familiarize yourself with the regulations in force in the country you're planning to visit. You can also ask your pharmacist for a complete and up-to-date list of your medications.
Never buy prescription drugs outside of Canada unless a health care professional recommends it.
Over-the-counter medications
No matter what type of trip you're planning, there are a number of over-the-counter medications you should pack. Whether you're heading out on an all-inclusive vacation or journeying to the depths of the jungle, even the smallest of ailments can ruin your trip! To avoid an unfortunate situation, consider adding non-prescription medications to your list of health essentials.
The following are examples of medications that you should definitely bring on your trip:
Pain relievers (for headaches, toothaches, muscle and premenstrual pain, etc.)
Antihistamines (for allergic reactions, insect bites, and mild sunburn or other minor skin irritations)
Antinauseant medication (for motion sickness)
Powdered oral rehydration solution
Antidiarrheal medication
While these medications can be purchased without a prescription, always ask a pharmacist for advice on the best choice as some may not be right for you. Your pharmacist will assess your needs and may even prescribe some of these medications during the consultation.
Emergency contact information
Accidents happen so quickly, and while we certainly hope to avoid medical emergencies while travelling, planning ahead can save us a lot of trouble. Consider adding the following useful information to your health essentials:
Name and full contact information of a friend or family member residing in Canada
Name and full contact information of your health care provider in Canada
Your home address and phone number
Full contact information for your hospital or health care clinic in Canada
Full contact information for hospitals and health care clinics in the country you are visiting
Full contact information for the Canadian embassy in the country you are visiting
Telephone number of your travel health insurance provider
Remember to save the phone numbers of embassies, hospitals, clinics, and other useful resources in your contacts in case of emergency. This will save you from having to look for them if you need them.
Vaccination record
Before travelling abroad, make sure your vaccination record is up to date and bring a copy with you. Several essential travel vaccines reduce the risk of contracting certain diseases, including the following:
Hepatitis B
Diphtheria
Tetanus
Measles
Rubella
Mumps
Whooping cough
Polio
Other vaccines may be required depending on the country you're visiting. You should also consider getting vaccinated against cholera, hepatitis A, and yellow fever. Consult a health care professional to ensure that you receive or have received all of the vaccines required for your trip.
Other important health-related items
Have you checked these other health essentials off your list?
Copy of your travel insurance coverage
Sunscreen and sunburn treatment products
Hand sanitizer
Health insurance card
Water purification tablets (if necessary)
Bon voyage! Don't forget your passport!
Visit our Travel health section to learn more and get specific information about the country you're planning to visit.
It's recommended that you visit a travel health clinic or consult your pharmacist at least six weeks before your departure to find out which medications and vaccines are required for the places you plan to visit.