Ready for take-off? You've packed your sunscreen, sunhat and swimsuit… but what about your prescription medication? Unfortunately, your health issues don't take a break, so here are a few tips that will allow you to enjoy your trip with peace of mind.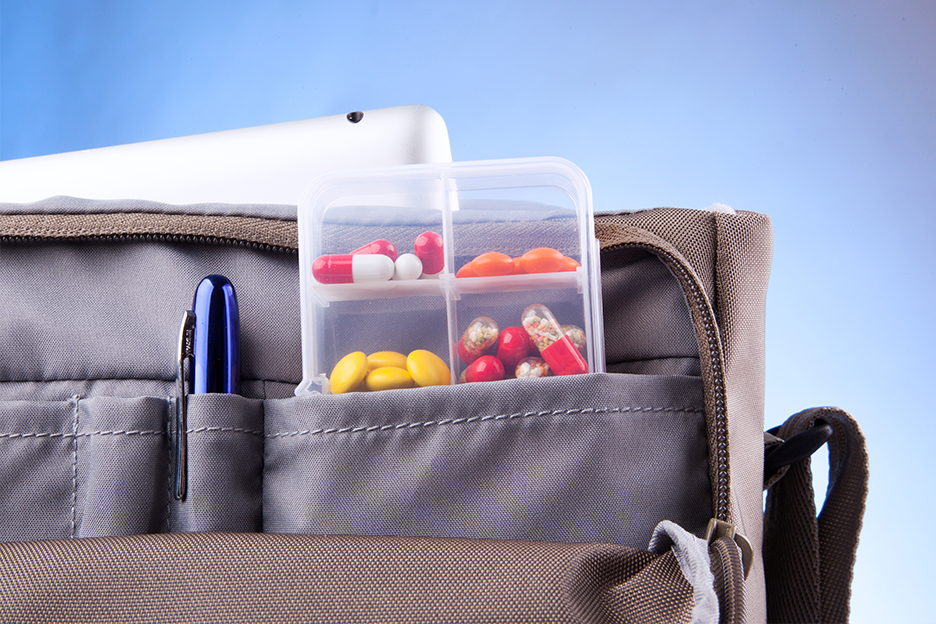 General guidelines to follow before departure
You've been dreaming of this trip for a long time. Taking prescription medication shouldn't prevent you from enjoying wonderful moments abroad! However, taking a few precautions will save you from unnecessary worries.
Travelling with medication is regulated throughout the world, but each country has its own rules. It is therefore important to know the current regulations in the country you are planning to visit.
In general, it is recommended to:
Bring your medication in your carry-on luggage, in its original container, with your pharmacy's label.
Don't mix different medications in the same container, unless it is a pill organizer.
Make sure your name is spelled the same way on the pharmacy label and your passport.
Make sure the name of your pharmacy and the medication's generic or brand name are indicated on the label.
Plan for enough medication to last throughout your trip, and even a bit more, in case you get delayed returning home.
Ask your pharmacist to print a complete, up-to-date list of the medications you take.
Visit your airline carrier's website for more information on regulations regarding travelling with medication or medical supplies.
If you take medication that is rather uncommon, or if you use medical supplies (syringes, needles, blood-glucose monitor, etc.), ask your destination country's embassy or consulate if they are allowed there. In addition, ask your health professional to write you a letter indicating that you use these supplies for medical purposes only.
Finally, don't purchase any medication outside of Canada, except if a health professional suggests you do so, since there are a lot of counterfeit medications out there. Also, some medications that are sold legally abroad may not meet Canadian standards and cause problems for you at customs.
Visiting our neighbours to the south
If you are travelling to the United States, current laws and regulations there can apply. In general, a doctor's prescription is an acceptable explanatory document if the length of your stay is shorter or the same as your prescription's duration.
An amount of medication covering 90 days is allowed, except for certain classes of medications; in those cases, an amount covering 30 days can be accepted at customs. Before you leave, check the conditions that apply to your situation with your pharmacist.
Travelling with medical supplies
Note that the limit of two carry-ons does not apply to medical supplies and equipment, nor to mobility aids.
If you wear a stoma, your medical supplies can be stored in your carry-on luggage. They will be checked at customs, however. To facilitate the process, have your doctor's note in hand and tell the customs agent that you are wearing a stoma.
If you have a medical prosthesis, a prosthetic limb, a pacemaker or a walking aid, you should advise customs agents and flight attendants. Having your medical documents on hand will make things easier both for you and the staff.
If you take insulin or any other medication requiring the use of syringes and needles, bring an explanatory note from your doctor or a medical certificate. It can be difficult to get syringes and needles abroad, so plan for a sufficient quantity of these supplies, depending on the duration of your stay.
Returning to Canada with prescription medication
If you or a member of your immediate family returns from abroad with prescription medication that is not available in Canada, note that Health Canada allows you to bring back enough medication to cover three months of treatment. For customs, you must carry the medication in the original container supplied by the pharmacy or hospital. Make sure you tell your doctor and pharmacist that medication was prescribed to you abroad and give them all the details (name of medication, dosage, reason for treatment, etc.).
Don't forget that your pharmacist is always available to answer your questions when you are travelling to a foreign country. A simple phone call can be worth it.
For more information on regulations for travelling with medication or medical supplies, visit the Canadian Air Transport Security Authority's website: www.catsa.gc.ca.
You're now ready for take-off! A well-planned trip will allow you have complete peace of mind to enjoy palm trees and historic monuments to your heart's content. You'll come back not only with beautiful pictures, but with your health intact. Bon voyage!