Do you suffer from high blood pressure? Do you want to take charge of your health? A number of simple lifestyle changes can help prevent and effectively treat this medical disorder. It's up to you!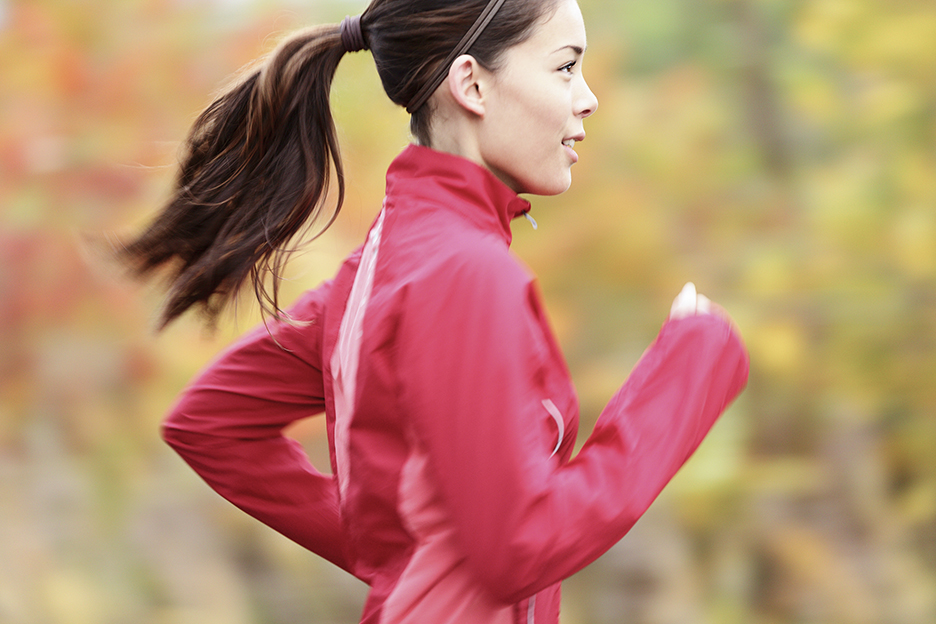 Physical activity: essential
If you suffer from hypertension (high blood pressure), then it's time to tie on your running shoes and don your apron. While you don't have to be a marathon runner or a gourmet chef, a few simple changes to your lifestyle habits will have beneficial effects on your prevention and control of hypertension.
Hypertension is characterized by the blood exerting too much pressure on the artery walls, raising your risk of developing a heart disease. By integrating 30 to 60 minutes of moderate physical activity (walking, cycling, swimming) into your routine four to seven days a week, you can prevent hypertension and lower your blood pressure. Does this objective seem unrealistic? Start slowly, with several short periods of physical activity. Benefits on blood pressure may be observed with as little as 30 to 60 minutes of physical activity per week.
By being more active, you will have an easier time reaching a healthy weight. Weight loss is accompanied by a direct drop in blood pressure. Aim for a body mass index (BMI) of 18.5 to 24.9 kg/m2. Your waist circumference can also serve as a guide: it should not be more than 102 cm for men and 88 cm for women. Ask your pharmacist or your doctor to help you determine you BMI and your waist measurement.
Reducing your sodium intake: a key element to success
When you suffer from high blood pressure or want to avoid this disorder, salt is your number one enemy. Dietary sodium is found primarily in prepared and processed foods, which account for up to 80% of our sodium intake. Some of these foods have very high levels of salt. These include:
junk food
prepared soups and sauces
certain frozen dishes
deli meats
When consuming food, read the nutrition labels carefully. Choose foods that contain less than 200 mg or 10% of the recommended daily allowance of sodium per portion. Refrain from eating foods that have a sodium content of more than 400 mg or 20% of the recommended daily allowance per portion. To add flavour to your dishes, use herbs and spices. Let your imagination loose, and your taste buds will thank you! Leave the salt shaker in the cupboard and cook without adding any salt to the cooking water.
The DASH diet, which emphasizes fresh fruits and vegetables, dietary fibres, low-fat dairy products and meats that are low in saturated fat and cholesterol (chicken, fish), has also proven its effectiveness in reducing high blood pressure.
Alcohol, tobacco and stress: a harmful cocktail
Moderate alcohol consumption is preferred if you wish to prevent or treat hypertension. The recommended limit is 0–2 drinks per day. Women should not consume more than nine drinks per week. One drink is defined as:
360 ml (12 oz) of beer with 5% alcohol
150 ml (5 oz) of wine with 12% alcohol
45 ml (1.5 oz) of hard liquor
It is preferable to refrain from smoking and to live in a smoke-free environment in order to reduce your blood pressure and your risk of heart disease. Your pharmacist can recommend ways to help you quit smoking, including the use of an anti-smoking aid.
Relaxation techniques, instead of alcohol and tobacco, are an effective means for managing stress and can also help you better control your blood pressure.
When rigorously applied, all these lifestyle changes can lead to benefits comparable to those of an antihypertensive medication. They are all the more attractive as they will help you take charge of your overall health. Practise a physical activity with your friends; encourage the members of your family to take part in your culinary explorations. Integrate these changes gradually, taking pleasure in doing so, and you will succeed in thwarting hypertension!