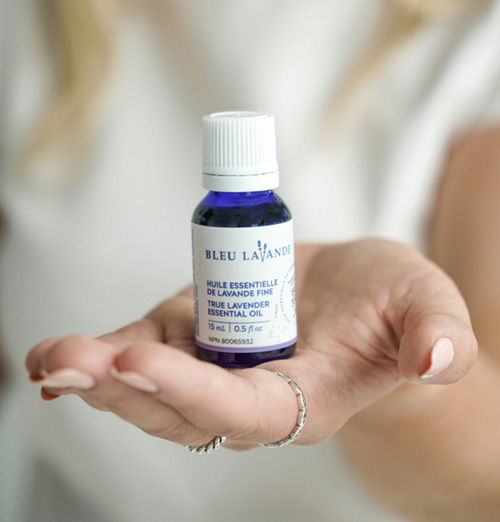 Pure ingredients of the highest quality
Discover the soothing, purifying and therapeutic benefits of true lavender essential oil. Our essential oil is 100% Lavandula Angustifolia and is ISO 3515 certified. This certification guarantees that the essential oil is natural, 100% pure and has not been adulterated, ensuring its superior quality. Our products are made with responsible and natural ingredients and are without artificial fragrances, parabens and sulfates.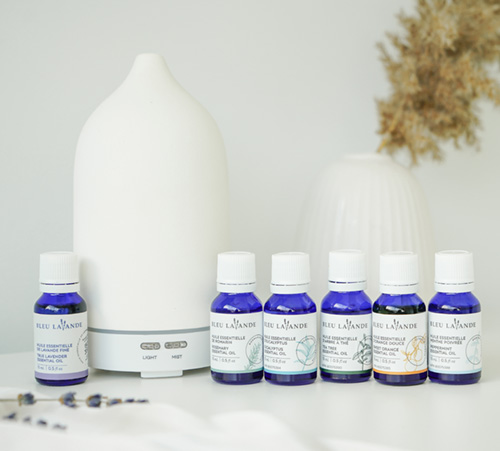 100% pure essential oils
Create a complete well-being routine and relieve aches and pains naturally with our pure essential oils. From relieving headaches, coughs and colds, digestive discomfort and more, these precious potions are your wellness allies for your body, mind and spirit.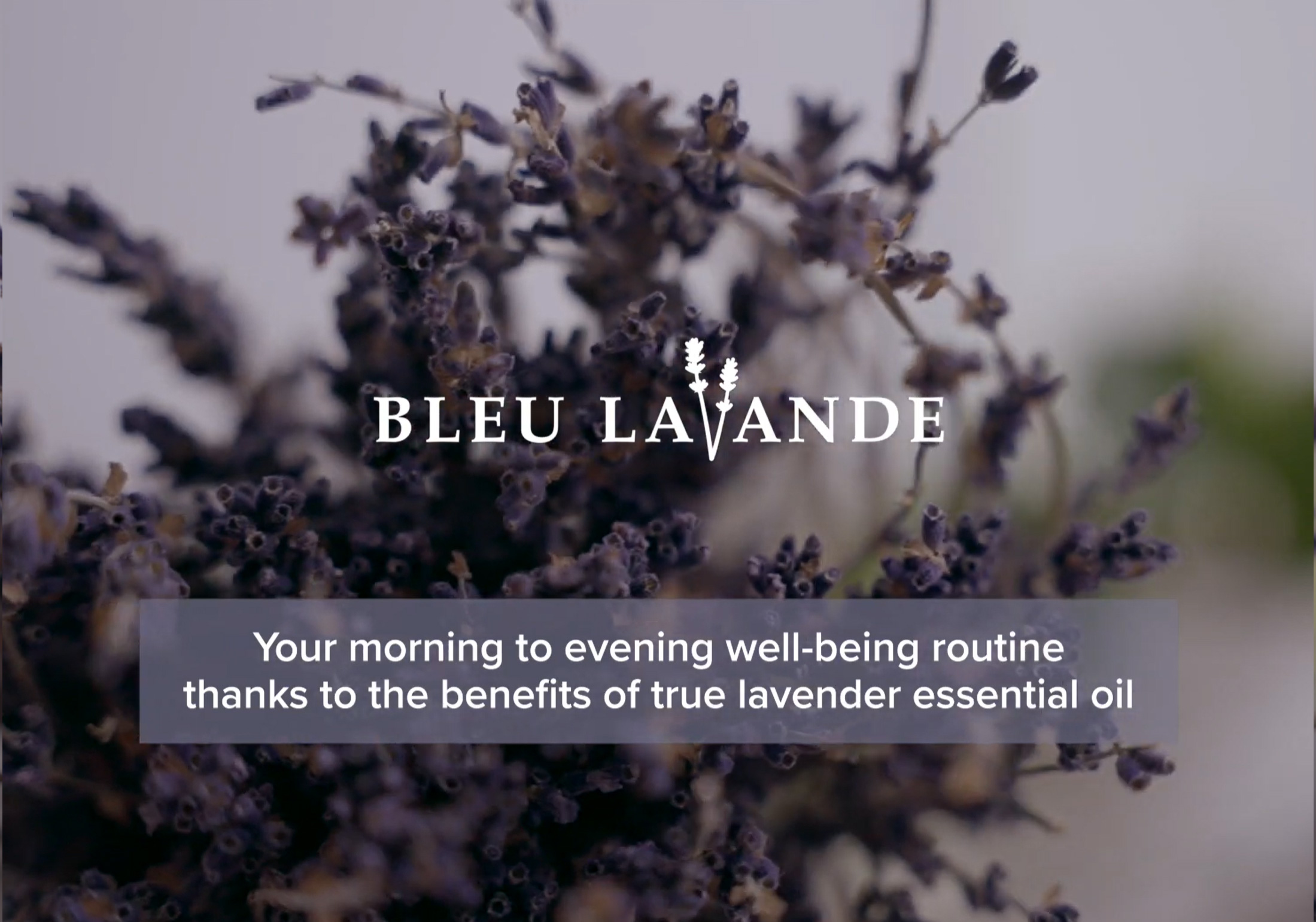 Your well-being routine from morning to evening
Integrating the soothing benefits of true lavender essential oil allows us to transform simple daily gestures into an aromatherapy session. Discover your well-being essentials.View the video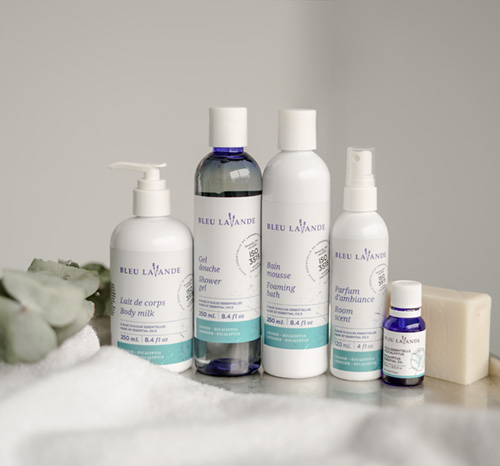 Lavender-eucalyptus collection
Enjoy the soothing benefits of true lavender essential oil along with the expectorant properties of eucalyptus essential oil in this collection of five products focused on well-being. Dedicated to body care and relaxation, the lavender-eucalyptus collection is perfect for recreating a spa experience in the comfort of your home. Its more peppery smell is also highly appreciated by men.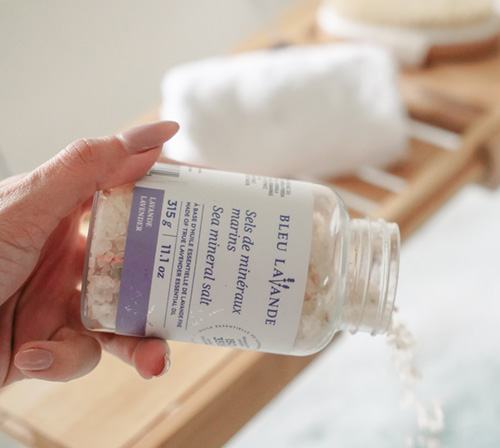 Bath and shower care
Transform your bath and shower routine into a precious well-being moment thanks to the soothing benefits of true lavender essential oil. Our bath and shower products provide nourishing and moisturizing properties for healthy-looking skin and hair.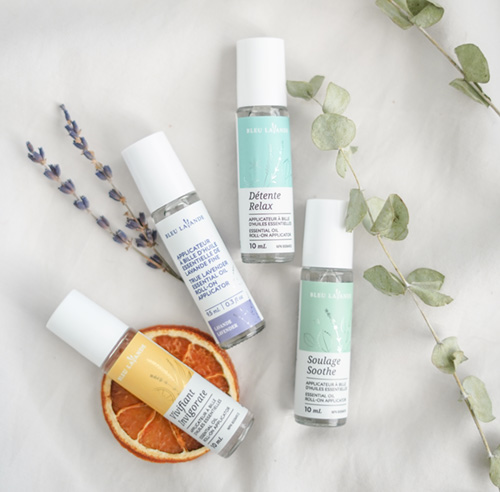 Therapeutic care
Everyday life can offer its dose of stress. That's why it's crucial to use products that can help soothe the body and mind. A gesture as simple as applying lavender essential oil (diluted) on the temples and wrists creates a relaxing ritual and helps release tensions. Discover all the other products in this collection such as our massage oil and more.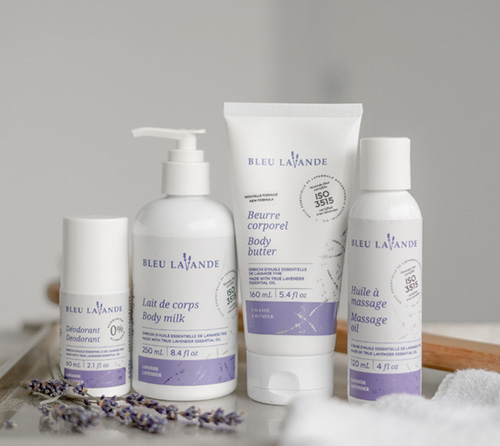 Body care
Tensions accumulate in our body and they can have damaging effects on the short and long term. Offering yourself a well-being ritual on a regular basis is a must. With our body care collection, you will feel soothed from head to toe. Composed of active and high-quality ingredients, this collection offers moisturizing properties and more.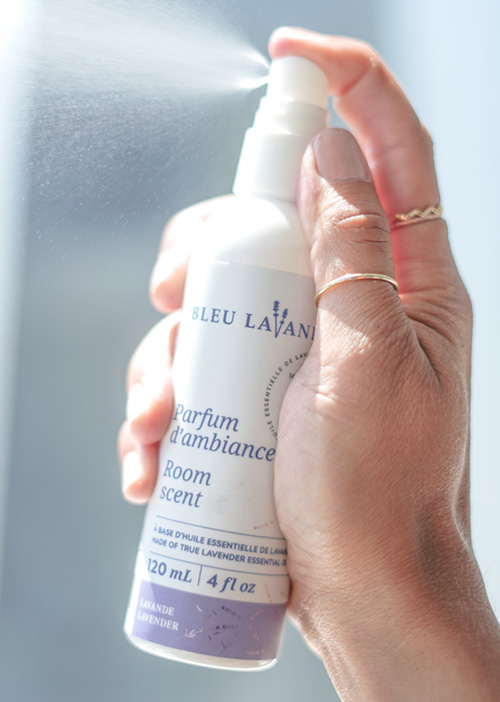 Ambiance products
Our environment impacts us greatly and it is essential to create a relaxing atmosphere when we are at home. Whether it's lighting a lavender candle or spraying linen water on sheets before bedtime, there are so many beautiful ways to relax!