During pregnancy, hormones can cause changes in physical appearance. It's necessary to adopt certain beauty regimes to fight aesthetic changes and keep feeling good in your skin.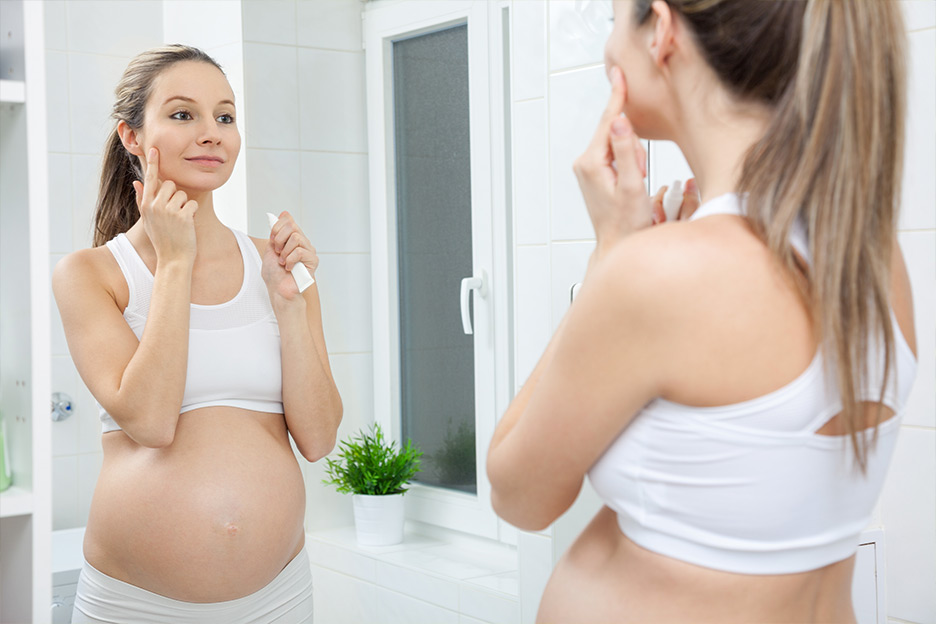 Control acne.
In some pregnant women, hormones can cause acne that can last the entire pregnancy. Care for your skin by cleansing it daily (morning and night) with a mild antibacterial gel, applying moisturizer (day or night) adapted to your skin type and using a scrubbing mask twice a week. Try Bioderm Sebium purifying cleanser. For other product suggestions, ask your Brunet cosmetician.
Before using a dermocosmetic product, check if it's safe for your baby with your cosmetician or pharmacist. Take note that pregnant women should avoid products containing retinoid (like tretinoin), a derivative of vitamin A.
Prevent stretch marks.
Stretch marks are born, among other things, when the skin stretches very quickly and suddenly. That's why they appear during pregnancy. You can prevent them by gaining weight slowly (skin stretches gradually) and by applying special cream day and night on targeted areas (stomach, breasts, hips, etc.) from the first few weeks on. Stretch mark prevention creams soften the skin and improve elasticity. Choose a hypoallergenic cream that's safe to use for pregnant women and baby, like Lierac Phytolastil stretch mark prevention gel. To find the product that's best for you, consult your Brunet cosmetician.
Avoid pregnancy mask.
Pregnancy mask (also known as chloasma) are brown spots (somewhat dark and widespread) that appear on the forehead, cheeks, nose and upper lip at the onset of pregnancy. This hyperpigmentation is due to hormones and is common among pregnant women. Women with darker skin tones are more prone to this condition. To avoid it, protect yourself form the sun. Indeed, during pregnancy, the effects of the sun are magnified. Always wear a hat and use sunscreen (SPF 50 or more, every 2 hours). Try La Roche-Posay ultra-fluid Anthelios lotion.
For more information on pregnancy mask or sun care advice, ask your Brunet pharmacist or cosmetician.
Take care of your breasts.
A change in breasts is one of the first visible signs of pregnancy. In the beginning, your breasts will swell due to hormonal hypersecretion and hypertrophy of mammary glands. It's important to pay particular attention to this area as the skin is very fine and fragile. You can preserve the beauty of your breasts with regular care: massage with hydrating cream (the skin is low in sebaceous glands), wear a suitable bra (deep cup with wide straps), build supporting muscles in chest with simple exercises, and refresh chest area with cold water at the end of shower to improve tone. You can also use a bust-toning product like Talika Bust Serum after delivery and after you stop breastfeeding (do not use while breastfeeding). Ask your Brunet cosmetician.
Revitalize your legs.
During pregnancy, many women retain water, which causes swollen legs and poor circulation. You can help prevent this by drinking lots of water (around 1.5 l per day), elevating your legs, moving frequently throughout the day (walking, swimming, etc.), avoid standing for too long, running your legs under cold water in the shower and massaging your legs with a circulating gel like Lotus Aroma.
Ask your Brunet cosmetician for more information about products that can help with leg circulation and water retention. And don't forget that the best beauty secret is the joy of being pregnant!