Preparing for an upcoming trip? We've got tips, tricks, and suggestions for assembling the ideal beauty kit to take on the road.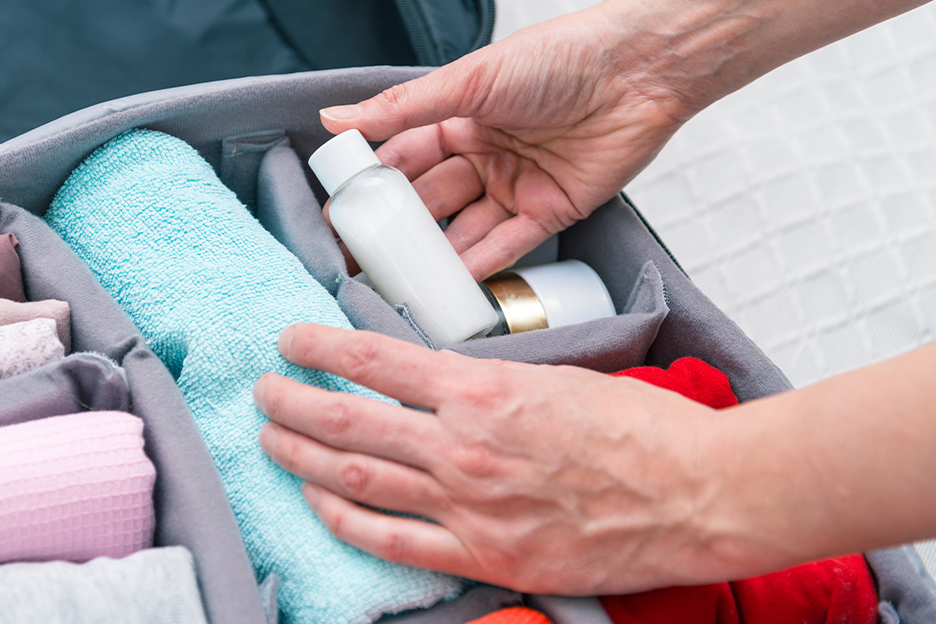 BEAUTY ESSENTIALS FOR MOISTURIZING AND PROTECTING YOUR SKIN
UV rays and dehydration are your skin's worst enemies. Even on a short getaway, it's important to moisturize and apply an adequate amount of SPF product to protect your skin and preserve its youthful appearance.
Whether you have dry, oily, or dark skin, there's a sunscreen out there for your skin type that you can add to your beauty travel kit. A moisturizing face cream is another must—your skin will thank you after long days spent in the sun or exploring new places.
Remember to bring a travel-size hand cream as well to rehydrate your skin. You can even apply it to your feet if needed!
KEY MAKEUP PRODUCTS: TINTED LIP GEL AND LIP GLOSS
Opt for tinted gels with a brush or felt-tip applicator. They're long-lasting and give you an all-natural look. To moisturize and protect your lips, apply a little lip gloss over the tinted gel.
There are even two-in-one products with tinted gel on one end and lip gloss on the other. They're perfect for stashing in your carry-on bag!
HEADED TO A SUN DESTINATION? LEAVE YOUR FOUNDATION AT HOME!
Tropical humidity and high temperatures can cause foundation to run and clog or irritate your pores. Allow your skin to breathe by using a cool gel cleanser along with a light toning lotion instead.
You can create a perfect canvas by simply dabbing a touch of concealer on any imperfections. For a more refined and minimalist look, apply bronzing powder to give your skin a healthy glow and a smooth finish.
CLEANSING YOUR SKIN
We recommend adding makeup remover wipes to your beauty travel kit. In addition to saving space, they're a handy way to remove your makeup quickly and thoroughly at the end of the day.
We also suggest packing cleansing wipes, which can be used for your hands, face, and body.
BEAUTY ESSENTIALS FOR MOISTURIZING AND PROTECTING YOUR SKIN
The key to keeping your skin healthy during your trip is to maintain your skincare routine. When assembling your beauty travel kit, prioritize products that cleanse, moisturize, and protect. Then, select makeup products that are versatile and suited to your destination's climate.
Choose a large toiletry bag with multiple compartments so that small items are easy to find. You can also use resealable sandwich bags to separate makeup, toiletries, and hair care items.
The basics: Think about your morning and evening routines. Choose multi-purpose products, such as a two-in-one cleanser and toner or a serum that can be applied morning and night. Don't forget about sunscreen and after-sun lotion.
Makeup essentials: concealer, BB cream (the ultimate multi-functional beauty product), mascara, lipstick, lip gloss, blush/bronzer, and eyeliner.
Hair and body care: shampoo, conditioner, styling products, and body lotion, all in travel size.
Other key items: comb, nail file, tweezers, razor, nail polish remover pads, facial cleansing wipes, cotton swabs, hair clips and bobby pins, and hair elastics. (Tip: Attach the clips and bobby pins to your elastics to keep them organized.)
For high-quality and affordable small-format products, visit the personal hygiene section in our stores.
And there you have it: you're all set to pack your beauty travel kit like a pro. Enjoy your trip!
Next up, your travel health kit!
Now that your on-the-go beauty kit is in order, you can focus on your travel health kit. These six travel health essentials will help you avoid hassles while abroad.
Last updated on January 25, 2023
Looking for cosmetics and travel-size products?
Check out our flyer for discounts on travel-friendly beauty products.
More tips for taking care of your skin when you travel