---
Cindy Laverdière, beauty blogger
---
Shiny hair that looks like it would be perfect for a shampoo ad is the Holy Grail of beauty. In fact, many women are ready to do practically anything to achieve this result. Supplements, hairstyling products, salon treatments, no stone goes uncovered when it comes to getting the gleaming locks of your dreams. Before looking at possible treatments for your hair, let's examine the reasons why your hair is dry and dull in the first place.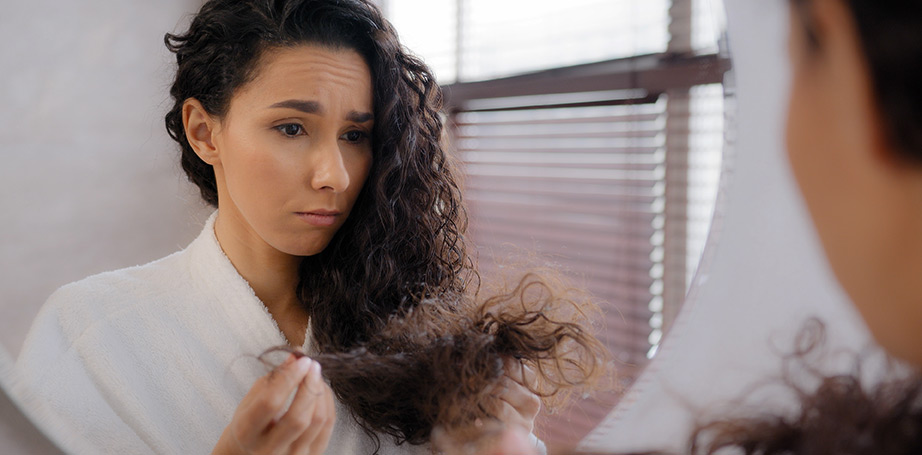 What is dull hair?
Each strand of hair is made of protein and is covered in tiny scales like roof tiles. These delicate cells are soft and smooth when healthy and reflect light. But broken scales can become lifted, resulting in a rough surface and dull hair. These scales can also become weighed down and matte.
Dry hair
Just like your skin, hair can dry out when exposed to the cold or changes in temperature (like when you step inside from the cold). Cold and heat can make your hair lose moisture, and water makes up 10% of hair. Your hair will feel rough and may make a crackling sound when you touch it.
« Dry hair? Use a hydrating shampoo followed by a hair mask or an overnight hair treatment. »
The solution: Use a hydrating shampoo (formulated with avocado, olive oil or shea butter) and a mask or an overnight hair treatment.
Hair loss, dull hair
Have you recently gone through some tough times? Logging lots of overtime at the office? Your hair, which grows about 1.2 cm per month, can feel the effects, even weeks later.
The solution: Take the time to relax and stock up on products that will nourish your hair and help restore its radiance, such as omega-3 supplements and foods rich in fibre (salmon, meat, sardines, kale, broccoli) and zinc (oysters, clams, seafood, wheat germ, nuts).
Dull, dry, brittle hair
Dyes, perms, relaxers and other chemical treatments act in the same way a stripping agent works on furniture. The more you use them, the more your hair feels the strain.
The solution: Ease up on the use of ammonia-based dyes. If you dye your hair, use a gentler product, whether you dye your hair at home or have it done at a salon.
Dull hair
You aren't rinsing your hair properly. You don't need to use half a bottle of shampoo to wash your hair. Too much shampoo makes rinsing more difficult and could result in residue on your hair, which weighs it down and makes it dull.
« Dull hair? Use a clarifying shampoo once a month to get rid of product residue on your hair. »
The solution: Only wash your hair two or three times a week (or less if you're feeling brave), and use a dime-sized dab of shampoo. Apply conditioner on the middle and ends of your hair (avoid the roots). Rinse for three minutes with lukewarm water (hot water can dry your hair). Use a clarifying shampoo occasionally to get rid of product residue on your hair. Watch this video (avalaible in French only) to learn how to wash your hair correctly.
For other tips on how to care for dull hair, watch this video (avalaible in French only) and don't hesitate to consult your Brunet beauty consultant to find the products that will suit you the best.
Cindy Laverdière | Follow my blog
For me, beauty is all about well-being. That's why my beauty routine is composed primarily of natural ingredients that are gentle on my skin and on the environment. I'm addicted to coffee, Wi-Fi, maxi dresses and lemon pie. A product I can't live without? Concealer. A must-have for the new mom that I am!