Say goodbye to dull skin by applying these six tips to your skincare routine and makeup kit.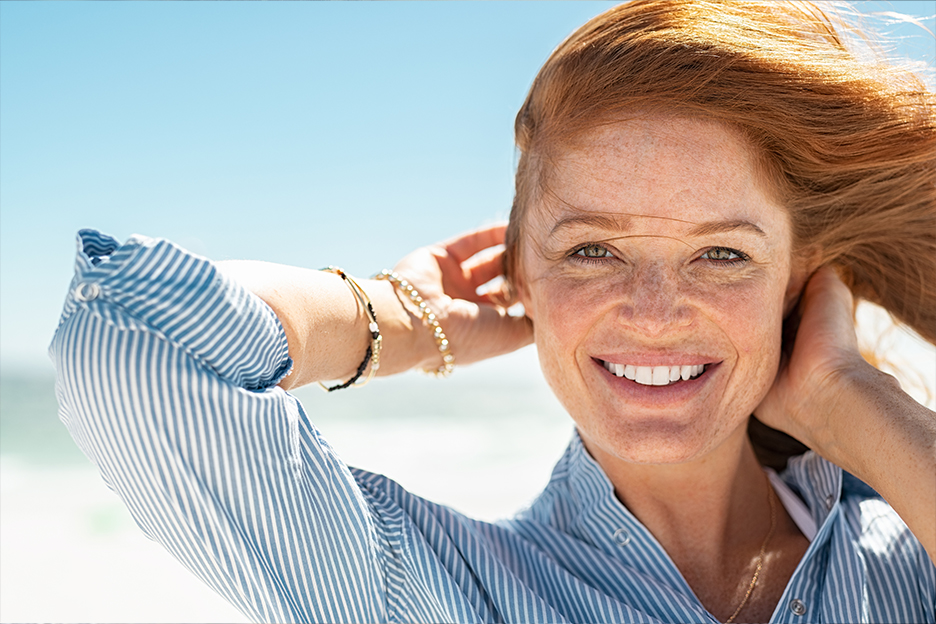 Wash your face every day
The skin on your face is especially delicate and is exposed to more UV rays, bad weather, and pollution than the rest of your body. All of these daily aggressors can easily cause redness, imperfections, dryness, and a dull overall appearance.
Cleansing is an essential component for looking your best. Removing impurities that have accumulated helps prevent a dull layer from forming on the surface of your skin and eliminates residues that might clog your pores and trigger reactions. Clean skin breathes easier and absorbs moisturizers more effectively.
You need to wash your face in the morning and at night.
Morning cleansing eliminates dead skin cells, sweat, and sebum produced during the night.
Evening cleansing removes bacteria, impurities, and makeup, and gets your skin ready to "rest".
Thoroughly moisturize your skin
Moisturizing formulas strengthen the natural layer of water and oil on the surface of the skin. This helps your skin hold on to more water and makes the epidermis more resistant and less likely to react to daily aggressors.
For optimal hydration (and a gorgeous complexion!), make sure your beauty kit contains the following essentials:
Daytime and nighttime moisturizers formulated for your skin type
A serum enriched with hyaluronic acid, collagen, vegetable oils, and vitamin B3
A moisturizing mask that you can apply a few times a week to complement other treatments
Thermal water mist or spray to refresh your face and give you a radiant complexion throughout the day
Exfoliate your skin every week
In addition to removing dead cells and impurities from your pores, exfoliants stimulate skin renewal and help moisturizers penetrate more effectively. They play a key role in keeping your complexion healthy and radiant! Take time to pamper yourself with one of these treatments once or twice a week:
A scrub: This involves gently rubbing your face with a formula that contains small abrasive particles
A chemical peel: Enzymes and fruit-based acids "dissolve" impurities on the surface of your skin
Be careful!
Try not to exfoliate your face too often or use overly abrasive skin care products. Doing so can irritate the skin, which may compensate by producing more oil.
Make sunscreen your best friend
No matter what the season is or what the weather is like, ultraviolet (UV) rays can damage your skin in several ways. Namely, they contribute to cell damage and slow down skin renewal, causing your complexion to become slack, dry, and dull.
To prevent such damage, make sure to apply sunscreen with a sun protection factor (SPF) of at least 30. Choose a non-greasy, non-comedogenic formula that will protect your skin and preserve its luminosity without suffocating it. You can even opt for a tinted SPF to give your skin a little extra radiance!
Drain, smooth, and improve circulation
Facial massage tools like jade rollers and quartz Gua Sha stones have become very popular in recent years, and for good reason. They're said to smooth wrinkles, define the contours of your face, and firm the skin. They also activate blood circulation and promote tissue drainage—all of which will help you achieve a healthy glow!
How should you use these tools?
Gently roll them under your eyes in the morning to reduce dark circles, puffiness, and other signs of fatigue.
Apply a nourishing treatment over your entire face, then glide rollers over skin using an upward motion to deeply moisturize and revive your complexion.
Good to know
Store your roller in the refrigerator in-between uses. The cold will help stimulate blood circulation.
Go through your makeup bag
Several makeup options can help brighten your skin instantly.
Mix a drop of liquid illuminator into your daily moisturizer, sunscreen, or makeup primer to enhance your skin's overall brightness. Be careful not to overdo it, though. The tiniest amount should be enough to make it look like your glow is coming from within.
Apply a touch of bronzer to the tips of your cheekbones (the areas that rise up when you smile) and work your way up, tracing a half-moon towards your temples. Be sure to tap your brush against the back of your hand before you apply it. This will help remove any excess powder and keep you looking natural.
If you use foundation, opt for a translucent formula, enriched with moisturizing agents to enhance and nourish your skin. It's a winning formula!
Last updated on May 4, 2022.
WONDERING WHAT SKIN CARE PRODUCTS WILL WORK THE BEST FOR YOU?
Our cosmetic specialists will be happy to guide you. Ask them for advice the next time you visit your local Brunet pharmacy!