Want to say goodbye to unwanted hair? Looking for methods, tools, and tips? Read our short guide to learn everything you need to know about hair removal at home!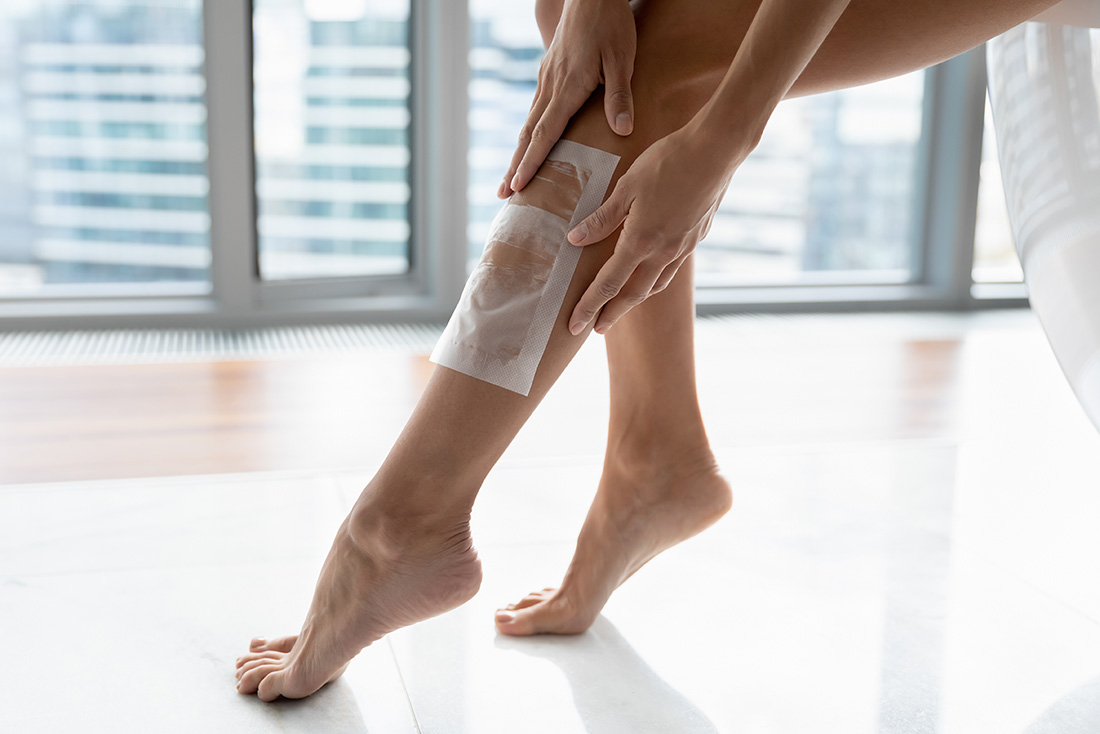 Before: preparation
First, exfoliate your skin. Removing dead cells from the surface of your skin reduces the risk of ingrown hairs and maximizes the effect of hair removal products.
A coarse scrub is fine for your legs, but for more delicate areas, opt for a peel or gentle scrub so as not to damage the epidermis.
Warm up. In addition to opening the pores, warmth softens the hair and relaxes the tiny muscles at the base of each follicle, producing the perfect conditions for easier, less painful homemade hair removal. So make sure you're in a well-heated room and, if you have time, take a hot bath before you start!
During: methods
There are various homemade hair removal methods, and they all have their advantages (and disadvantages). The important thing is to choose the one that suits you best, both in terms of your needs and skin type.

Both cold and hot wax pull hair out at the root. If you choose this method, your hair will take longer to grow back (about 4 or 5 weeks) and will grow back thinner and sparser. Follow these three golden rules:
Check the length. Your hair must be long enough to stick to the wax (at least 3 mm).
Wax gradually. In the direction of hair growth, apply a thin layer of wax to a small, clean, dry area. Pull the strip off and repeat until the chosen area is hair-free.
Pull against the hair growth. After applying the wax (and letting it harden, if you're using hot wax), pull the strip off in one go. Keep in mind that this step may hurt a little.
Good to know
When using hot wax, always check the temperature of the wax before spreading it, and consider applying a little to your wrist for safety.
Waxing is a particularly good hair removal method for legs because the skin on this part of the body is less sensitive and easier to apply wax on. If you choose to wax smaller and more sensitive areas (face, upper lip, bikini line, underarms, etc.), make sure you use a specialized type of wax that minimizes irritation.
Hair removal cream is perfect for sensitive skin and delicate areas! Its chemical action eliminates hair quickly and painlessly by dissolving it on the surface of the skin. (Note: As the roots aren't removed, expect the hair to start reappearing in less than a week.)
It's a cinch to use! Simply apply a thick layer of cream to the desired surface, let it sit for 5 to 8 minutes, then remove it with a damp washcloth. Certain creams can even be used in the shower!
Good to know
It's best to do a patch test 48 hours before using a hair removal cream for the first time. You want to make sure your skin doesn't react to the chemicals.
Tweezers are useful for plucking your eyebrows or removing hairs that remain after using hair removal products.
Remember to pull gently in the direction of hair growth so as not to break the root (otherwise, you may trigger an ingrown hair!). Clean your tweezers between each use to avoid infection.
Good to know
Pointed tweezers are ideal for removing stubborn hairs that couldn't be removed with wax or cream.
Slanted tweezers are great for grabbing hard-to-reach hairs—perfect for fine-tuning and detailing!
Aftercare
After any homemade hair removal treatment, the skin is sensitive. It may feel warm or become red, tight, or itchy. Try the following tips to relieve any discomfort.
Apply a cold water compress (or a thermal water compress if you prefer) immediately after waxing to soothe inflammation.
Don't skimp on hydration! Choose formulas that are rich in vegetable oils (there are many local brands to choose from). They'll prevent irritation and dryness while keeping your skin super soft!
Don't go out in the sun right away. Since your skin is more fragile than usual, it's best to wait 24 hours before spending time outdoors or tanning.
Recommanded products
Get advice from our cosmeticians
Visit one of our stores to speak with a cosmetician and get personalized advice that will help you pick the best hair removal product for you!
Other at-home beauty tips