Camping season is finally here! You're looking forward to the perfect opportunity to reconnect with nature and yourself. And you really want to escape the pressures and fashion demands of urban life… to live simply for a few days.
But as you give yourself a final once-over in the mirror before hitting the road, you suddenly start to wonder what you'll look like after spending three days in the woods without a hot shower. Don't panic. We've got a few tips on preparing the perfect pared-down beauty bag so that you can take in the beauty of the great outdoors and look good doing it!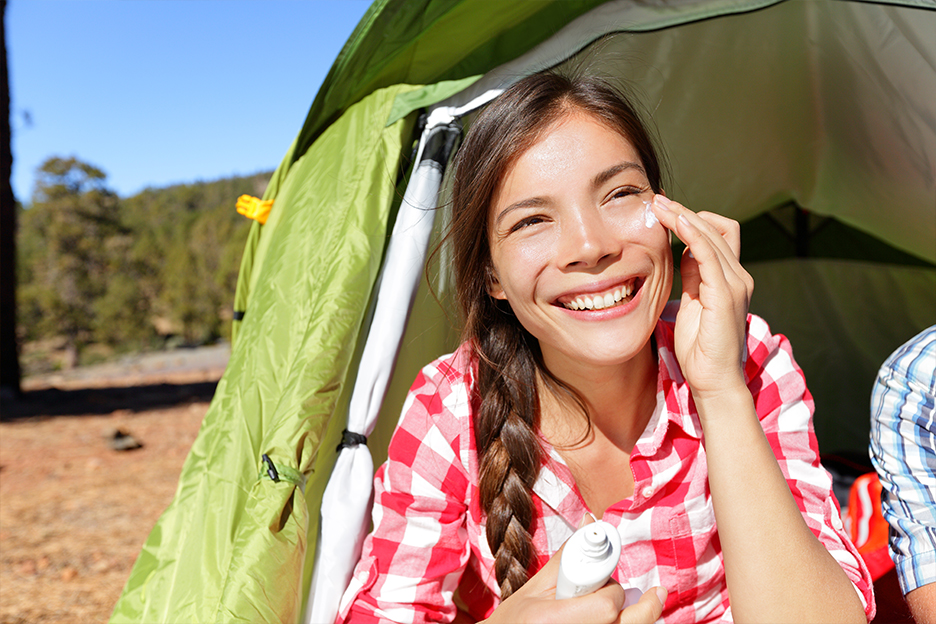 SIMPLIFIED FACE CARE
Why not simplify your facial care routine? Think small and light! Now is not the time to bring your entire arsenal of cleansers, creams, and lipsticks. On a camping trip, you should be marveling at the grandeur of Mother Nature—not the number of beauty products you managed to stuff into your bag. All you really need is a cleanser to remove excess oil from your skin and a non-greasy SPF moisturizer and lip balm. Got any product samples at home? This is the perfect opportunity to use them to save even more space.
If you have a bit of room left in your makeup bag, slip in a mini bottle of thermal water spray. A little spritz when it's hot out will leave you feeling instantly refreshed and help keep your face hydrated.
WATERLESS HAIR WASH
Dry shampoo works wonders when you're camping, especially when you don't have easy access to a hot shower (or a shower period). It absorbs the sebum that's accumulated on your scalp.
For best results, follow these three steps:
Spray the dry shampoo near the roots of your hair.
Gently massage it into your scalp to distribute the product evenly.
Allow it to work for a few minutes before styling. Forget the hair dryer: use your favourite brush and some hair elastics to tie your locks into a ponytail or a messy bun—both perfect (and practical) hairstyles for camping!
Clean, touchably soft hair that doesn't feel weighed down: dry shampoo delivers such incredible results that you may even be tempted to use it while you're in the city.
If you're lucky enough to get to shower on your camping trip, you may prefer to bring a shampoo bar or a 2-in-1 hair and body wash or shampoo/conditioner.
Ideally, you should aim to choose eco-friendly products that are fragrance-free and made from natural, biodegradable ingredients. This will not only reduce your ecological footprint but also help keep the mosquitoes from biting. By opting for odourless cosmetics, you can avoid attracting swarms of buzzing insects and leave your nose free to appreciate the scents of the great outdoors.
PLANNING A HIKE? HERE'S WHAT TO PACK
After falling asleep to the sound of hooting owls and the wind rustling through the trees, you wake up feeling rested and start preparing to explore the wilderness around you. Here are a few products we suggest keeping on hand to make sure you're ready for anything!
The sun: We love it, but...
We can't say it enough—sunscreen is a must! Apply it all over your body, paying particular attention to your face. If your day cream doesn't offer sun protection, get into the habit of applying sunscreen to your face as part of your morning routine. If it does, it's still recommended to reapply sunscreen every two hours while you're in the sun.
To protect your lips, use a balm with SPF. Consider choosing a tinted product to highlight your "I'm on vacation!" smile!
What to look for in a sunscreen:
SPF of 30 or more
Broad-spectrum protection against UVA and UVB rays
Rapid absorption
Fragrance-free
Water-resistant, especially if you plan to go swimming or do a lot of physical activity
Balms for bumps and bruises
Stings, burns, rashes, scrapes: no matter the precautions you take, there's always a risk of certain inconveniences when you go camping. Fortunately, there are a number of handy ointments available that you can pack in your first-aid kit. Some are made with an antihistamine to relieve itching, while others contain an antibiotic to prevent infection. Many—and these are the products you should look for when camping—are versatile and can treat several ailments at once.
Our in-store specialists can tell you which sun care products or ointments best suit your needs.
Water, water, water
Stay hydrated! Despite all we hear and read about the importance of drinking enough water, it's still easy to forget. When camping, you're likely to spend a lot of time in the sun and wind. Your skin dries out much more quickly in these conditions than in your day-to-day life. Water is a terrific solution for keeping your skin hydrated. To get yourself to drink more water, try flavouring it with your favourite combinations of natural ingredients.
And don't forget that you're camping and not at a trendy cocktail event—leave perfection in town. Taking a break from it all can be relaxing!
Last updated on July 14th, 2022