Let us show you how to sparkle, shimmer and shine in beauty!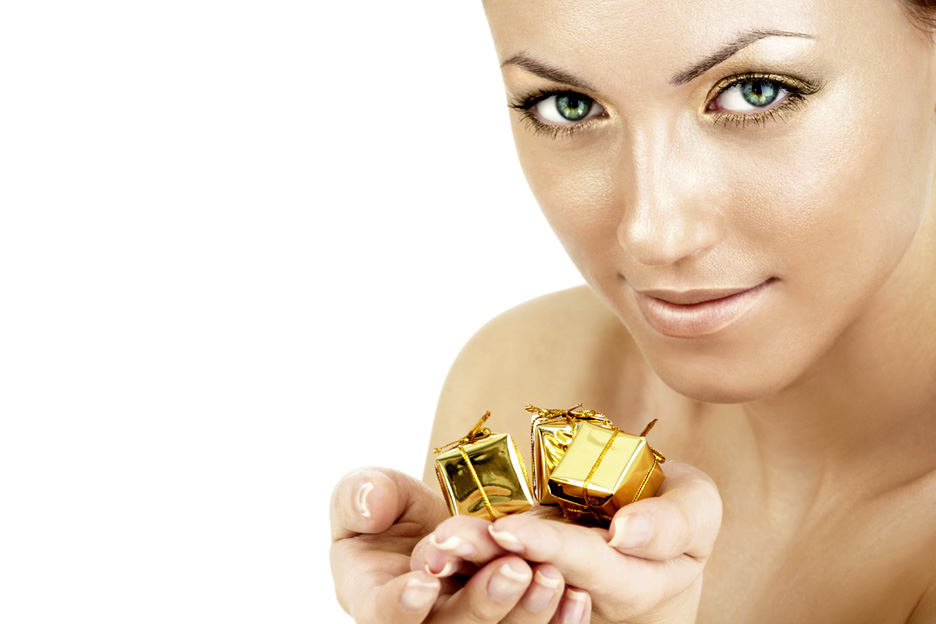 The eyes have it
Adorn your eyes with glittering shades of gold. A light golden touch goes a long way to making your holiday look a gorgeous standout. Gold eyeshadow, paired with a black or
deep amethyst eyeliner, is dramatic and sultry. Cream eye shadows offer ease of use and staying power. Use your finger, a rounded eyeshadow brush or a foam tip applicator to apply. For the black liner, use a soft, waterproof pencil for the most control and hold. Be sure to line the inside bottom "wet line" for a mesmerizing look.
If you like, you can also use a pale cream shadow with a gold eyeliner swept along your upper lashline to light up your eyes.
For something a little different, go for the gold in mascara. You can find a gold mascara and use several coats for an electric look or use a few coats of black mascara and then just a touch of gold mascara on the tips of your lashes to add a beautiful twinkle to your eyes.
Tip: for the subtlest look, try using the gold tip effect on lashes but instead of applying it as you normally would apply mascara, brush it over the top of your lashes so that it only shows when you blink. Intriguing!
A 24-kt smile
While you could go for a cheery cranberry shade of lipstick to go with your golden eye look, why not try gold? There's no reason to be afraid of gold lipstick because it's relatively easy to pull off and universally flattering, too! A metallic lip look, especially for holiday parties and get-togethers is chic and on-trend this year. You can wear it on its own for a bold, edgy look or try a layered look that's romantic and trendy at the same time.
Here's how to achieve it:
Condition your lips so that they are silky-soft. A lip cream, primer will do the trick. If your lips are chapped and peeling, a dab of Vaseline and a light buffing of a washcloth will make them buttery soft again.
Apply a berry-colored lip stain and then a classic red lipstick to your lips.
Apply a small amount of golden lipstick to the center of your lips using a lip brush and then softly blend towards corners, keeping the concentration of gold in the center.
Lips appear plump and golden with a ripe, kissable pout!
Nail it!
Forget the classic white French manicure. It's the festive season, go for gold! The manicure of the moment is a dark burgundy nail with a gleaming gold French tip. It makes every nail sparkle and your every gesture glamorous and attention-getting. Stop by Brunet and pick up some nail guides for a foolproof application.