If you have concerns about your child's health, you can always talk to your pharmacist. Thanks to his expertise and availability, he is an ideal resource to answer all your questions and help you care for your children. Here's how he can help.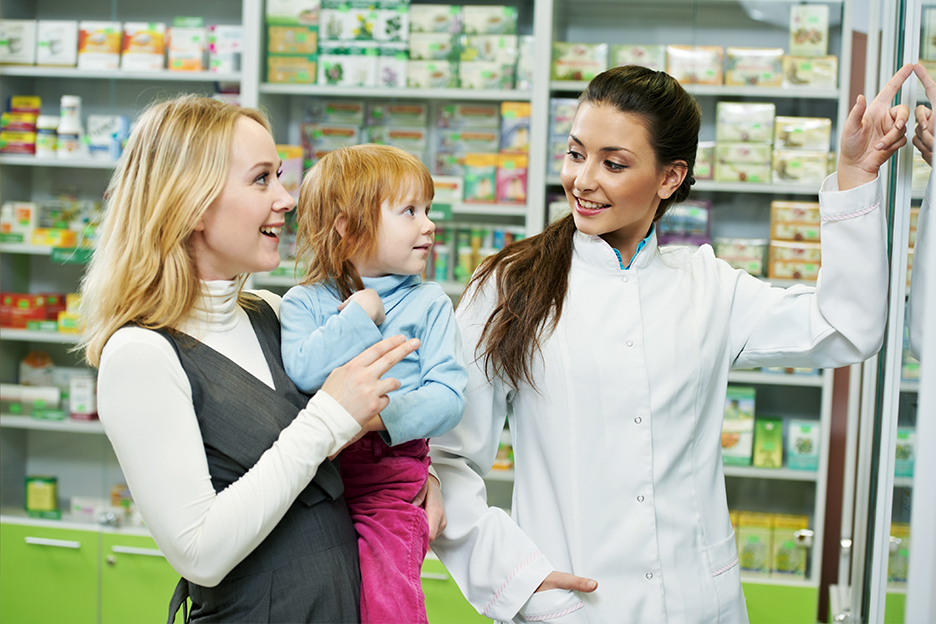 He recommends the best over-the-counter product
Although you can get them without a prescription, some over-the-counter medications are not suitable for children. For example, cold and flu medications can have serious side effects for children under 6. Fortunately, your pharmacist is there to help you choose the over-the-counter medication that is best suited to treat your child's symptoms according to their age and weight.
He specifies the dosage recommended for children
Because of their small size, children are at greater risk for accidental overdose. That's why it's so important to follow dosage instructions to the letter and carefully administer the proper dose. Also, even if the label on the medication indicates dosage according to age, your pharmacist can help you determine the recommended dosage for your child's weight, as age is not always the best indicator. Your pharmacist can also advise on how best to administer a precise dose (by recommending a measuring device, for example).
He advises you on how to care for your child on a daily basis
Your pharmacist is very invested in the health of your child. He can share tips and advice on any number of ways to care for your child daily. Your pharmacist can also help you put together a first aid kit adapted to your family's specific needs and teach you how to administer first aid to your family, including caring for minor conditions like cuts, scrapes and burns.
He helps you treat common illnesses
If you think your child is running a fever, your pharmacist can help by showing you the best way to take his or her temperature and indicate the normal values according to the chosen method. He can also evaluate whether you need to see a doctor or recommend a treatment adapted to your child's symptoms and needs.
In the same spirit, your pharmacist can help you care for your little ones when they are suffering from common childhood illnesses like colds and flus. It's also a good idea to consult your pharmacist in cases of nausea, vomiting, diarrhea or head lice.
He gives you tips to administer medication to your child
Administering medication to a young child can be tricky! Luckily, your pharmacist has more than one trick up his white sleeve to make it go down like a spoonful of sugar. For example, he may suggest you give your child a popsicle before his medication as the cold will help numb the taste buds. Your pharmacist may also recommend chewable pills or suppositories. Mixing a medication in food may seem like a good way to administer a medication more easily, but this method requires careful preparation and is not suitable for every product. Be sure to consult your pharmacist.
Don't hesitate to talk to your pharmacist; he is your partner of choice when it comes to caring for your children's health.