The start of a new year is the perfect time to set new goals, such as losing weight, exercising more to lose belly fat, or slimming down in a healthy way. The best way to reach your goals is to set objectives that are specific, measurable, attainable, realistic and time-bound. Getting off to a good start is the key to success.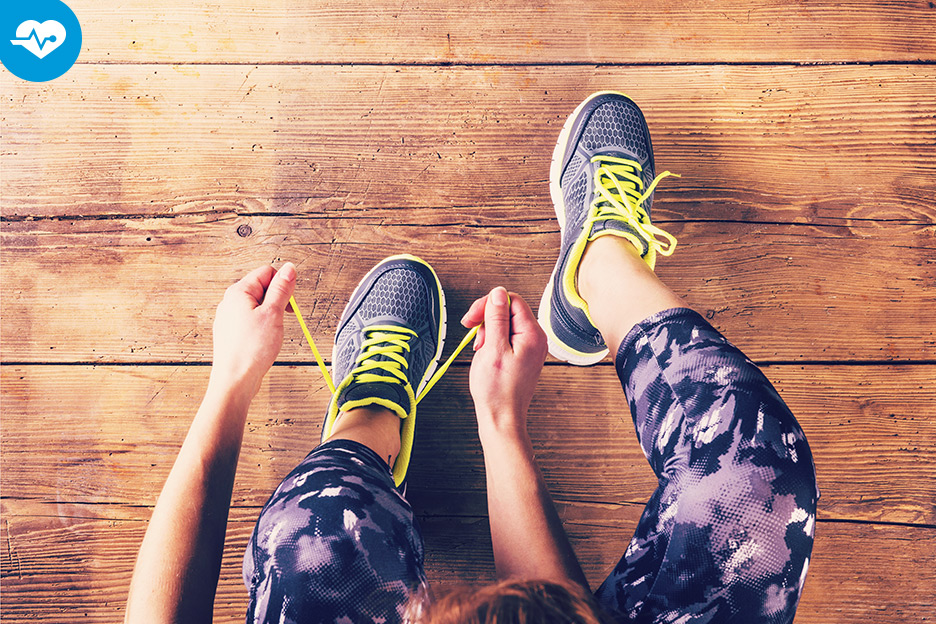 The first thing you need to know is that you'll have to work hard to increase your level of physical activity. Because this initial challenge may seem like an insurmountable obstacle, many beginners give up too easily on their New Year's resolutions. Lack of time, fatigue, difficulty getting equipment, lack of financial resources, not enough visible results—any of these reasons can tempt you to give up.
How do people who are physically active on a daily basis go about it? Here is a guide to help you set three goals so you can get back in shape and become the healthy woman you want to be.
Goal 1: Lose belly fat
It's important to understand that you won't lose belly fat by doing abdominal exercises. Your abs will get stronger and firmer, but fat does not turn into muscle. Your stomach is only one of the areas where fat tends to accumulate. To get rid of fat, you need to burn calories through cardio exercises.
When it comes to burning calories, every bit of activity counts, no matter how small.
On a daily basis: When it comes to burning calories, every bit of activity counts, no matter how small. Do you spend the day sitting at your desk? Set the alarm on your computer to ring every 30 minutes to remind you to get up and stretch your legs! A short walk to the photocopier or a few stretches won't interfere with your productivity. In fact, moving around every hour has been proven to improve your concentration. Don't have time to walk around or stuck on the phone with a client? Stand up! You'll burn more calories standing than sitting. In addition, you'll stimulate your legs and abdominal muscles.
When training: To burn more calories, you need to activate the large muscle groups in your legs. Jog, ride a stationary bike, use an elliptical or a rowing machine, jump rope or use a step bench. The most important thing is the intensity of your effort. Train in short but intense intervals with breaks in between.
A good way to proceed is by 30-second intervals followed by 60 to 90 seconds' rest. Repeat these intervals for about 10 minutes, and you're off to a good start!
Goal 2: Lose weight
If you want to lose weight and get back in shape, you need to burn more calories than you consume. A good way to tip the scales in your favour is to pay special attention to what you eat.
Increasing your level of physical activity is also essential if you want to see a lower number on your bathroom scale. Just remember that you need to be patient. Exercising more will make your muscles bigger. Since muscles weigh more than fat, you may not see the number on your scale go down in the beginning. Don't worry; this is perfectly normal and part of the process. Perseverance and diligence are required to get the results you want. Don't weigh yourself every day; weight fluctuates too much throughout the day. Ideally, weigh yourself once a week, always under the same conditions, such as in the morning before breakfast.
To burn more calories, you need to activate the large muscle groups in your legs.
On a daily basis: To lose weight, you need to burn more calories than you eat. A simple way to do this is to use the stairs instead of the elevator. Start progressively! If your office is located on the 10th floor, get out on the 9th floor and use the stairs the rest of the way. After a while, you can add another floor to your trek. At lunchtime, go for a walk after your meal! Even a short, five-minute walk can make a difference. And it will help your digestion. By going outside, you'll breathe some fresh air and start the afternoon off on the right foot.
When training: Your goal is to burn calories. The ideal way to do this is to choose exercises that are out of your comfort zone without being too difficult for you because you want to avoid injuries. A good example is a burpee, an exercise that will get your entire body moving and can be adjusted to the level of difficulty desired.
Beginner
Divide the exercise into two distinct parts.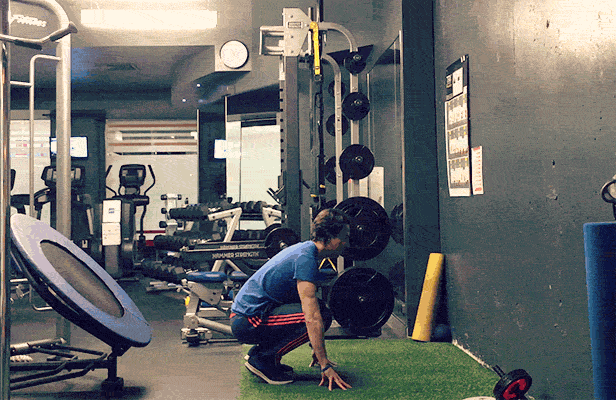 Part A
Start from a squat and jump. Repeat ten times.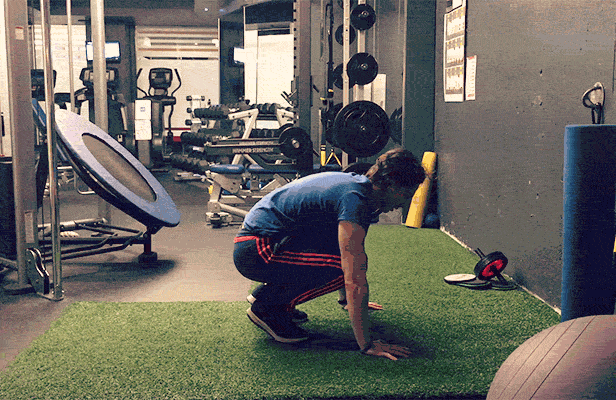 Part B
Lie face down with your hands on the ground and draw both legs toward your body until you are in a squat position. Repeat ten times.
Advanced
Add push-ups during execution. Repeat ten times.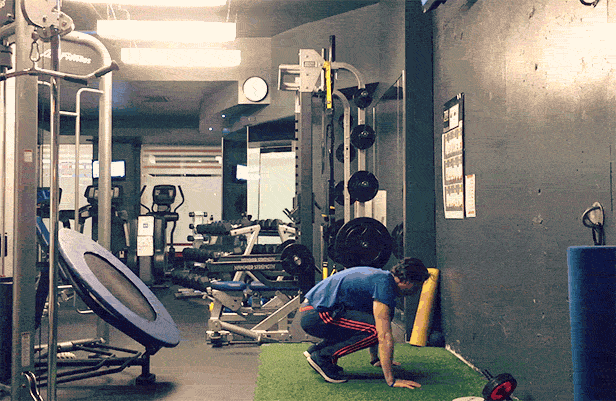 Goal 3: Get toned
The key here is to work your entire body through various toning exercises that focus on distinct areas. You can separate the body into three zones: upper body, lower body and torso. If you want to develop more muscle mass, make sure to work these three zones at least every second day to sufficiently stimulate these muscles.
On a daily basis: In addition to getting up every half hour at work, you can do a few squats using your chair as support. If you can't stand up, simply extend your knees under your desk ten to 15 times. You can also flex your ankles ten to 15 times. To work on your upper body, simply flex your shoulders ten to 15 times while holding a bottle of water. It's also easy to give your torso a workout throughout the day. Sit up straight without using the back of your chair as a support and hold this position for one to two minutes.
When training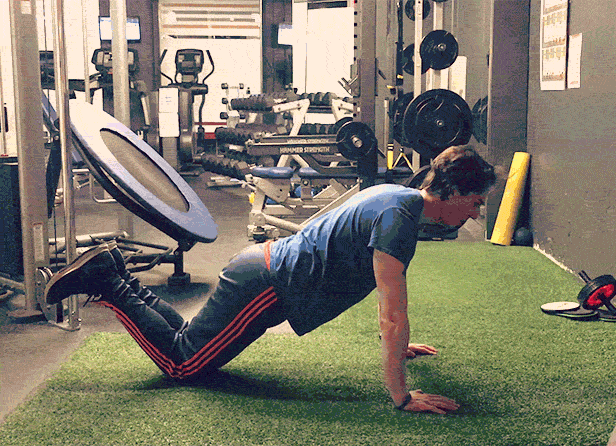 Upper body: Knee push-ups. Repeat ten times.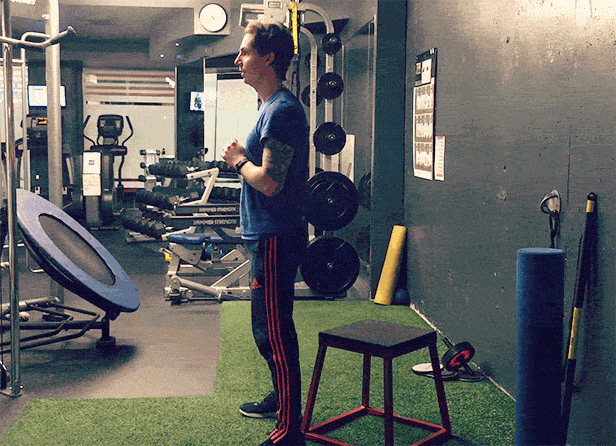 Lower body: Bench squat. Repeat ten times.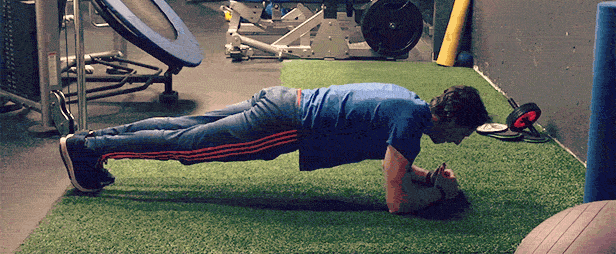 Torso: Plank
In brief, your workout should be designed to be quantifiable and measurable and to show results. Losing weight, losing belly fat or gaining muscle can be very encouraging, but physical activity should also make you feel better about yourself. Feelings of pride and increased self-confidence as well as a sense of accomplishment can't be measured in numbers but are also extremely important. All these feelings together with a deeper understanding of yourself will motivate you to persevere and overcome daily challenges.
Be realistic; we all have to start somewhere. The important thing is to keep moving forward.
Don't hesitate to consult your pharmacist for more information. Happy training!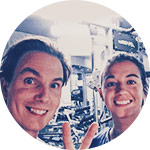 Dino and Mélissa | gymyulfitness
Dino Masson A kinesiologist and private trainer for 15 years now, Dino has been enjoying physical exercise since his childhood. He knows all there is to know about martial arts, tennis, snowboarding, golf and fitness! Holder of a bachelor's degree from the Université de Montréal, he is also a volunteer kinesiologist for the Cancer Research Society. He has supported thousands of clients with goals ranging from fat loss and health improvement all around the world. At YUL Fitness, he and his team of kinesiologists train a business clientele. Make sure to visit his website!
Mélissa Globensky Passionate about physical activity and sports, Mélissa has been playing ice hockey since her early years. It was during her time with the Carabins hockey team at the Université de Montréal that she decided to move towards Kinesiology. Formerly a physical rehabilitation therapist, Mélissa integrates the notions of posturology, injury prevention and specialized rehabilitation in her interventions. Now, she trains a clientele of corporate "athletes" and health enthusiasts.