You know that in Québec, 760,000 people suffer from diabetes? If you are part of that group, it is essential that you have a blood-glucose monitor. This device allows you to monitor your blood-glucose levels closely, diligently and, most of all, consistently over time.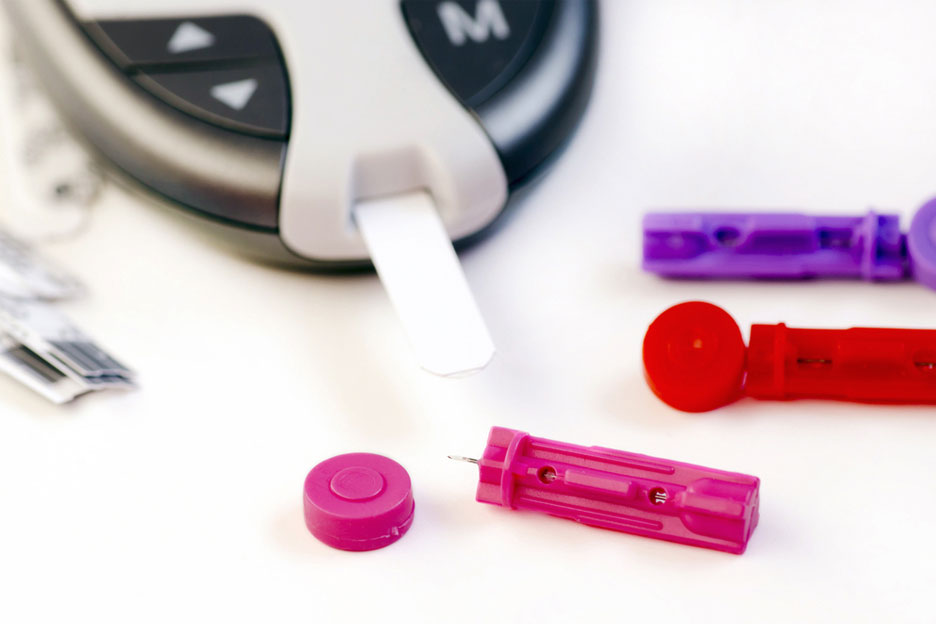 Using a blood-glucose monitor is the best way to check, at home, if your blood-sugar levels are properly controlled. But because there are many models on the market, it can be difficult to choose the one that suits you best. First, you must identify your needs.
Keep in mind that a blood-glucose monitor only displays results; it does not control your blood sugar. You are the only one who can manage it by adopting a healthy lifestyle and by taking your medication every day, if your doctor has prescribed one. Your results will also help your doctor determine the best treatment for you and follow its progress, and they will allow you to adjust your habits for better diabetes management.
Where to get a blood-glucose monitor
These devices are available at the pharmacy. You can also purchase them online, but buying in store gives you access to a health professional who can advise you and identify your needs. He or she can also explain how the device works.
Determining which device suits you best
To find a blood-glucose monitor that is adapted to your needs, here are a few questions you should ask yourself before you purchase one:
Do you have vision problems? If so, you should know that some devices have a larger display screen. Some even have voice function that will give you verbal results.
Do you have issues with dexterity? Do you suffer from arthritis, or do your hands tremble? Some devices require less handling and are easier to hold.
Do you travel? If you travel often for work or leisure, you may want to avoid purchasing a large device.
Are you hooked on computers? Do you take your laptop everywhere you go? If so, some models can be plugged into your computer or tablet with a USB port. Your results are then transferred to a program that you first install on your computer.
Understanding your blood-glucose monitor
Aside from a few different functions for each device on the market, they all basically operate the same way. All blood-glucose monitors are sold with the following products:
Lancets. These feature a small-calibre needle that punctures your fingertip to get a blood sample. They must be replaced at each use so that you don't get hurt, get an infection or feel unnecessary pain.
Lancing device. This small pen-like device is equipped with a lancet and allows you to draw blood. It can either hold one needle at a time or a barrel of lancets, depending on the brand.
Test strips. A strip collects your blood sample and transfers it to the device for analysis.
Blood-glucose log. Use it to record your results and follow up on your readings. Logs often contain relevant tips and information.
Note that most blood-glucose monitors are free when you purchase test strips. Test strips are also covered by drug-insurance companies and by Québec's public drug-insurance plan.
Maximizing the use of your blood-glucose monitor
Here are a few tips that will help you take full advantage of your blood-glucose monitor:
Ask your doctor, pharmacist or health professional treating your diabetes how often you should test your blood sugar.
Make sure you know what blood-glucose levels you should be reaching. Learn to properly read your results.
Get a comprehensive lesson on how to use your device. A laboratory-team member of your pharmacy can offer you this service.
When in doubt, call your pharmacy or call the 1-800 help line provided by the device manufacturer.
If you realize that the device you selected does not suit your needs after all, get another model. But if it works well for you, don't change it for no reason.
Try to use only one device and don't scatter around the material you need for your tests. You may risk getting confused, which could potentially lead to false results.
Check the expiration date on your test strips and don't use them if they are expired. Store them in a dry place, at room temperature. If they come in a vial, close the top immediately after taking a strip.
Do not store your device or test strips in a place that is exposed to temperature variations, such as the bathroom or your car.
Keep in mind that you are the main decision maker when it comes to purchasing a blood-glucose monitor. You are in the best position to determine your needs and optimize your choice. Don't be swayed by appealing advertising or by friends and family. Instead, talk to your pharmacist. By choosing a blood-glucose monitor that is adapted to your own needs, you will succeed in managing your diabetes. Over time, it can get tiring to keep monitoring your blood-sugar levels, but remember that it is an essential measure to follow for a thorough management of diabetes. Give yourself the best possible odds by carefully selecting a device that suits you and only you!