The lifting of the COVID-19 lockdown has been announced, but social distancing guidelines are still in effect.
Read our sanitization and cleaning tips to prevent the spread of the virus at home as lockdown measures are gradually eased and children return to school.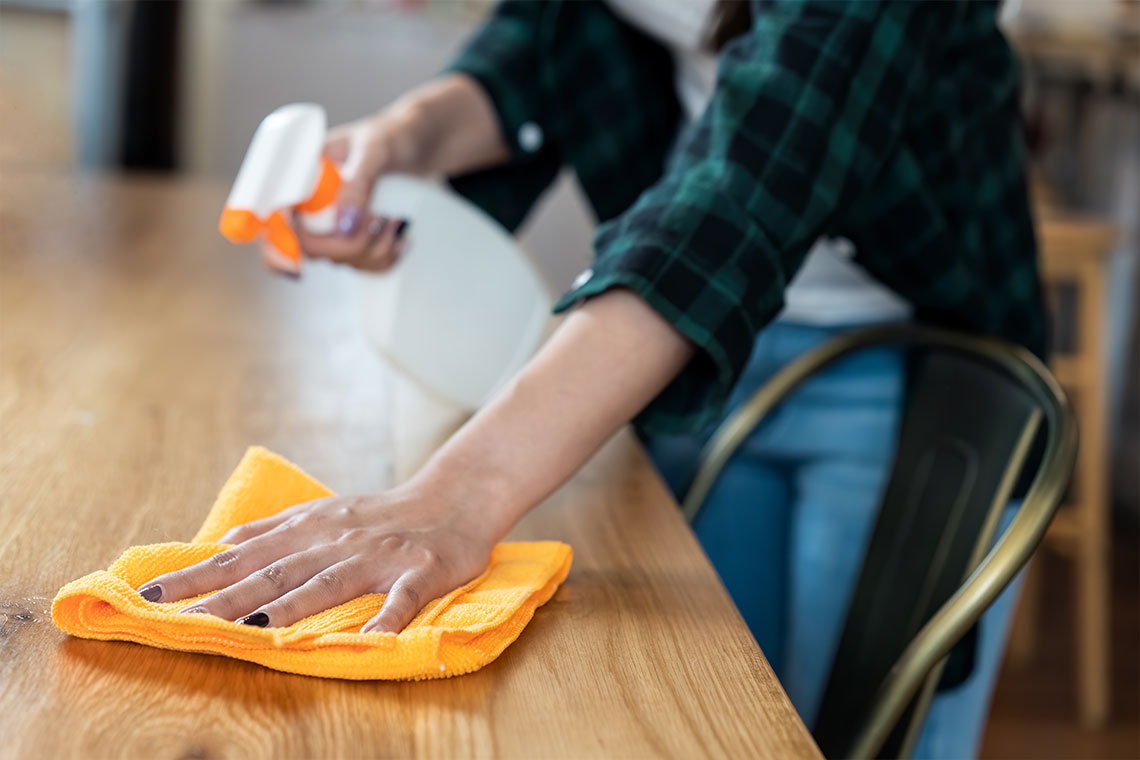 AVOID CONTAMINATION DURING OUTINGS
In most cases, the virus is transmitted through respiratory droplets. People infected with COVID-19 spread the virus when they cough or sneeze, especially if they're not wearing a mask and the minimum two-metre distance is not respected.
These droplets can also contaminate nearby surfaces and objects. Depending on a variety of factors (e.g., type of material, temperature, humidity), the virus can survive from a few hours to a few days. Therefore, it's important to clean areas that may be contaminated and to wash your hands regularly, especially before touching your eyes, mouth, or nose, as the coronavirus enters your body through mucous membranes.
When you're in public or in contact with others, avoid touching your face at all costs. Remind your children of the importance of following these safety measures as much as possible, especially at school.
FOLLOW THESE STEPS WHEN YOU GET HOME
If possible, transform your entrance (vestibule, garage, etc.) into a decontamination zone. Leave shoes, sunglasses, school bags, and all other items that have been outdoors in this area. This is a simple additional precaution to avoid contaminating your living environment.
Don't forget to wash your hands and clean your mobile phone with a disinfectant wipe, a soft cloth soaked in 70% alcohol, or a cloth dampened with a little soap.
If you've visited a high-risk area, such as a health care centre, take a shower as soon as you get home.
Make sure to clean your decontamination area regularly (door handles, frequently touched surfaces, etc.).
DISINFECT YOUR HANDS THROUGHOUT THE DAY
Access to soap and water may be reduced in the course of a day (e.g., when grocery shopping, when using public transit for an extended period of time). Be prepared by carrying an alcohol-based hand sanitizer with at least 60% alcohol.
If your child is old enough to use hand sanitizer safely and effectively, slip a small bottle into their school bag so they always have something to clean their desk, chair, or hands with. You can also give them soap.
A little soap and water are all it takes to wash your hands properly, whether you're returning from an outing or welcoming your kids home from school. For effective hand washing, rub your hands together to create a lather, paying special attention to the back of your hands, fingernails, and spaces between your fingers. Hand washing should be vigorous and last at least 20 seconds.
Take the time to teach your children good hand hygiene. If you have loved ones who wash their hands too hastily, show them the correct method.
USE THE RIGHT PRODUCTS TO DISINFECT SURFACES AND OBJECTS
There are hundreds of effective cleaning products for disinfecting potentially contaminated objects (e.g., backpacks, bicycle helmets, school bags, laptops) after work or school.
You can also prepare a homemade solution of diluted bleach (i.e., 100 ml of bleach with 900 ml of water) or use rubbing alcohol to disinfect surfaces.
Although it is often used as a natural alternative for cleaning, white vinegar is not recommended as a coronavirus disinfectant.
CHANGE CLOTHES WHEN YOU GET HOME IF NECESSARY
Do you work in a crowded environment (e.g., a school, a hospital, a grocery store)? Changing clothes when you return home can help reduce the risk of contamination.
If you don't work in this type of environment and have followed social distancing measures, you don't need to change your clothes. However, remember to wash your hands properly for at least 20 seconds.
In all cases, wash your clothes with regular laundry detergent and hot water (60–90 degrees Celsius) and dry them thoroughly.
DECONTAMINATE YOUR GROCERIES
You can contract COVID-19 by touching a contaminated surface or object and then touching your face.
No need to use a special soap to clean your groceries. Clean your firm fruits and vegetables such as carrots and melons with water and a clean brush. Others can simply be rinsed with plenty of water, even if you plan to peel them afterwards.
Since cooking is a disinfecting method in itself, meat can be eaten without worry if it is well cooked.
These preventive measures will help protect you and your loved ones from possible infection with COVID-19. They are simple to implement and can greatly reduce the risk of transmission of this virus and many other microbes.
Do not hesitate to consult your pharmacist for more information on how to maintain good health during this COVID-19 period.