The new year has begun and you've never been so eager and willing to stop smoking. Fantastic! Now is the time to get in "strategy" mode. You've heard of electronic cigarettes… but are they really the best way for you to reach your goal?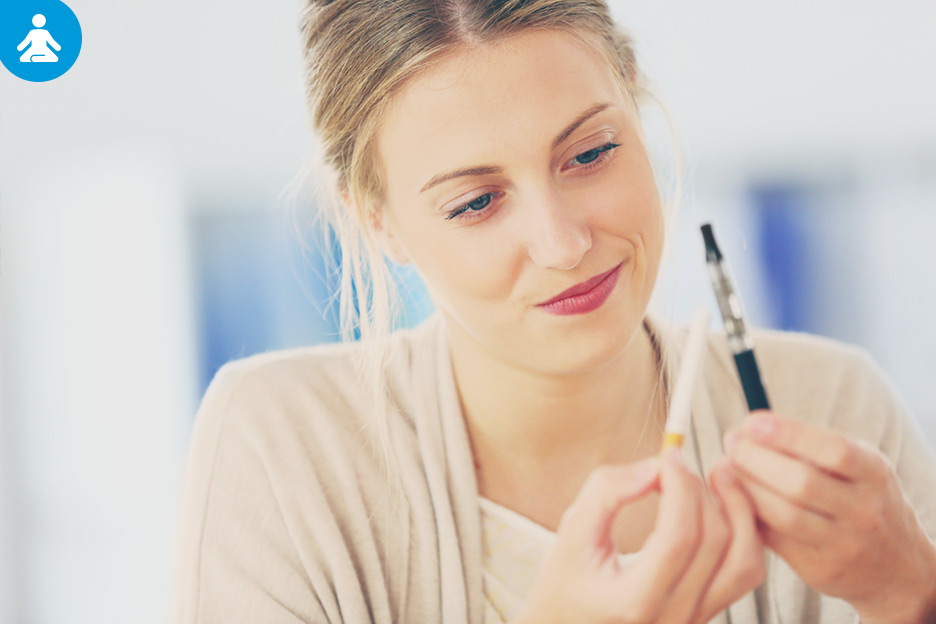 Put chances on your side
When someone wants to quit smoking, all possible means of achieving that goal are acceptable. However, most individuals who succeed are those who had first established a plan of action that combined various strategies to be implemented following a structured process. If you want to quit smoking in one day, without aid and relying only on willpower, your chances of success will be slim… and your chances of suffering for nothing will be high. That is why it is wise to get informed about all the different methods that are available to you and to weigh their pros and cons.
Cutting out nicotine undoubtedly leads to symptoms that can sometimes be very unpleasant, such as insomnia, nervousness, irritability, difficulty concentrating, etc. In addition, it is completely normal to have cravings, sometimes even very strong cravings. Thankfully, there are various ways to help you reduce withdrawal symptoms and cravings after you stop smoking. They will not only increase your chances of success, but some of these methods contribute to eliminating the smoking habit.
Are electronic cigarettes a reliable method?
It is quite obvious that in the past few decades, technology has taken over and now plays a prevalent and growing role within our society. The world of smoking is no exception; the electronic cigarette, also known as e-cigarette, is an electromechanical or electronic device that somewhat looks like a cigarette. When it is inhaled, it produces a "vapour" or "artificial smoke" that resembles the smoke produced by tobacco smoking.
The appeal of the electronic cigarette lies mostly in the fact that it is similar to a real cigarette: a tip that lights up, inhalation, release of vapour/smoke, hand-mouth motion… all of these factors, as well as the efforts displayed by manufacturers to make their product attractive, partly explain why smokers, especially younger ones, are attracted to e-cigarettes.
However, it is important to point out that to this day, the use of these products is still not approved and therefore cannot be recommended. Indeed, Health Canada has not yet approved any e-cigarette, in accordance with the Food and Drugs Act. There are basically two types of liquid in electronic cigarettes: some that contain a variable quantity of nicotine, and others that do not contain any. Some people believe that it is illegal to sell "e-liquid" containing nicotine. In addition, electronic cigarettes sometimes feature various liquid flavourings (tobacco, fruit, mint, etc.).
It is also important to mention that there is not enough scientific data out there to come to any conclusion whatsoever on the effectiveness and safety of such products, both short- and long-term. Numerous studies are currently ongoing to shed more light on these critical issues.
Advice for parents of teenagers
Many teenagers mistakenly believe that smoking e-cigarettes is a harmless, fun and trendy habit. However, repeated contact with nicotine, whatever its shape or form, is what leads to addiction. Smoking e-cigarettes, especially if they contain nicotine, can therefore be a prelude to real addiction. Indeed, young people are at high risk for developing an addiction to e-cigarettes and even turning to real cigarettes. We must keep in mind that since there is no regulation at the moment in Canada, you can never be sure of what you are purchasing; for example, a product that claims not to contain nicotine could actually contain a small amount.
As a parent, it is wise to be aware that electronic cigarettes appeal to teenagers. Discuss this topic with honesty and get as much information as possible, as should your teenager. Explain the possible consequences and dangers of this behaviour, even though it can initially seem harmless.
Strategies that work
If you are thinking of quitting cigarettes for good, it is smart to thoroughly examine the means you can adopt to make the process easier. Effective, renowned strategies are available to you, which are approved and without danger to your health. Although there is no miracle formula to stop smoking, here are a few examples of good "ingredients" to put in a winning recipe for success:
True motivation (felt) to stop smoking;
Use of a known, approved smoking-cessation aid (patch, gum, lozenges, inhaler, nicotine vaporizer, oral medication, etc.);
Having the support of a health professional in your journey to a smoke-free life.
To complement these three basic ingredients, you can add various other methods: laser, yoga, meditation, neuro-linguistic programming, etc. It's up to you to seek methods that suit you and that you can trust.
In conclusion
Until the effects of electronic cigarettes are better known, their manufacturing regulated and their use approved, it is best to remain very prudent towards them. To avoid taking unnecessary risks with your health, get as much information as possible. And don't forget that when it comes to smoking cessation, your pharmacist can be a precious ally. Don't hesitate to consult him or her, whether it's for an opinion, advice or simply to ask for help and support in this journey, which we truly hope will lead to success!