Would you eat pizza or hamburgers more often if they were healthy dishes? Good news: they can be! Everything depends on how you make them.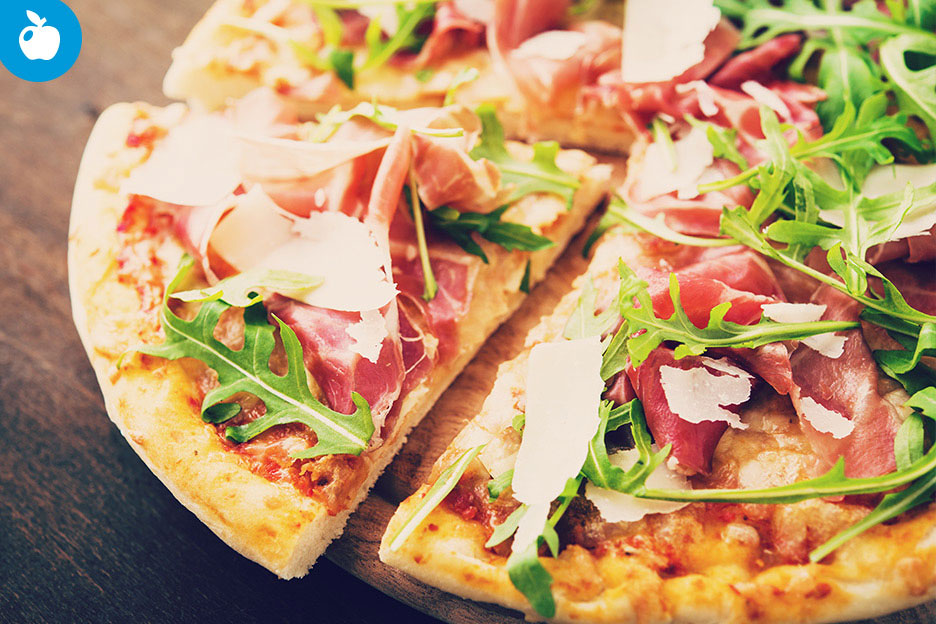 Veggie pizza
Pizza isn't necessarily bad for you. All you need to do is avoid pepperoni, bacon and ham, which are high in fat and salt, and use your favourite vegetables instead. Mushrooms, eggplants, roasted peppers, broccoli, onions: the possibilities are endless. And if you want your pizza to be even healthier, choose or prepare a whole-wheat crust!
Even though pizza is a high-calorie dish, it has less fat, salt and calories than a cheeseburger with fries. It can also have a few health benefits:
It's a good source of calcium because it's covered in cheese.
Thanks to its tomato sauce, it provides you with vitamins A and C and lycopene, which are essential for good health and preventing the growth of cancer cells.
If you choose a whole-wheat crust, you'll be consuming fibre that's good for your body.
Moreover, contrary to hamburgers, you can eat a slice or two of pizza if you want and accompany it with a side salad or fresh vegetables.
Preparing pizza yourself will allow you to control the amount of fat, salt and calories that go into your recipe. However, if you're at a restaurant or feel like ordering takeout, choose a veggie pizza on a thin whole-grain crust. If you can't resist meat, ask for chicken instead of pepperoni!

Light hamburgers
Hamburgers are often made with beef, cheese and bacon, which makes them high in calories, fat and salt. To make a lighter version of this popular meal without compromising on taste, you simply need to use lean beef and replace the other two ingredients with one or more of the following:
Fresh herbs and goat cheese
Avocado slices and cilantro
Mango salsa
Coleslaw
Caramelized onions
Tomatoes or roasted red peppers
Tomato and red onion slices
Dark green leafy vegetables

Spaghetti squash: an excellent alternative to pasta
Did you know that, when baked in the oven, spaghetti squash will produce noodle-like filaments? It's a great alternative to pasta and is delicious covered in your favourite tomato sauce. It's a tasty vegetable that doesn't have as many calories as traditional spaghetti! Moreover, this squash is grown in Ontario and available year-round. There's no reason not to take advantage of this delightful veggie!

Sweet potato fries!
Sweet potatoes are sweet, soft and incredibly delicious when turned into oven-baked fries. In addition to enjoying an appetizing treat, you'll be eating a healthy dish since baking them doesn't add fat, contrary to frying. To top them off, sprinkle cayenne pepper or ancho chili powder. Bon appétit!

Replace your milkshakes with smoothies
Love milkshakes? Try a smoothie! The drink will taste as good, but you'll be consuming fewer calories. That's because milkshakes are made from ice cream while smoothies only contain fruit and yogurt. That means less fat and more vitamins. You can use any fresh or frozen fruit for your recipe, but here are a few winning combinations: banana and strawberry, pineapple, banana and mango, strawberry and blueberries. Try them out!
Is frozen yogurt better for you than ice cream?
The answer is "sometimes." It all depends on the brand and ingredients you choose.
Frozen yogurt can contain pieces of cake or candy, which make them much higher in fat and sugar. As for ice cream, it may have fewer calories than frozen yogurt if it is whipped. In short, carefully read the labels on the products you buy and try to choose ice cream or frozen yogurt that contains fewer than 100 to 150 calories per half-cup.
Healthy popcorn
When covered in butter and salt, popcorn is a terrible snack. However, if you prepare or buy air-popped popcorn, you'll get a crunchy and healthy treat. Three cups have only 100 calories and four grams of fibre, whereas the same quantity of chips contains 465 calories.
And just in case you didn't know, popcorn is a whole grain.
Here are a few healthy air-popped popcorn recipes to treat yourself without feeling guilty:
Add grated Parmesan or Romano cheese.
Add nutritional yeast. It'll look like you've sprinkled cheese on it.
Sprinkle some cinnamon on it and mix.
Add lime juice and chili seasoning, then mix.

Is microwave popcorn a healthy snack?
Like a lot of processed foods, microwave popcorn contains a lot of salt and fat. Why not prepare it yourself? It's quick and easy. And you'll save money!
Try this recipe for homemade popcorn (thanks to WholeGrainsCouncil.org)!
¼ cup of plain popcorn kernels
1 brown paper lunch bag
Olive oil
In a bowl, add a bit of olive oil to kernels and mix until all the kernels are covered. Pour them into the paper bag. Fold the opening twice and put into the microwave with the opening facing down. Cook on high for 2 minutes. Add your favourite seasoning or eat as is!
Health tip
Prepare a turkey sandwich instead of a bacon or sausage sandwich.
With meals, drink water instead of a soft drink.