NORDIC BODY CARE
CHANV products have powerful natural active ingredients from oil, extracted with great care, from hemp seeds. The latter comes from a carbon-neutral Nordic agriculture, without pesticides, herbicides, or chemicals fertilizers. CHANV products are therefore naturally rich in essential amino acids, fatty acids, and vitamins. In short, everything your skin desires!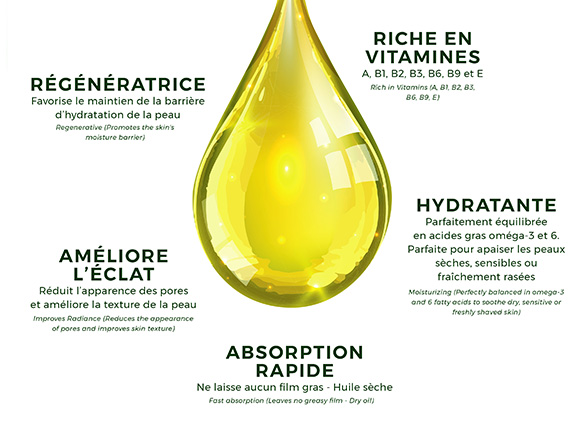 HEMP OIL - THE NATURAL DNA OF HEMP
Rich in Vitamins (A, B1, B2, B3, B6, B9, E natural), Moisturizing (Perfectly balanced in omega-3 and 6 fatty acids to soothe dry, sensitive or freshly shaved skin), Regenerative (Promotes the skin's moisture barrier), Improves Radiance (Reduces the appearance of pores and improves skin texture), Fast absorption (Leaves no greasy film - Dry oil)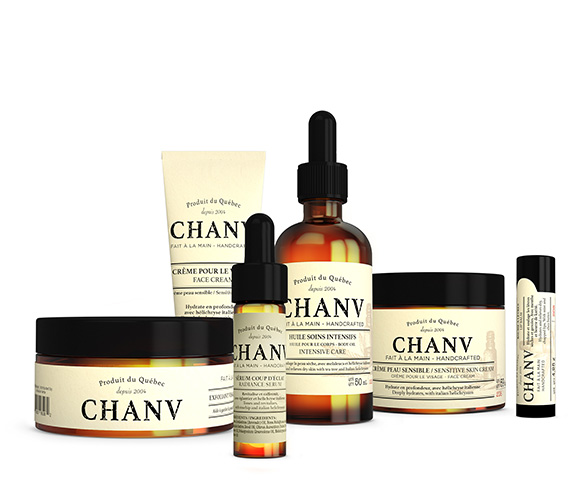 FACE CARE
CHANV facials are naturally rich in linoleic acids found in hemp oil. Used daily, our facials have anti-aging, ultra-hydrating, and nourishing properties for all skin types. We let ourselves be pleasantly enveloped by the richness of the products and the soothing and unique smell of the essential oils used.
BODY CARE
Taking care of your body with 100% natural and effective products is easy with the CHANV range. Several products are offered to deeply moisturize dry skin, promote relaxation and provide natural body hygiene. As the range comes from ecological Quebec agriculture, you can be proud to use CHANV body care products that highlight our northern hemp oil.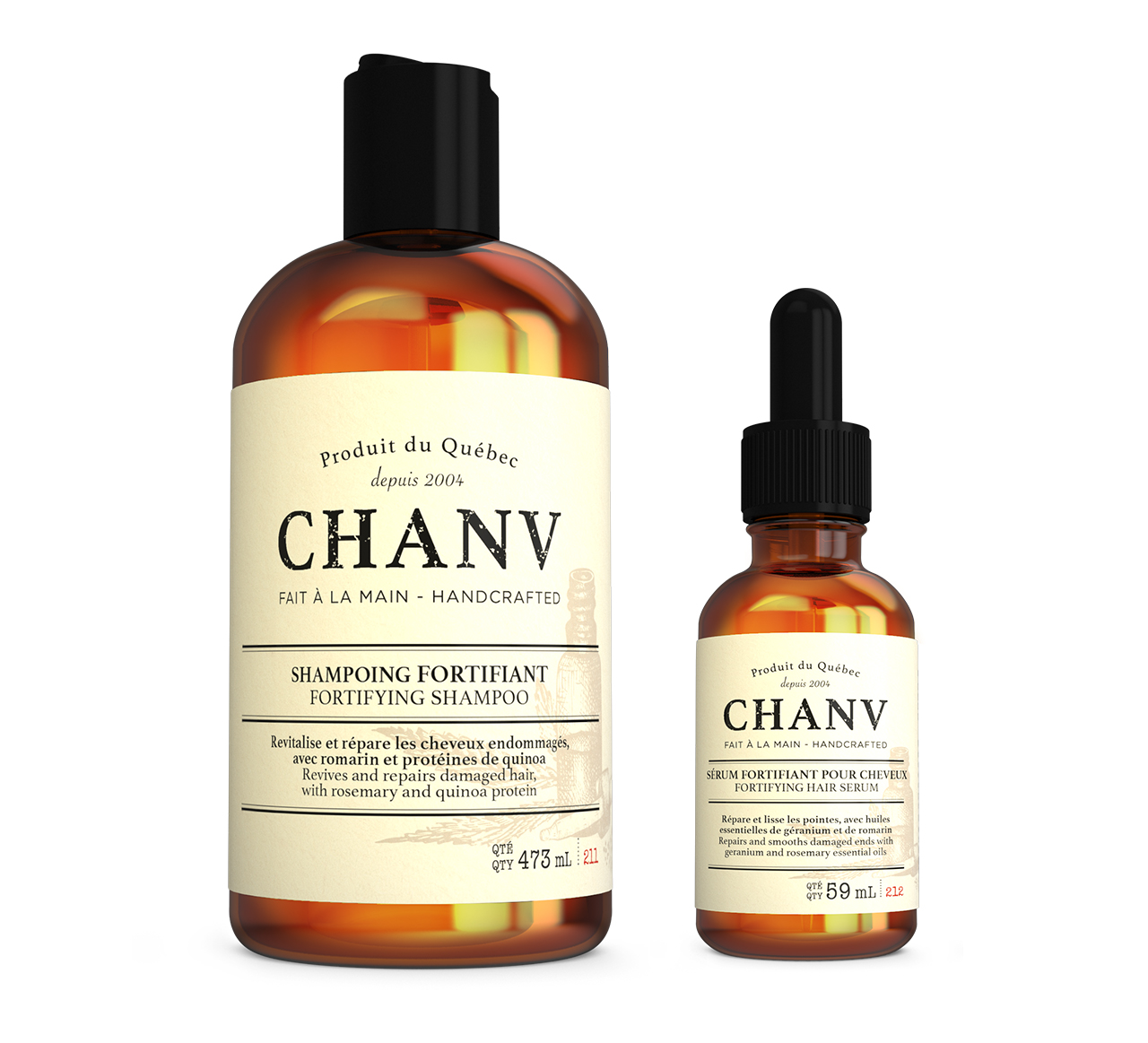 HAIR CARE
Strengthening treatments that naturally repair and revitalize the hair. CHANV haircare offers a unique formula that is suitable for all hair types and allows a complete hair routine from ends to scalp. Thanks to our nourishing ingredients, it is a total satisfaction to find shine and lightness after each use!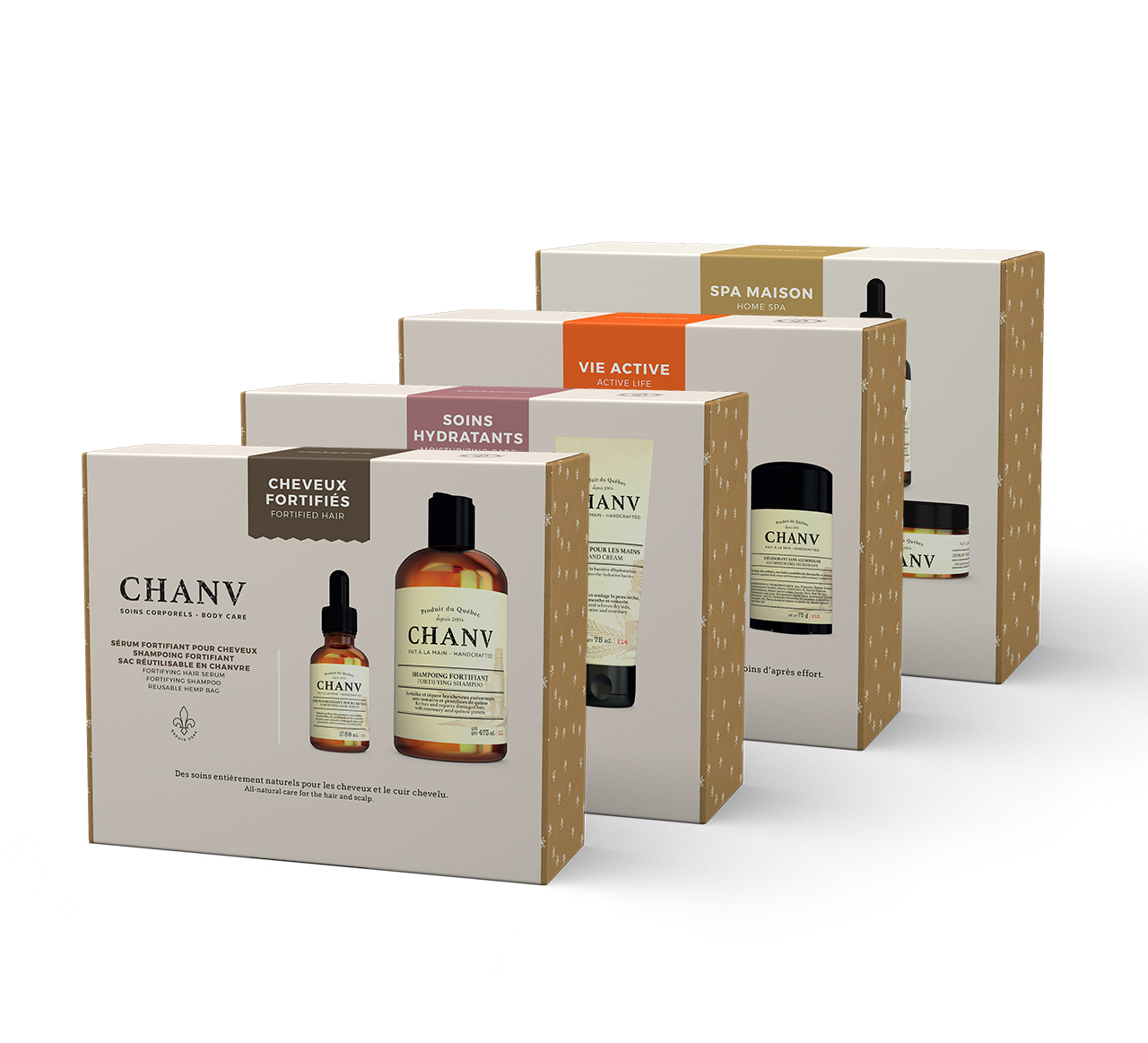 GIFT SETS
Whether for you or to give as a gift, there is a CHANV set for all occasions. Offer a unique moment of relaxation, discover all the benefits of hemp oil to active people, express your gratitude to a loved one, the selection of 6 boxes offers several gift ideas to discover. A local buy, eco-friendly, and 100% natural, the product sets come in a 100% recyclable cardboard boxes that can be given beautifully.