Established in 1981, GUESS designs, markets, distributes, and licenses clothes, accessories, and perfumes in approximately 100 countries worldwide through branded GUESS stores as well as department and specialty stores. Their fragrances, for men and women, capture the seductive and sophisticated essence of the brand. Innovation, quality, style, passion, and diversity are the brand core value.
The fragrance collection by GUESS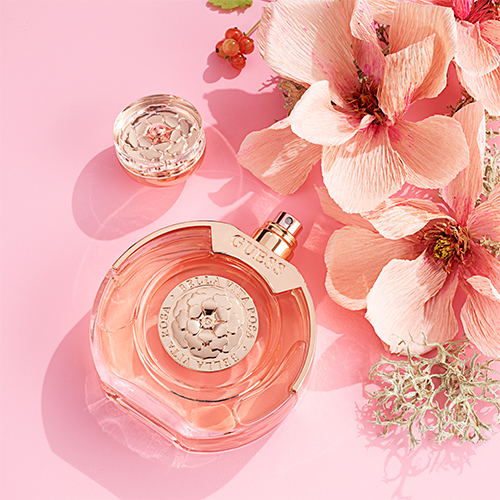 GUESS Bella Vita - Eau de Parfum
GUESS Bella Vita celebrates the allure in the personality of the GUESS woman. This fruity floral fragrance instills confidence in the wearer. The floral heart is feminine and elegant and the creamy warm back notes of tonka bean & sweet praline create a comforting feeling.
The packaging design draws inspiration from the brand's timeless fashion heritage, bearing the iconic GUESS peony medallion in the center, with a transparent glass and an opulent gold cap.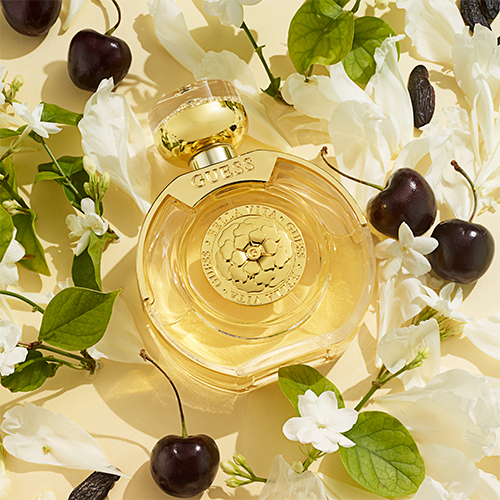 GUESS Bella Vita Rosa - Eau de Toilette
GUESS Bella Vita Rosa celebrates the playful side of the GUESS woman. This fruity floral fragrance sparkles with fresh and fruity top notes enhanced with exotic florals and amber. Velvety woods notes complete the aroma's dazzling feminine signature.
The design is inspired by the brand's fashion heritage, bearing the GUESS peony medallion in a beautiful rose gold hue. The glass reveals the feminine pink juice, and the rose gold cap adds a precious detail.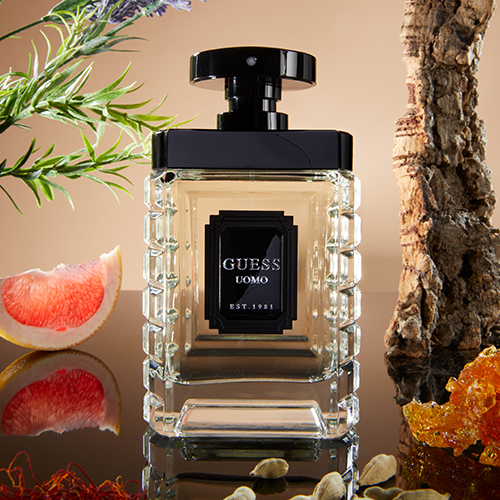 GUESS UOMO - Eau de Toilette
GUESS UOMO is a masculine amber fougère fragrance able to capture the magnetic self-assuredness of the GUESS man with top and mid notes of vibrant citrus, fresh floral and intense spice, followed by a warm blend of dark woods and sensual amber for a sweet and lingering trail. The design is inspired by Italian architecture: a black marbleized carton encases an artistically designed transparent glass featuring classic black accents and the GUESS UOMO logo.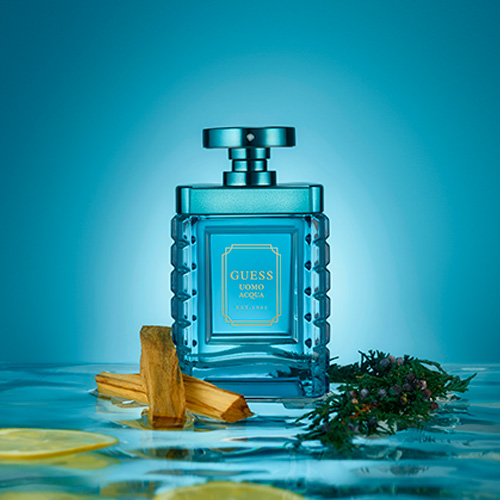 GUESS UOMO ACQUA – Eau de toilette
GUESS UOMO ACQUA offers a bold new expression of freshness through its olfactive ode to the Mediterranean Sea. This woody aromatic fragrance redefines masculinity into a refreshed natural state encapsulating reviving lemon, captivating juniper aromatics, and sandalwood into one scent. Following the GUESS UOMO design, GUESS UOMO ACQUA maintains the Italian architecture inspired silhouette, but this time with a striking turquoise colored glass bottle.