Tis the season of get-togethers—the family kind and the romantic kind. Whatever the occasion, we all want to look our best. Here are our tips to look and feel your best from Christmas Eve to New Year's Day!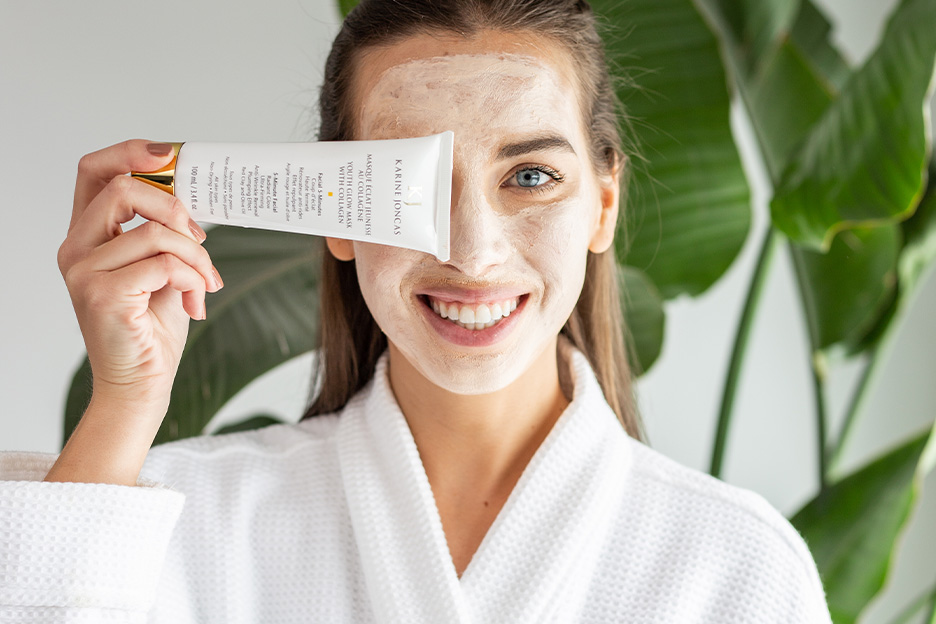 SKIN CARE FOR YOUR FACE
texte
Exfoliate your skin
A good face scrub can clean deeply and get rid of dead skin cells. It can also refine the texture of the skin, bring your complexion to life and stimulate cellular regeneration. There are many exfoliating products available, so it's important to choose the one that's right for your skin type. Talk to the cosmetician at your pharmacy; she'll be happy to help!
Our recommendations:
Acting like a real professional peeling, the Collagen Micro-Peeling Lift by KARINE JONCAS gently exfoliates the skin and provides a genuine "new skin effect".
Looking for an organic alternative? KARINE JONCAS also offers you the option of an exfoliator loaded with clinically proven organic active ingredients with the Express Bio-Infusion Exfoliating Gel. With organic argan particles and lime caviar extract, this skincare invigorates the appearance of dull skin and provides a visible natural radiance.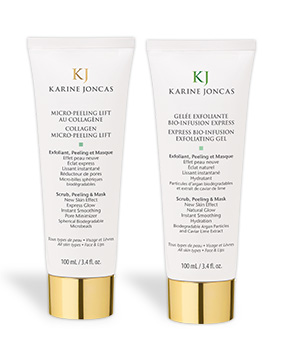 Apply a mask
A facial mask is a great complement to exfoliation. For best results, use a mask once a week, on average, after you've exfoliated. Simply spread the mask evenly over your face, leave on for about 10 minutes, then rinse well. There are several different types of masks—moisturizing, purifying, tightening, etc. Again, talk to your cosmetician, who will be able to recommend the best product for your skin type.
Our recommendations:
KARINE JONCAS offers a great selection of masks! It's up to you to find the one that best suits your skin concerns.
The Youth Glow Mask with Collagen visibly renews and plumps up your skin in just 5 minutes. Loaded with red clay and olive oil, it instantly rejuvenates the look of dull complexions and provides an intense firming effect.
The 4D Hyaluro-Lift Mask provides an incredible express lifting effect. In just 3 minutes, it leaves skin looking firmer and more radiant. As a bonus, a true sensory experience thanks to a revitalizing sensation of freshness.
The Express Bio-Infusion Quenching Mask offers a dose of powerful and long-lasting boost of hydration to even the thirstiest of skins! This water therapy reinforces the skin's moisture barrier and protects the skin against daily environmental stressors.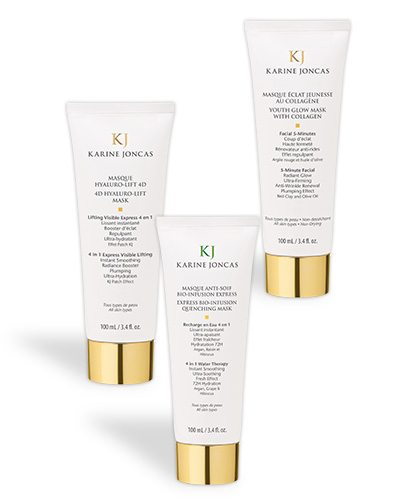 Moisturize deeply
It's important to use a good face moisturizer day and night. It's a crucial step in your daily skin care routine! Moisturizers work to retain the skin's moisture on the surface of the skin by preventing it from evaporating. And you'll love the results: soft, supple, glowing skin. Adopt day and night moisturizers for even better results.
To meet this essential step in a skincare routine, choose one of the 7 KJ ICONS. Each of these creams are 4 in 1, suitable for day, night, eye contour, neck and décolleté. They all offer 24-hour hydration and target several skin concerns. A KJ Icon for every woman!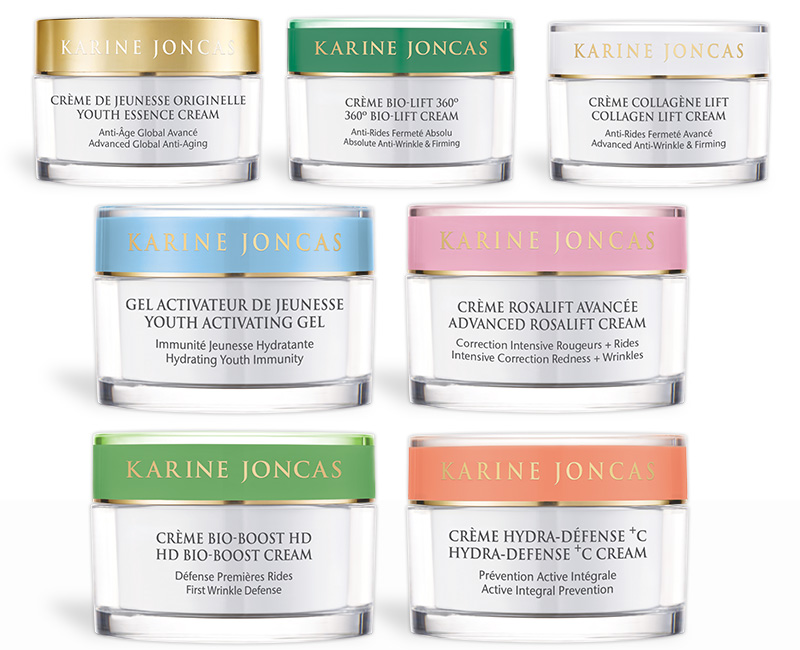 Brighten your complexion
Start by applying foundation with a sponge to even out your skin tone. Next, use a concealer to cover dark circles and blemishes. Then, apply loose face powder in light strokes using a large brush. This will mattify the skin and fix the foundation. Finally, apply blush, starting on the cheekbones and blending up towards the top of the ear. Instant glow!
Light up your eyes
Use eye shadow to create a glamorous look. Apply only on the eyelid using a brush. Using eyeliner, trace the contour of your top (and bottom, why not?) lashes for a more sensual expression. Finally, apply mascara to add intensity. Remember to always start at the base of the lashes for a more spectacular effect.
To finish, awaken your eye contour with the Dermo-Lift Eye Serum. This Express Perfecting Care erases all signs of fatigue in just a few minutes and is applied after makeup, to the eye contour and to all other fine lines and wrinkles on the face.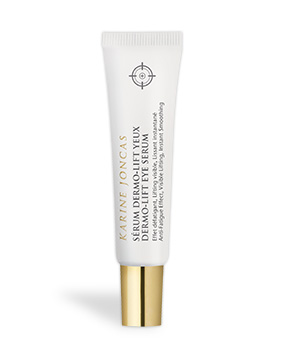 Highlight your lips
Give your lips the holiday treatment with a brilliant, ultra-chic red. Stay away from darker shades that can make your mouth look smaller and more severe as well as accentuating the lines around your mouth. The key word for lips is colour. After all, it's the holidays and, this year, it's all about vibrant shades. For a finishing touch, trace your lips with a pencil the same shade as your lipstick. And smile!
Wash regularly
Beautiful hair requires regular washing. Depending on your type of hair and your needs, you can shampoo every day, every two days or once a week. The main thing is to rinse very thoroughly. Also, choose a conditioner for your hair's specific type (coloured, dry, oily, etc.). A good conditioner is essential to keep your hair hydrated and protected against damaging elements like the sun, pollution, etc. It also works to smooth tangles and close hair cuticles, keeping your hair soft and shiny. Remember to rinse well.
Nourish your hair with a mask
A hair mask can work miracles for your hair. Think more body, more brilliance and a silky feel. Replenishing and nourishing, hair masks are recommended two or three times a year depending on the health of your hair. Apply to freshly washed and towel-dried hair. Massage the mask to spread it evenly on the length of your hair all the way to the tips—never at the roots. It's important to leave the mask on for the recommended time and rinse thoroughly to eliminate any excess residue that could dull the lustre.
Dry gently
Whether you use a dryer or let your hair dry naturally, it's always best to follow a few simple rules to keep it shiny and healthy. Did you know that hair is more fragile when it is wet? Avoid rubbing it too hard or for too long with a towel. It is best to just squeeze water out gently, using a towel to absorb the moisture. If you use a dryer, try holding it slightly away from your head. If you have several settings on your dryer, set to warm rather than hot.
Finally, give your hair a "radiance boost" with KJ Youth Elixir. This 5-in-1 beauty water will tone, brighten and intensely hydrate your hair, while protecting it from environmental stressors. Use without moderation!