Afternoons at the pool or the park, day-long hikes, family picnics, sunbathing sessions . . . Whatever your summer plans, there are a few key products you should be sure to have on hand! Here are five must-haves to add to your summer arsenal.
A sunscreen that suits your needs
Wearing sunscreen is essential year-round, but especially in the summer, whether it's a sunny or stormy day. Make sure to consider the following when choosing a product.
Degree of protection. Is it a broad-spectrum sunscreen that protects against both UVA and UVB rays? Check the label. You should see the Canadian Dermatology Association (CDA) seal of approval, and a logo with "UVA" inside a circle.
Sun protection factor (SPF). It's generally recommended to use a sunscreen with an SPF of at least 30. However, if you have pale, sensitive, or reactive skin, it's best to opt for SPF 45 or 50. (Psst! Did you know? The SPF number indicates the duration, not the strength, of protection. For instance, with SPF 50 sunscreen, your skin would take 50 times longer to burn than if you weren't wearing any sunscreen.)
Type of UV filter: mineral or chemical. Composed of very fine natural powders, mineral sunscreens act like shields and reflect UV rays. Chemical sunscreens are more like sponges, absorbing UV rays so they don't damage the skin. Both types work equally well. It's just a matter of preference!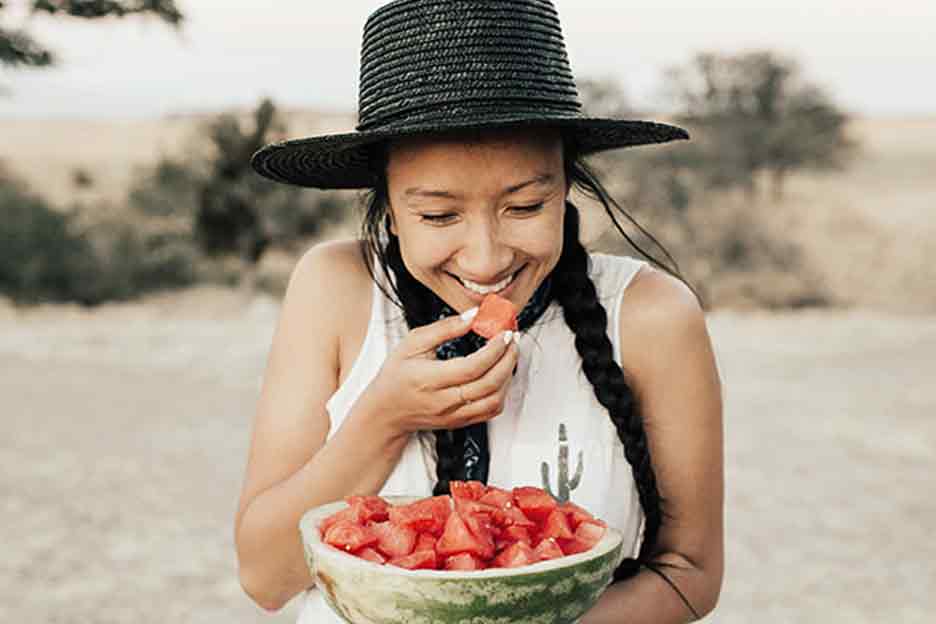 For optimal protection:
Apply sunscreen to all exposed areas (including your ears and toes) about 15 minutes before going outside, then reapply every two hours or so.
Choose a waterproof formula if you plan to go swimming or play sports, or if you tend to sweat a lot.
Use an SPF lip balm, wear sunglasses, and keep your head covered.
If possible, avoid going outside when the sun is strongest, between noon and 3 p.m.
Adequate moisturizers
Your skin's needs vary with the seasons. In winter, you have to cope with cold, dry air; in summer, the heat and humidity. That's why it's important to choose seasonally appropriate moisturizers for your skincare routine.
Opt for light moisturizers (lotions, gels, etc.) that will hydrate your skin without clogging your pores so you can avoid summer breakouts and imperfections.
Choose products adapted to your skin type. If you have dry skin, look for a liquid cream that's rich in hydrating nutrients (vitamin E, hyaluronic acid, etc.). For combination or oily skin, choose non-comedogenic formulas with a mattifying effect to help regulate your skin's sebum production.
Apply an after-sun treatment. Antioxidant-rich after-sun products are specially formulated to increase the skin's resistance to UV rays and help it regenerate after sun exposure. To get the most out of your after-sun product, combine it with your night cream or use it as a body moisturizer.
A refreshing solution
Planning to spend the day in the sun? Slip a thermal water spray into your bag and use it whenever you feel too hot or your skin starts to tingle. This mineral-rich water will cool you off, plus soothe and rehydrate your skin.
(You can keep your spray bottle in the fridge between uses. There's nothing better than a cool mist during a heat wave!)
An effective hair removal product
Summer means shorts, swimsuits, and bare legs! If you want to try a home hair removal solution, keep these golden rules in mind:
Choose a method that works for you. Hot or cold wax is usually used on legs and slows down hair growth. However, hair removal creams may be more appropriate for sensitive skin—and for more delicate areas, like the bikini line.
Wax at the end of the day (that's right!). Waxing weakens the skin and makes it more vulnerable to external irritants. It's best to wait 24 hours after a wax before going out into the sun.
Apply a thick layer of moisturizer to the targeted areas. In addition to preventing irritation, redness, dryness, and tightness, moisturizing will keep your skin ultra soft.
An allergy kit
Do you love outdoor summer activities, but start sniffling and sneezing as soon as you step outside? Don't worry! There are many ways to enjoy nature while limiting seasonal allergies.
Do your favourite activities early in the morning or late in the afternoon. Humidity (and pollen) levels are lower at these times.
Keep your windows closed to prevent allergens from getting in.
Wash your hands and change your clothes as soon as you get home so you don't spread pollen around.
Keep antihistamines (or any other medication recommended by your pharmacist) on hand.
First-aid kit
Whether you're going on a week-long camping trip or a day-long bike ride, it's always a good idea to pack a first-aid kit. It should contain some basic items to keep you and your family safe and comfortable.
Treat minor injuries. Small injuries like scratches, blisters, and bug bites are common in the summer. Stock up on adhesive bandages in different sizes, sterile pads, a disinfectant or saline spray, and an antibiotic ointment.
Keep insects away. Choose an insect repellent that's suitable for the whole family and offers protection against many types of bites. Apply it after your sunscreen in a well-ventilated space, and only target the areas accessible to insects.
Make Brunet your first stop this summer
Stop by one of our stores and find everything you need for the season.
Get advice from our team members.
Earn points on your beauty card as you build your summer skincare routine.
Other articles to help you prep for summer